Estimated read time: 4-5 minutes
PROVO — With the head boss riding out of Charlottesville on Harley or horseback, his longtime allies have begun to scatter to the wind.
Former BYU coach Bronco Mendenhall did a remarkable job of keeping his staff together, both with the Cougars and in his later stop at Virginia — many of them, like offensive coordinator Robert Anae, have been with Mendenhall for the past 15 years.
Now it's time for a change.
After the shock of Mendenhall's sudden resignation wore off, Anae and quarterbacks coach Jason Beck are staying in the ACC. The duo will move to Dino Babers' staff at Syracuse, assuming the same positions they've held with Mendenhall at both BYU and Virginia.
"I want to thank Dino Babers for this opportunity," said Anae, who also coached at Arizona, Texas Tech, UNLV, Boise State, Ricks College and Hawaii. "He's a friend I've known for many years and look forward to working alongside a great offensive mind that as an offensive staff we can use at our disposal."
The move is the first time Beck hasn't worked under Mendenhall since 2013, when he joined his alma mater as quarterbacks coach. Under Mendenhall's guidance, the former BYU signal caller tutored Taysom Hill, Tanner Mangum and Christian Stewart to all kinds of accolades, then moved to Virginia to mentor Kurt Benkert to 5,759 yards and 46 touchdowns and Brennan Armstrong, who holds eight offensive records at UVA while guiding an offense that ranked second nationally in passing at 392.6 yards per game and third in total offense at 515.8 yards per game.
"I'm excited for this opportunity and looking forward to coming to Syracuse and getting to work," said Beck, whose wife Jaime was an All-American soccer player at BYU. "I'm thankful to coach Babers for this great opportunity and excited to continue to work with coach Anae."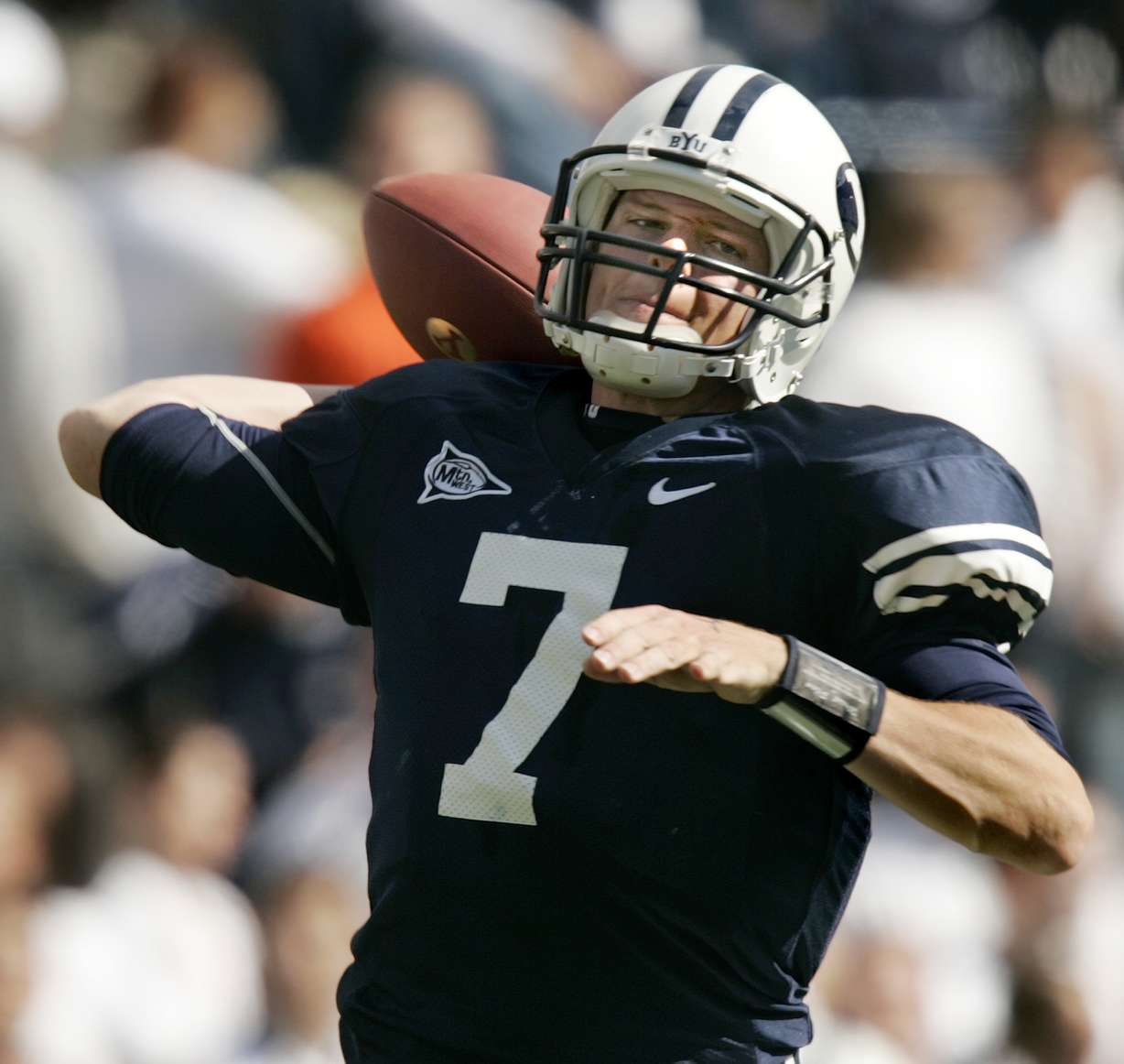 Of the BYU caravan that followed Mendenhall to Virginia, only one will stay in Charlottesville under new coach Tony Elliott. Longtime offensive line coach Garett Tujague is the lone holdover from the group at Virginia, though specific position assignments are subject to change.
Former BYU defensive coordinator Nick Howell, who was co-coordinator and secondary coach at Virginia, will reportedly take a job coaching defensive backs at Vanderbilt. Running backs coach Mark Atuaia is reportedly on his way to join Jake Dickert's staff at Washington State.
Fellow co-defensive coordinator Kelly Poppinga, a former BYU star linebacker who played briefly in the NFL with the Miami Dolphins before rising quickly through the ranks with Mendenhall and took on the additional title three years ago finds himself in the precarious position of job hunting at the turn of the New Year — and looking for a new boss for the first time in over a dozen years.
"Obviously, it's a shock and awe," Poppinga told ESPN 960 in Utah County. "But from there, your No. 1 priority goes to your family. So you start reaching out to coaches you know, who is in your network, who can help you get in on a job that might come open … and talking to as many people as you possibly can.
"My family has known that we weren't going to be with coach Mendenhall forever, that we weren't going to be at Virginia forever. My kids were prepared, though they didn't know it would happen so quickly. But that's just kind of what dad's job is. We're really one of the lucky ones where I've had the same boss for 13 years in two different places. And now we're just trying to get in that network and get in on these jobs. There are coaches still trying to help me out in a competitive business. There are a lot of really good coaches out there, and you've got to know the decision maker and know him really well."
Poppinga will have options. There are plenty of openings — somewhere, at least — for a rising coach of his caliber, a 39-year-old Evanston, Wyoming native who got his start coaching linebackers at his alma mater in 2011, being promoted to special teams coordinator in two years later, and becoming perhaps Mendenhall's most trusted defensive assistant en route to taking the co-defensive coordinator role in 2018.
There's no denying, though, that Mendenhall's resignation marks the end of an era — and not just for the Alpine native.
"It's good for us all to spread our wings, and maybe get back together at some point," Poppinga said. "But I think it will be a good change for all of us."
×
Related Stories