Estimated read time: 4-5 minutes
CEDAR CITY — Glen Andersen has always had a passion for working with youth, specifically working with youth in the great outdoors.
After receiving a bachelor's degree from Southern Utah University in leadership and group dynamics, he completed his master's degree at the University of Utah in outdoor adventure programming. Initially, he planned to work at a college as an outdoor program director before he stumbled into teaching seminary in 2011.
Over the years as a seminary teacher, he saw the impacts that the instant gratification of social media and lack of connection to their own peers was having on kids.
"I loved my job but I missed being outside — in the back of my head there was this idea that if I could just get teenagers outside, just kind of away from everything, they could really get connected with other teenagers," said Andersen.
Then, in 2017, Andersen ran a pilot program where he took 18 kids on a backpacking trip.
"I wasn't sure if I was going to continue to do it, but the results were so powerful and the kids had such a good time," he said.
With that initial trip in the books, Andersen quit his job as a seminary teacher and Youth Wilderness Experiences was born. Since 2017, Andersen has been taking kids and teenagers from all over the world on domestic and international outdoor trips and fostering experiences that he believes greatly impact the lives of those who participate.
"I have a strong belief in the power that comes when you take a kid out of their comfort zone, put them outside where they have to live in the moment and they're with other kids who are on the adventure for the first time — there's a power in helping a kid kind of reset their mind (and) realize they can do hard things," he said.
Ask someone who has participated in a Youth Wilderness Experiences trip, and they'll reiterate Andersen's sentiments.
Kaylee Hillyard has been on two Youth Wilderness Experiences trips, one to Chiapas, Mexico, and another to Antigua, Guatemala. Both trips were incredible experiences, she said.
"I don't think there was ever a time where I was in my comfort zone, like, ever," Hillyard said. "The things we would do — hiking, cliff jumping, ziplining — those are all fun but they also take getting out of your comfort zone and not being afraid of what's going to happen."
Hillyard, 20, of Cedar City, said that being taken out of her comfort zone is something she loves about the Youth Wilderness Experience trips.
"Being uncomfortable becomes your new normal and it's really interesting to see how people react to that," she added. "A lot of people really thrive in it, it's kind of cool."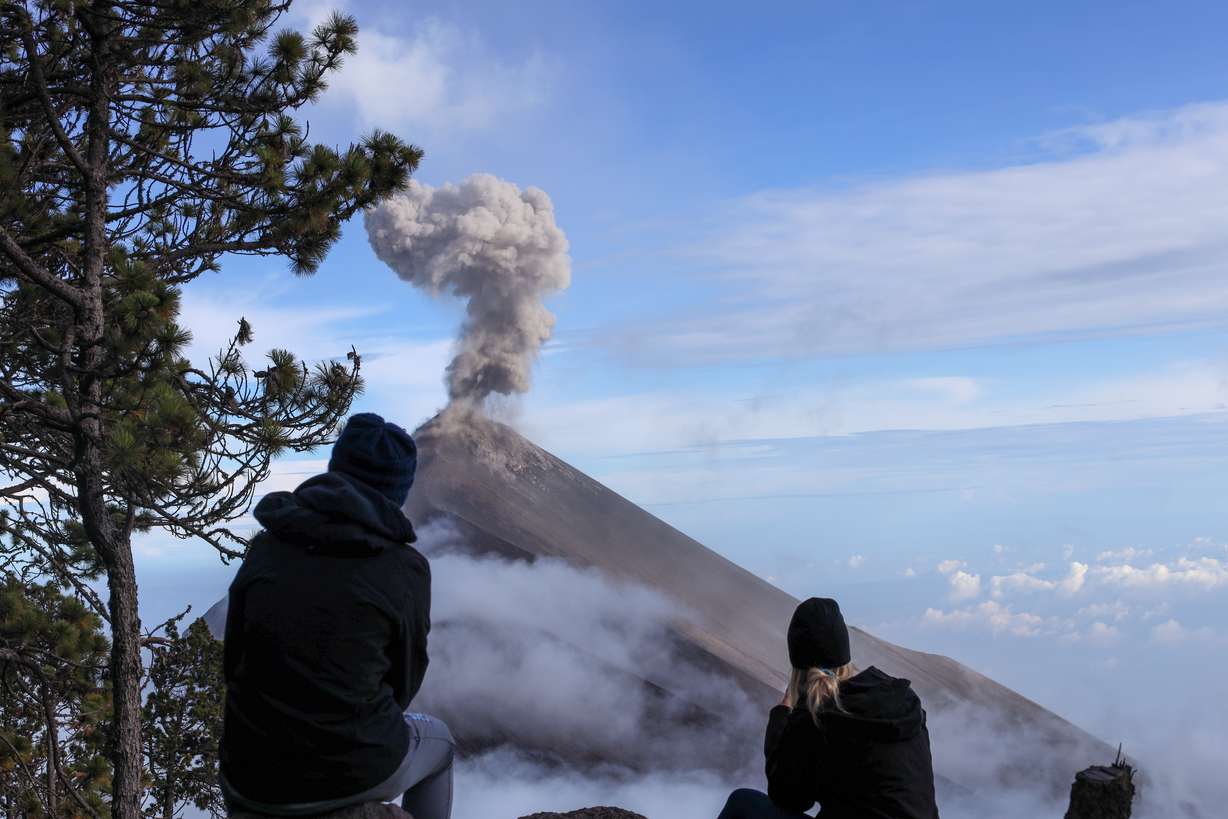 When asked if she would recommend a Youth Wilderness Experiences trip to someone else, Hillyard didn't hesitate.
"Absolutely," she said. "You're going to really grow from it."
For Andersen, the most rewarding aspects of the Youth Wilderness Experiences are the moments he sees "the joy and satisfaction that comes with (kids) putting in a lot of effort and having it pay off," he said.
"Those moments after (a trip), when the trip is over, when the connections have been made and we still stay in touch and they just talk about how their lives are improved because of the trip they went on."
Andersen, who has led about 50 trips since 2017, said he has big plans for the future of the Youth Wilderness Experiences. These plans include gathering donations so that kids can come on trips for a free or reduced cost.
"We want to be able to have the kids that wouldn't necessarily be able to afford these types of trips to come — that's kind of what we're working on right now," Andersen said.
Although Andersen is trying to make the trips more accessible and affordable, he doesn't want to lose the integrity of what makes the Youth Wilderness Experiences special.
"We want to be able to get these trips in front of more youth, but we don't want it to lose what it is at heart — small group trips in the wild that push kids out of their comfort zones and help them connect," Andersen said.
"I really want this program to be able to influence as many people as possible and I want to be able to do some of the best outdoor activities in the world for youth and help them grow," he added. "We want to re-wild the child."
×