SANDY — Damir Kreilach had no idea what was happening when he reported to film review this week with Real Salt Lake this week.
Before head coach Freddy Juarez pulled up the tape to study, team captain Albert Rusnak had something he wanted to tell the group.
It sounded like bad news; a player was leaving the club. Kreilach looked nervous. Who could it be?
"He's a great teammate, a great player, a great leader for this team. And I'm honored that I was able to play with him," Rusnak said in a video captured by RSL's social media team. "The thing is: he's only leaving us for a couple of days. Because he's been selected to the MLS All-Star Game.
"And that is Damir."
A sheepish Kreilach then stood up, smiled and approached the front of the room to his teammates' applause. He took the official MLS All-Star jersey with his name on it from Rusnak, and embraced his captain.
Then he did what Kreilach normally does: He didn't take an ounce of credit for the honor. Even days later, when he was meeting with a small group of local media and remembering the meeting, the feeling he got when he saw that jersey, and the kind words received by Rusnak and the rest of the team, Kreilach felt one primary emotion: gratitude.
"Just right now, I got goosebumps because of that moment. It's a moment I'm never going to forget in my life," Kreilach told KSL.com before RSL's road match Saturday at Portland (8:30 p.m. MT, KMYU). "It was a surprise to me; I had a mic on, because I thought they (the RSL social media team) were going to do a tactical video.
"Albert stepped up, and I'm never going to forget it. It's just such a great honor, and at the end of the day for me and the RSL organization."
Damir Kreilach: @MLS All-Star

Got a nice ring to it if ya ask us. pic.twitter.com/qcPwFOqxUp

— Real Salt Lake (@realsaltlake) August 4, 2021
Kreilach is the first RSL player selected to the all-star game since Nick Rimando was a commissioner's pick in 2019 en route to his retirement. Those are the only two selections from the small-market Salt Lake side since Kyle Beckerman in 2016, and the 27th total nod in club history, dating back to Eddie Pope in 2005.
Rimando has seven of those inductions. But the 32-year-old Croatian international deserves to be included with every one of those names, all of whom have earned some degree of "legend" status for their time in an RSL kit.
He's earned respect — from the club, from his teammates, from RSL coach Freddy Juarez, and from the rest of the league — which is why he was one of 13 players selected by LAFC coach Bob Bradley, who will lead the All-Stars against an all-star team from Mexico's Liga MX on Aug. 25 at Banc of California Stadium in downtown Los Angeles.
"I couldn't tell you how many conversations I've had after a game with coaches, and Damir's name always comes up," Juarez said. "There's this saying we talk about, with certain people you would go to war — and Damir is one of them. I think that's what everyone around the league sees when he plays: they want this guy by their side if their worst thing kicked off.
"You don't get to talk about a lot of people in that way. And when you do, I think it's the best compliment."
He'd likely have more, not just because of his 33 career goals in 101 games, or team-high seven goals this season for Salt Lake (5-4-6, 21 points). The native of Vukovar, Croatia probably deserves another selection or two, despite what RSL has done on the field in his time with the club. He certainly could, with a contract that is scheduled to keep him in Utah through at least 2024.
But he certainly deserves the honor this year, leading Major League Soccer with four headed goals. The all-star nod has been a long time coming — even if Kreilach won't admit to it as he takes his place in the preferred shadows.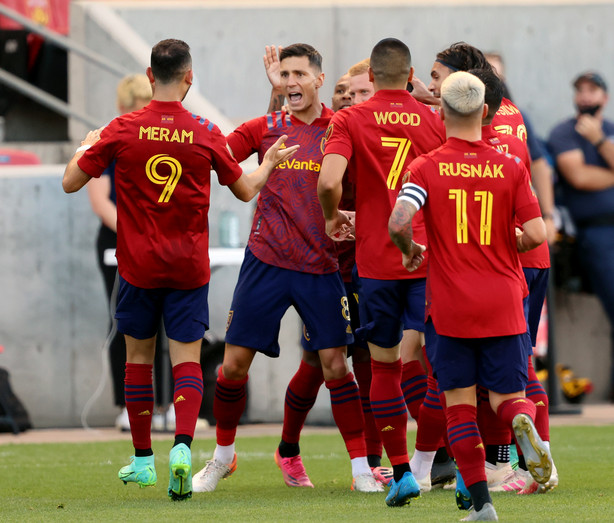 One of the most humble players in MLS, Kreilach is recognized as much for his goal-skilling abilities and control of the midfield as he is for his even-keel attitude. He never gets too up or too down, is always quick to thank and extend credit to his teammates and coaches, and has become a favorite among fans and media who regular see the team at Rio Tinto Stadium.
When Kreilach plays a key role in a win, he's often asked to come to the podium. When RSL suffers a brutal loss, he's often one of the first to come to the same podium to try to explain the match. It's not an easy role — but he's handled it with aplomb.
And it's always with the same blue-collar humility instilled in him from his days growing up in the former Republic of Yugoslavia.
"If you dedicate yourself to something in life, a lot of stuff goes unseen. The majority, even," Juarez said. "For Damir, the day-to-day camaraderie that he has with his teammates, the respect, the effort he puts into the offseason in Croatia and into his workouts — all of that go unseen.
"You can do all that behind-the-scenes, unseen effort, and never get rewarded for it. But it's to be the best you can possibly be. And I think when you finally get that reward … the people closest to you, who believe in you, recognize that extra."
Sitting a few feet away from Juarez when he praised the midfielder, Kreilach immediately took time to thank his coach.
His teammates, though, expressly told him to take time to be proud of his achievement — one he deserves "every bit of it."
"I know you enjoy being humble. But let's be very, very clear: during your whole time in MLS, you've been one of the best players in the league. So it's about time you got selected.," said former RSL teammate Nedum Onuoha in a video from several friends, including Utah Jazz wing and fellow Croatian international Bojan Bogdanovich. "I hope you enjoy the game, and make the most of it. But just realize: you deserve to be there."
We've got a few people who wanted to say congrats 🌟👏 pic.twitter.com/9FgwcMPX4S

— Real Salt Lake (@realsaltlake) August 4, 2021
Kreilach and Bogdanovich have become fast friends since the two Croatians moved to Utah, first Kreilach with RSL in 2018 and "Bogey" a year later. The duo have formed a close bond, not only for their shared heritage, but their shared love of Utah and they "State of Sport."
"We became some of the best friends. Our connection is on a daily basis," Kreilach said. "Those words he shared, because of who he is and what he's done in the NBA, those mean a lot."
Kreilach will join some of Major League Soccer's biggest names in the All-Star Game, including LA Galaxy's Javier "Chicharito" Hernandez, LAFC's Diego Rossi, Seattle's Raul Ruidiaz, Atlanta's Miles Robinson and New England goalkeeper Matt Turner — all players who, at one time or another, either for club or country have received more fanfare than the Croatian international who joined Real Salt Lake in 2018 on a free transfer, using targeted allocation money but not one of the club's coveted three Designated Player slots.
"Our roster is amazing," Kreilach said. "When you see the big names, like Chicharito, like Nani, like Vela; those guys have played at the biggest clubs in the world. At the end of the day, I can learn from those guys.
"We have a great roster, and we're going to give our best to win this game, to make MLS proud, and so everybody in the world can see that MLS has a lot of quality."
Kreilach will represent Real Salt Lake in that August all-star match, but he'll also represent himself, his family, his homeland and the humble, blue-collar attitude of the kid from Vukovar.
"He's never once bragged about it. We're not talking about it," Juarez said of the RSL star's humility. "But people took notice. It's amazing when that happens."
×
Related Stories