Estimated read time: 5-6 minutes
SANDY — If the philosopher, attorney and two-faced con man Harvey Dent (played by former BYU student Aaron Eckhart) is to be believed, all of us will either die a hero or live long enough to become the villain.
David Ochoa has no time for waiting.
The 20-year-old Real Salt Lake Academy product from Oxnard, California, was a hero for the visiting side, but a villain for the host Sounders as RSL eliminated Seattle from the MLS Cup playoffs 6-5 on penalties in Seattle's earliest postseason elimination in franchise history.
And while Ochoa's masterful display in goal with two saves and a dominant defensive effort from Justen Glad, Marcelo Silva and the Salt Lake back line will go down as the key to RSL's upset win, there were other factors.
For Sounders fans, it will be Ochoa's mastermind tactics. The young keeper played like a veteran twice his age, and one experienced in the ways of CONCACAF. Whether called time-wasting, gamesmanship or simply brutal intimidation, Ochoa was keenly aware of himself as he took a yellow card in the first half for dissension with the referee and never let the Sounders get out of their own heads.
On 21 attempts, Seattle pushed forward for a shot. Only three times did they put one one frame. Each time, Ochoa waved the offense away like a practitioner of the dark arts of CONCACAF.
Nine months ago, after Ochoa's first road start of his career when he stonewalled Minnesota United 2-1, a rival MLS manager proclaimed the young netminder was "not that good." But on Tuesday night, the young student of the dark arts had become a master.
"MLS doubted us ... none of them put us in their lil power rankings"#SEAvRSL | #MLSCupPlayoffspic.twitter.com/ZfB6pbY09q

— Real Salt Lake (@realsaltlake) November 24, 2021
"I enjoy being the villain," Ochoa said after the match. "I love when people are talking smack to me; I feel like it makes me play better. Today, I tried playing the villain a little bit and make sure Seattle wasn't getting into any rhythm. I had to slow time a bit, and I also got a yellow card.
"After the yellow card, I was a little smarter. But I enjoy being the villain, and I don't t think I'll ever stop."
Of course, there were key tactics involved. Three times Seattle broke through the Salt Lake fortifications and Ochoa made a stop on each of the three occasions. Some of them were routine saves — others, a massive win.
Perhaps more importantly, Glad and the back line threw themselves into defense. Ditching the three-man back line that interim manager Pablo Mastroeni had used for much of the latter stages of the season, RSL reverted to a flat 4-4-2 formation and focused on defense. With team captain and attacking midfielder Albert Rusnak unavailable due to a positive test for COVID-19, Real Salt Lake knew what it had to do: dig in.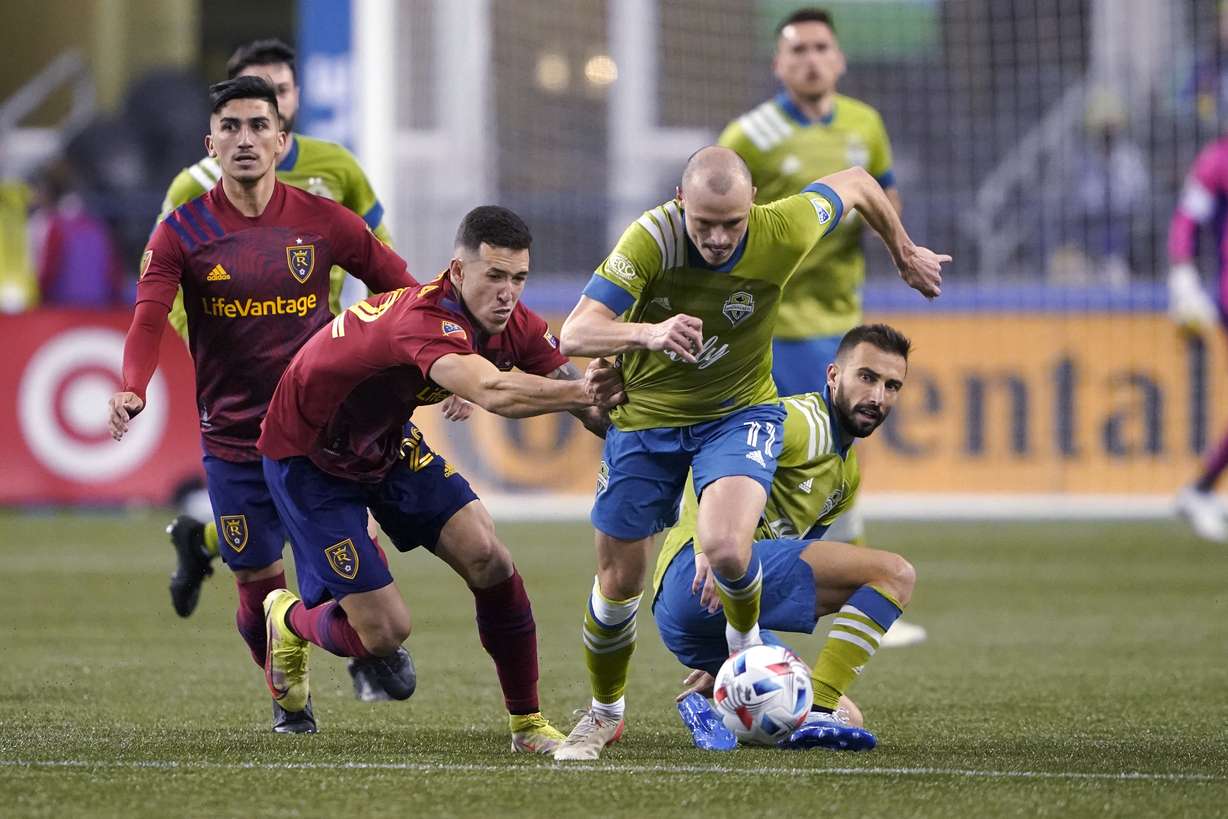 "To borrow a phrase that I often hear across the pond, these guys were mentality monsters tonight," said Mastroeni, the 45-year-old former defensive midfield wizard who made his own career as a bit of a villain in 225 appearances for the Colorado Rapids. "We talk about mentality all the time, and tonight was a perfect example of what that mentality looks like. It was a tough game against a great team at their home and we found a way to win.
"That's what I said to the guys is that no one is giving us a chance. No one has from the beginning of the season, and finding ways to win in football is very difficult, especially when you are on the road coming to a place with a history and legacy like Seattle has and digging deep and taking what the game gives you. The guys found it and stuck together and I couldn't be more proud of the group."
It was mental, it was gritty, it was — at times — a little ugly. But it also had a purpose, Ochoa added.
"I knew once we went to penalties that we were going to win," he said.
Mastroeni called out much of the MLS media, who all picked Seattle to advance over a club that sputtered down the stretch of the regular season, failing to clinch a playoff berth on the first two tries before booking passage in the final minute of extra time of the regular season. Were it not for Damir Kreilach's last-gasp goal on the road against Sporting Kansas City, RSL would've been watching the opening round of the playoffs from home.
Instead, the underdogs will head back to Kansas City on Sunday for the Western Conference semifinals (1 p.m. MT, ABC). And while everyone deserves their own credit for the victory — Glad for converting the match-winning spot kick, Aaron Herrera, Pablo Ruiz, Damir Kreilach, Bobby Wood and Marcelo Silva for fulfilling their roles in the shootout, and countless others across the starting 11 and bench for their own roles — one player stood out for standing up: the goalkeeper.
Ochoa wasn't just pure CONCACAF in leading RSL past Seattle. He was also, to reverse-engineer that Minnesota manager "that good" because he played with confidence.
"For me the most important thing is that the players are playing with a lot of confidence and everyone has a different way of showing that," Mastroeni said. "With David, from the start of the game I knew he was going to be lights out because when he takes on that confident persona he is dialed in. That's his way of staying present, staying focused and coming up with big plays and tonight he did that.
"Obviously you want to be careful to not get thrown out of a game, but I think he was focused and dictating the pace of the game as he saw fit. He was a huge catalyst in the result tonight."
And whether playing the role of hero or villain, perhaps the one that matters for Ochoa is a different title: survivor.
"At the end of the day, we took advantage of our opportunities," he said. "I'm happy to move on, and hopefully get another W in Kansas City."
MLS Cup Playoffs
Western Conference semifinals
Thursday, Nov. 25
Portland Timbers at Colorado Rapids, 2:30 p.m. MT (FOX)
Sunday, Nov. 28
Real Salt Lake at Sporting Kansas City, 1 p.m. MT (ABC)
Eastern Conference semifinals
Sunday, Nov. 28
Nashville SC at Philadelphia Union, 3:30 p.m. MT (ESPN)
Tuesday, Nov. 30
New York City FC at New England Revolution, 5:30 p.m. MT (FS1)
×
Related Stories