Estimated read time: 5-6 minutes
SALT LAKE CITY — When Craig Smith took over the head coaching vacancy at the University of Utah, he knew there was going to be some adversity as he attempted to rebuild the men's basketball program.
There was always going to be an out-of-conference schedule that needed to be built and a settling of the incoming and outgoing players to form a roster for the 2021-22 season — all of that was expected. But six games into the season and with a tough conference foe on the docket Wednesday night, Smith finds himself in a bit of a troubling situation.
There's no depth to his team after a wave of injuries have rattled a program that started out 5-0 before a loss to in-state rival BYU Saturday night.
The injury situation hit a new level Saturday when Dusan Mahorcic subbed into the game four minutes into a 7-0 start by the Utes over their ranked rival at the Huntsman Center. It took only 17 seconds before Mahorcic fell to the ground and grabbed his right knee in pain. Everyone in the arena then heard him let out a pair of deep screams of writhing pain.
Mahorcic did not play the remainder of the game and his status remains unknown, according to Smith on Monday.
In an instant, Utah's game plan of going big and trying to contest the bigger Cougars fell apart. Utah battled strong but eventually ran out of gas in the second half as the Cougars built up a double-digit lead and left the visiting arena with another win.
As Utah (5-1) prepares now for its first conference matchup of the season, the situation hasn't changed — the luck didn't suddenly turn in the team's favor. Mahorcic is still out and the team continues to wait on Marco Anthony and Gabe Madsen to be cleared to play, though neither has a set timeline to return, either.
Madsen hasn't played in any live action in practice, but he's participating more in practice settings; Anthony has not been a participant in practice.
"We've had to do some things a little bit different (in practice) just because of where we're at with our roster, and that's OK," Smith said. "There's a lot of ways to win games in any sport, and we're gonna try to put our guys in the best position to succeed with the guys that we know we have.
"We're gonna prepare with the guys that we know we have, and then it'll be an added bonus if any of these guys get cleared, hopefully, at some point soon."
As it stands, Smith has eight scholarship players and three walk-ons eligible to do some damage against the No. 20 team in the Associated Press Top 25 rankings on their home court.
With Branden Carlson as the only experienced big left on the roster, Smith will likely have to rely on a small-ball lineup when Carlson rests. Riley Battin, who traditionally plays the four, will likely have to move over to center at times, or the team will have to rely on developing player Lahat Thioune, who has seen limited action this season.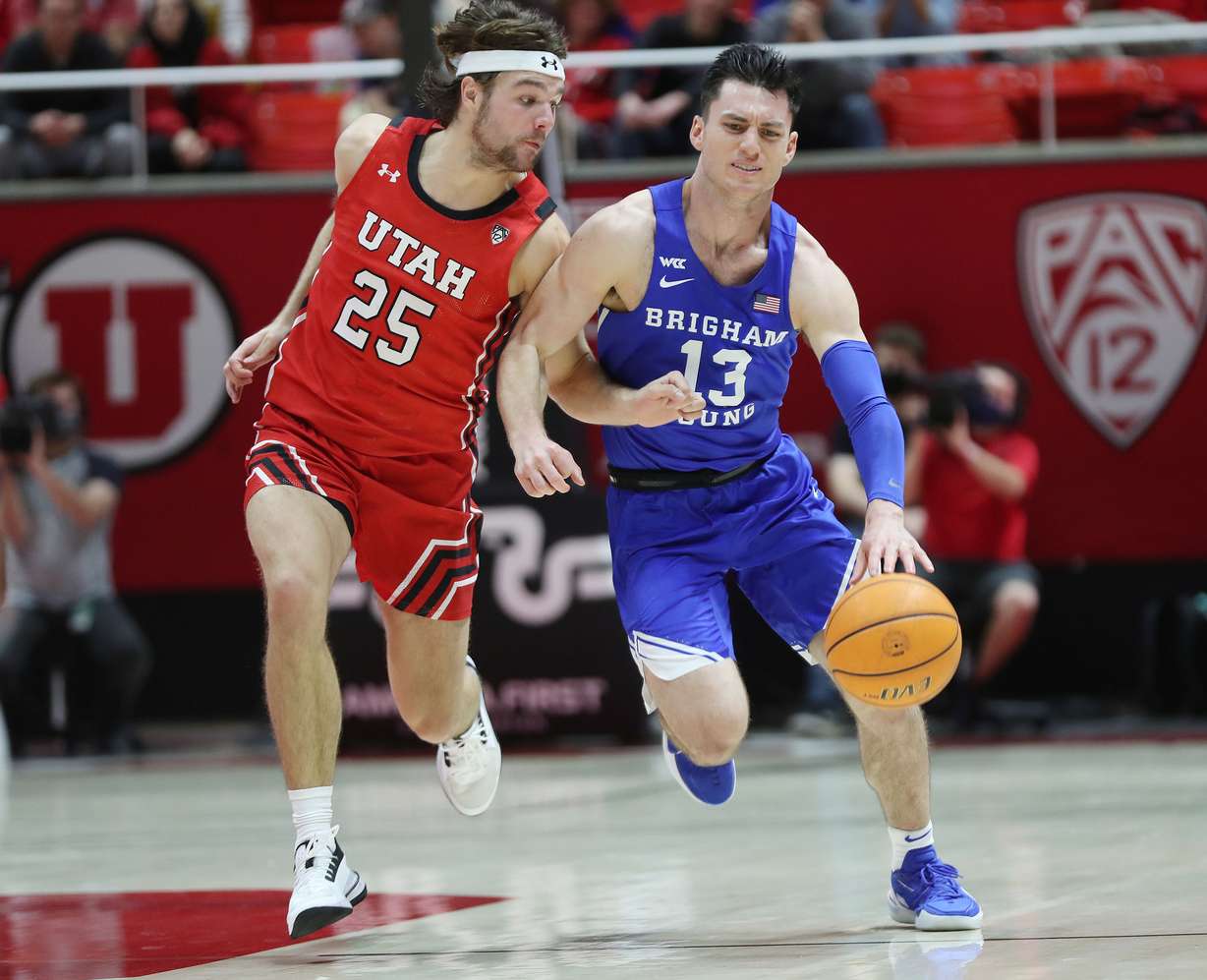 It's a situation where Smith said the coaching staff will have to "reinvent" who they are to some extent. The team identity and how it attacks a game won't change, but the personnel groupings and how the minutes are distributed to players will. The team doesn't have time to waste worrying about players not playing.
"As a coach, you can't think about those things because it doesn't matter," Smith said. "They're not healthy, they can't play, why would you waste a second thinking about It? Now people will think like that, but like I told the guys after the game: I trust every single one of you.
"I mean, it's not enjoyable coaching when you don't have the whole roster available, but part of what's fun about coaching is you've got to reinvent who you are, to try to put guys in a best position to succeed, which will help our team succeed."
Some of that reinvention is finding ways to get all players on the court involved in the game.
Carlson has shown he can take over a game and finished with a team-high 17 points, six rebounds and three blocks against BYU, but he can't play 40 minutes every game. Other players have to step up and contribute even more in the absence of others out — someone like David Jenkins Jr., who was quiet for much of the night against the Cougars.
But it also means not overextending a guy like Rollie Worster, who was used primarily to lock up BYU's Alex Barcello. It worked in large part as the sophomore guard held Barcello to only 4 points in the first half, but the extended minutes eventually got to Worster and Barcello finished with 17 points.
It's something Smith said he'll continue to monitor as Worster will be tasked with defending against a team's best guard. Worster has no problem with the task, but other players need to step up, Smith said.
"Rollie's a warrior, and I mean that in every sense, and I think people can see that with him," Smith said. "He loves the challenge; he'll never back down from a challenge. We've got to be smart with him, hopefully with certain lineups where we can rest him depending on who they have on the floor, depending on who we have on the floor where maybe he doesn't always have to guard that other team's guy and we give somebody else on reps.
"But other guys have got to be able to step up and do that and execute that as well. That's where not having Marco we do miss that, but that's reality right now. And so we have to have other guys that can prove that they can guard the alpha dog, so to speak, or that lead guard on the other team. But Rollie welcomes that, he embraces that; but we certainly have to be diligent with it."
How Utah responds to its early adversity will be put to test Wednesday (9:30 p.m. MT, Pac-12 Networks) in Los Angeles against a defensive-minded USC (6-0) team ranked No. 12 in KenPom ratings.
×