Estimated read time: 6-7 minutes
This archived news story is available only for your personal, non-commercial use. Information in the story may be outdated or superseded by additional information. Reading or replaying the story in its archived form does not constitute a republication of the story.
PROVO — The bracket draw for Utah's Division I college volleyball teams for the NCAA Tournament might best be described as "deja vu."
Repeat matches and familiar opponents abound.
BYU earned the No. 11 overall seed, meaning the Cougars will host the first and second round of the 64-team tournament. The Cougars will host Mountain West champion Boise State at 7 p.m. MT Friday in the opening round in the Smith Fieldhouse, following a match between Utah and Utah Valley at 4 p.m. MT.
The winners will face off Saturday at 7 p.m. MT.
An all-intermountain west regional has several rematches baked into it. The 17th-ranked Utes beat the Wolverines 3-1 and 3-0 in back-to-back matches Aug. 27-28 to open the season, then traveled to Provo before a 3-0 loss to BYU on Sept. 16. That followed a 3-1 loss to Boise State — the other team in the subregional.
Two days after sweeping the Utes, BYU swept the Wolverines in Orem on Sept. 18.
The matchups were a surprise, since the NCAA tends to avoid regular-season repeat matches in early rounds, where possible. But 2021 was a unique year, and coaches had a suspicion that something similar to the Provo regional could happen.
"We kind of had an idea that (playing in Provo) would be a possibility. Being home, and having the Wolverine fans able to be here and support us, we're pretty excited to have this opportunity and to play Utah," UVU coach Sam Atoa said. "We have a lot of respect for Utah and the program that Beth Launiere has put together there."
The fourth-ranked Cougars clinched an automatic bid to the the NCAA Tournament with their sixth West Coast Conference title in seven seasons, becoming the first BYU team since 1993 to go undefeated in 18 regular-season in-conference matches. At 28-1 overall, BYU takes a 20-match win streak into the tournament.
The Cougars are led by opposite hitter Kenzie Koerber, the graduate transfer from Utah who averaged 3.53 kills per set en route to four WCC Player of the Week honors in her lone season in Provo. Taylen Ballard-Nixon, Heather Gneiting and Erin Livingston balance the attack with better than two kills per set each, while Whitney Bower directs the offense 990 assists on .448 setting percentage.
The Cougars rank second nationally in hitting percentage at .339, second in opponent hitting percentage (.118), second in match-winning percentage (.966), fifth in kills per set (14.38) and 16th in assists per set (13.03).
They haven't lost since a 3-1 setback to Pitt at the Panther Challenge on Sept. 10. The Panthers are one of four No. 1 seeds nationally in the 64-team tournament, while BYU went on to wins over Michigan State and Utah before their unbeaten conference slate that preceded a ninth consecutive tournament appearance and 33rd in program history.
In addition to BYU, San Diego and Pepperdine also earned tournament bids from the West Coast Conference.
Utah Valley finished seventh in the Western Athletic Conference before stunning No. 2 seed and WAC Tournament host New Mexico State in five sets to open the conference tournament in Las Cruces, New Mexico. That paced the Wolverines (16-12) to three wins in three days, including a sweep of Grand Canyon in the WAC Tournament final, to clinch an NCAA bid for the second consecutive season.
Former Pleasant Grove standout Kazna Tanuvasa leads the UVU attack, a senior averaging 3.60 kills per set on .248 hitting percentage. Abbie Miller guides the offense with 5.56 assists per set, while Kendra Nock and Sadie Hamson each average better than a block per set on defense.
"We're so excited. We had a chance to play Utah in the preseason and this gives us a chance for redemption," said Tanuvasa, who was named WAC Tournament MVP. "I know it's going to be a fun match. It goes to show that last year wasn't a fluke and how good our program is and how we're continuing to climb."
Utah wrapped up a third place in the Pac-12 with a 3-1 win over Colorado on Senior Day, pacing six tournament bids for the league led by No. 13 overall seed UCLA. The Utes (21-8, 14-6 Pac-12) are led by former Brighton star Dani Drews, the fifth-year outside hitter who was just the second place all-time to earn AVCA All-American first team honors in 2019 — her first of two such designations, a first for the program.
The Sandy native took advantage of her fifth year of eligibility to set Utah's all-time record for kills with a career total of 2,232 yards and 4.04 kills per set. The six-rotation player has been a critical piece of the program's sixth consecutive NCAA Tournament appearance en route to an overall record of 621-383 in 32 years under head coach Beth Launiere.
With notable victories against some of the top teams in the country, including Nebraska, Washington, Oregon, and multiple other top 25 teams, the Utes present themselves as a formidable opponent and a dark horse contender.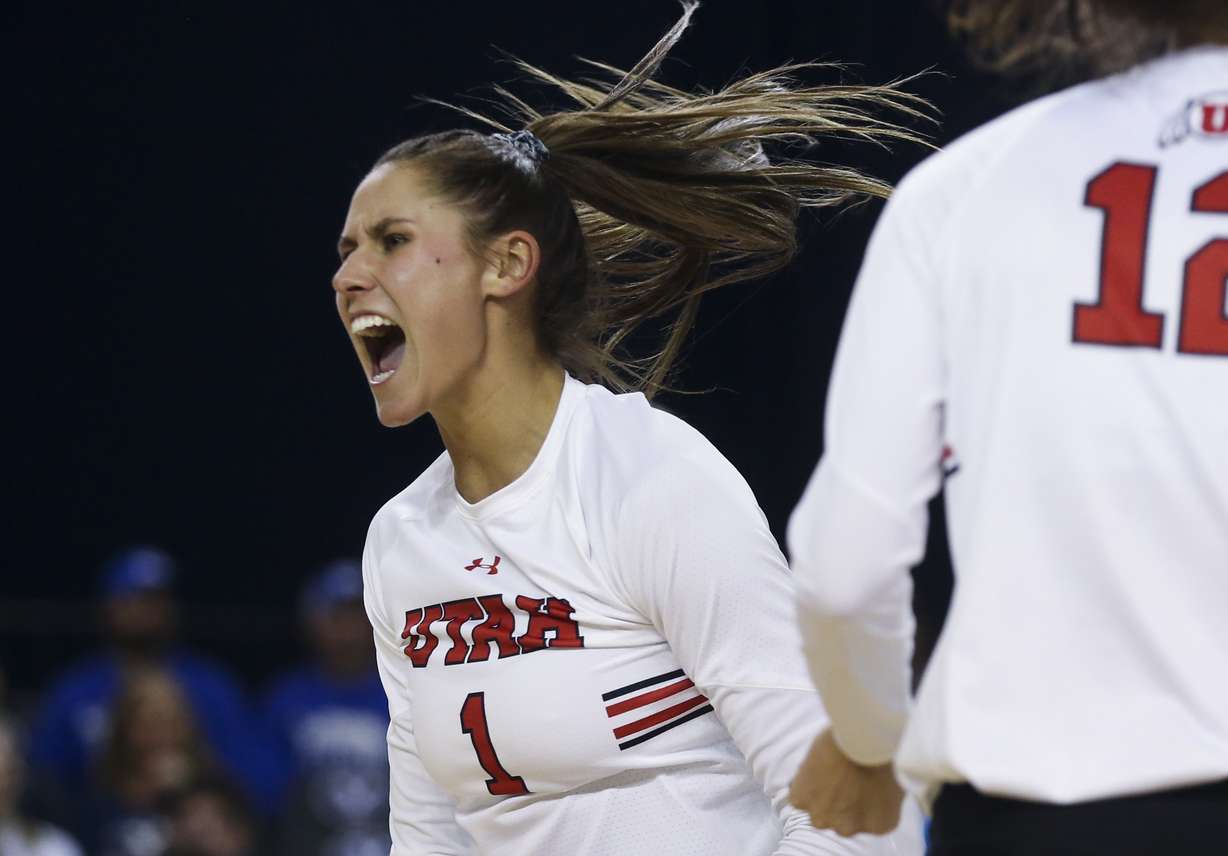 "It's a good thing in the sense that we know what to expect because it's a team we've played before," Drews said. "It's exciting too because we have a whole week to prepare and get ready. It'll be a good game, they're a really good team so I think It'll be a good matchup, and as long as we do what it takes on our side we'll be able to keep moving forward in the tournament.
"Obviously I just want to get as far into the tournament as we can," Drews continued. "I just have kept saying this whole week, we're not done yet and we want to keep this thing rolling because this is such a great group of girls and we want to stay together as long as we can."
Launiere is simply happy to be in the tournament and is looking for her team's chemistry to shine through as they begin competition.
"I'm just ecstatic to be in the tournament," she said. "You work all season long to get here and that's the No. 1 thing that we always take from this night, is just to be appreciative and knowing your body of work is enough to get into the tournament.
"This team has very good chemistry, and I know a lot of coaches say that, but that is part of our success this year, is that team chemistry and family. At the beginning of the year we redefined what family meant, and I know a lot of the Utah teams are saying it, but we took it a step further and redefined what it meant and have leaned on that a number of times."
The national semifinals and championship of the 64-team tournament are scheduled for Columbus, Ohio. Louisville, Texas, Pitt and Wisconsin earned the four top seeds.
The championship match is scheduled for Saturday, Dec. 18 at 5:30 p.m. MT on ESPN2.
×
Most recent College stories