Estimated read time: 5-6 minutes
SALT LAKE CITY — It was the worst kept secret for a player of Devin Lloyd's caliber.
The 6-foot-3, 235-pound linebacker at Utah was never coming back for another season with the Utes, even though he'd still have one more season of eligibility available due to a free year granted to all athletes as part of last season's NCAA ruling amid COVID-19 outbreaks.
His invitation to the Reese's Senior Bowl last week was just the formality.
Lloyd was always destined for bigger destinations — bigger than a Pac-12 Championship or a Rose Bowl win, though both remain a current motivating factor for the star linebacker and his team as the regular season nears an end Friday in a home contest against Colorado.
Even the mention of a future in the NFL or anything beyond the next week's opponent is of little concern to Lloyd. He's genuinely locked into the game plan and what he can do to get the upper hand on his opponent. And with that comes an inordinate amount of film and extra time on the field perfecting his game.
"He does stuff that probably most kids out there in this country don't do with his work ethic and his commitment to the game," linebacker coach Colton Swan said. "It'd be hard pressed to find a guy that spends as much time watching film and perfecting his play that he does, and he is extremely bright and he's smart; he works hard at it. He wants to be good and that's why he's in the position that he's in."
"It's not really hard, honestly," Lloyd said of the distractions. "I'm just focused on the day-to-day things. Really just being diligent in my preparation and really focusing on the details. It's not really difficult, I would say. It's really more so just finding a way to get better and improve every week is my thing."
But on Thursday, April 28, 2022, Lloyd's life will change.
His future is set, and the only thing remaining left to be seen is what NFL team he will be repping for the next few years. He'll eventually sign a rookie contract worth anywhere between $12 million to $40 million over the course of the next four seasons with his future team.
It's a first round kind of future for Lloyd, who has long garnered Thursday night grades for much of the season leading up to the 2022 NFL draft held in Las Vegas. NFL scouts have littered the sidelines all season as they catch a glimpse of potentially the highest-ever drafted linebacker from the University of Utah.
"I see exactly what the NFL looks for in linebackers," Utah head coach Kyle Whittingham said of Lloyd. "He's got the size, the speed, the explosion, the athleticism, the intelligence. Everything that you see in those elite linebackers in the NFL, Devin possesses them."
Some evaluators even see him as the best linebacker in the class. ESPN's Mel Kiper sees Lloyd as his eighth best overall draftee at this point in the process, and Todd McShay has him ranked 11th overall. A lot can change from November to April, but Lloyd appears destined for a big payout for his hard work and dedication to the sport he loves and has dominated for some time.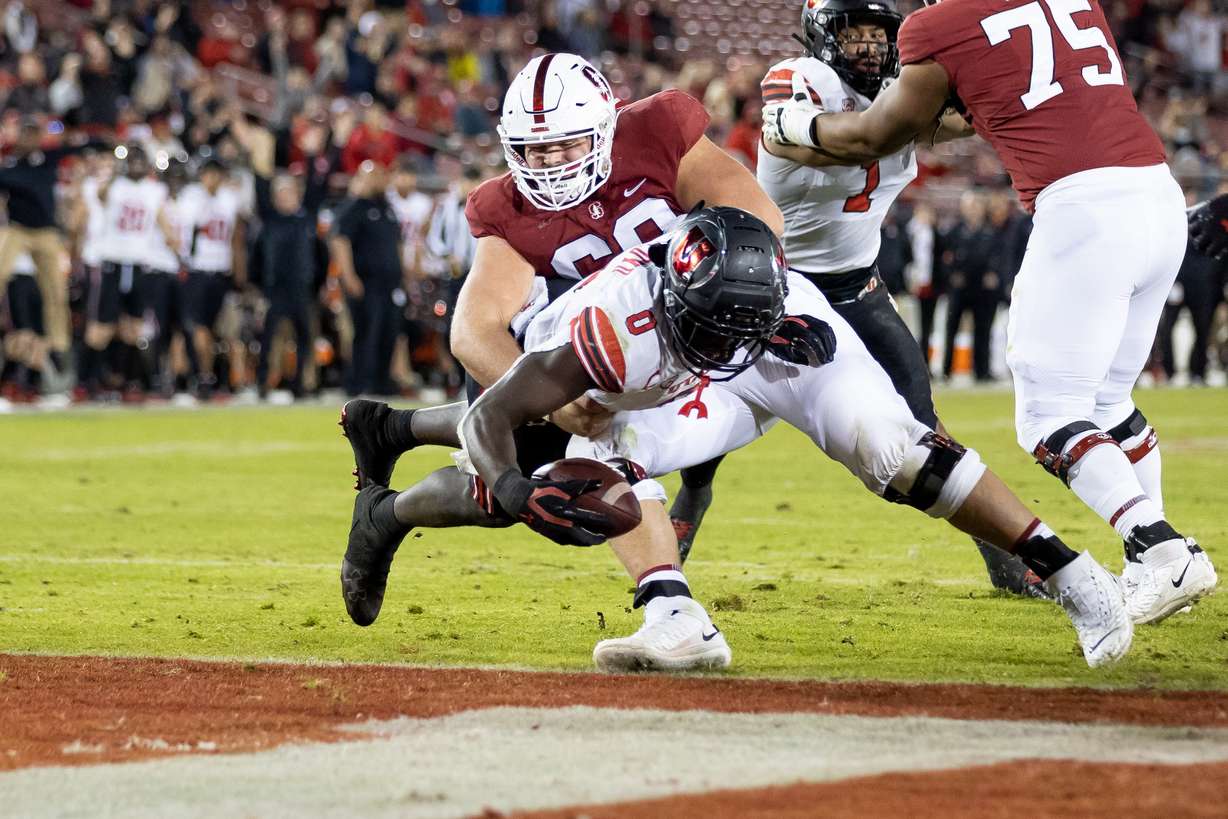 The two-time Butkus Award finalist has been a menace to opposing teams for many season, and just this year has recorded 90 total tackles, 21 tackles for loss, seven sacks, six pass breakups and three interceptions, including one returned for a 2-yard touchdown against Stanford. His tackles are forceful and his interceptions showcase his former wide receiver hands.
And for as much as Lloyd showcases on the field, it's his leadership and coaching up of the players around him that has earned him the most respect from those who know him best. Lloyd is supremely talented, but his leadership qualities may be the only thing to rival his on-the-field talent.
"Being around him definitely affects everyone else in a positive way," fellow linebacker Nephi Sewell said. "And the more I'm around him, the more I feel like his leadership is rubbing off on me. I'm very happy for him."
"A lot of leadership comes from your nonverbal cues, and people see him. I mean, I wouldn't be surprised if he's still out there on the field right now, which he is," Swan said after a recent practice. "And so that goes noticed by a lot of players, and sometimes that nonverbal stuff goes noticed and kids feed off of it — teammates feed off of it."
There's little doubt Lloyd's talent and leadership make him worthy of the praise he's received, though he's the last to promote his own self as part of the process; his individual success, although important to him, always comes second to his team.
On Friday (2 p.m. MT, FOX), Lloyd and potentially 18 other members of the Utes team will play their final game before fans at Rice-Eccles Stadium. And though his future is set, he said it wasn't easy consider the possibility of leaving the university.
"I haven't really put too much time in thinking about, but it's definitely going to be tough," Lloyd said. "Just investing so much time to this university and everything that has gone on while I've been here. I've matured a lot and grown a lot as a man, and I've made so many memories — countless memories, countless relationships — that will last a lifetime.
"It's definitely going to be hard, but I'm really just focused on enjoying every moment I have here."
×