Estimated read time: 6-7 minutes
SALT LAKE CITY — Lone Peak's offensive effort in the 6A state championship game was historic, at least this season, as the first team to score 35 points against top-seeded Corner Canyon.
And that was just the first half.
In the Knight's 41-16 win over Corner Canyon that stopped a historic 48-game winning streak on the precipice of more Utah High School Activities Association history, Lone Peak proved it could stop the Chargers.
On Friday evening, the Knights proved they could score with them, too.
And when it came down to the most crucial point of the game, that stop defense showed up again.
Easton Comer carried the offense with 276 yards and four touchdowns with one interception through the air, 65 yards on the ground, and Takeao Hansen sealed the game with a late interception to help Lone Peak end top-seeded Corner Canyon's bid for four consecutive state titles with a 49-42 win over the Chargers at Rice-Eccles Stadium.
"Everyone was doubting us, saying we can't do it," said Hansen, who finished with four tackles and a punt block. "Then we go prove them wrong.
"It means the world. It's the last high school game for a lot of us. It's amazing."
Crew McChesney caught six passes for 192 yards and three touchdowns, and Jaxson Willits ran for 128 yards in an offensive showcase for the Knights (10-2), who piled up 569 yards of offense and 8.8 yards per play that included 6.2 yards per carry on the ground.
"He's a junior and he's one of the best receivers in the state," Comer said of McChesney. "Those junior receivers are dogs, and they're going to surprise a lot of people next year. I'm not surprised; I know they shocked a lot of people, but I'm not surprised."
Devin Brown threw for 380 yards and four touchdowns with an interception for Corner Canyon, and added 96 yards and a score on the ground for the USC quarterback commit who set a state record with 4,875 passing yards.
BYU-bound wide receiver Cody Hagen caught seven passes for 126 yards and two touchdowns — the 51st touchdown of his career, second-most in state history. Jett Meine added 114 yards and a score, and Jon King had 95 yards and a touchdown for Corner Canyon (12-2), which finished with 505 yards and 9.4 yards per play, but just 3 of 7 on third downs in the Chargers' second loss to the Knights of the season.
"We knew we were going to see them again," Comer said. "They're one of the best teams in the state, but we know we're the best team in the state.
"Obviously, it shows right now. We're state champions, and that's all we can say now. Nobody can take that away from us."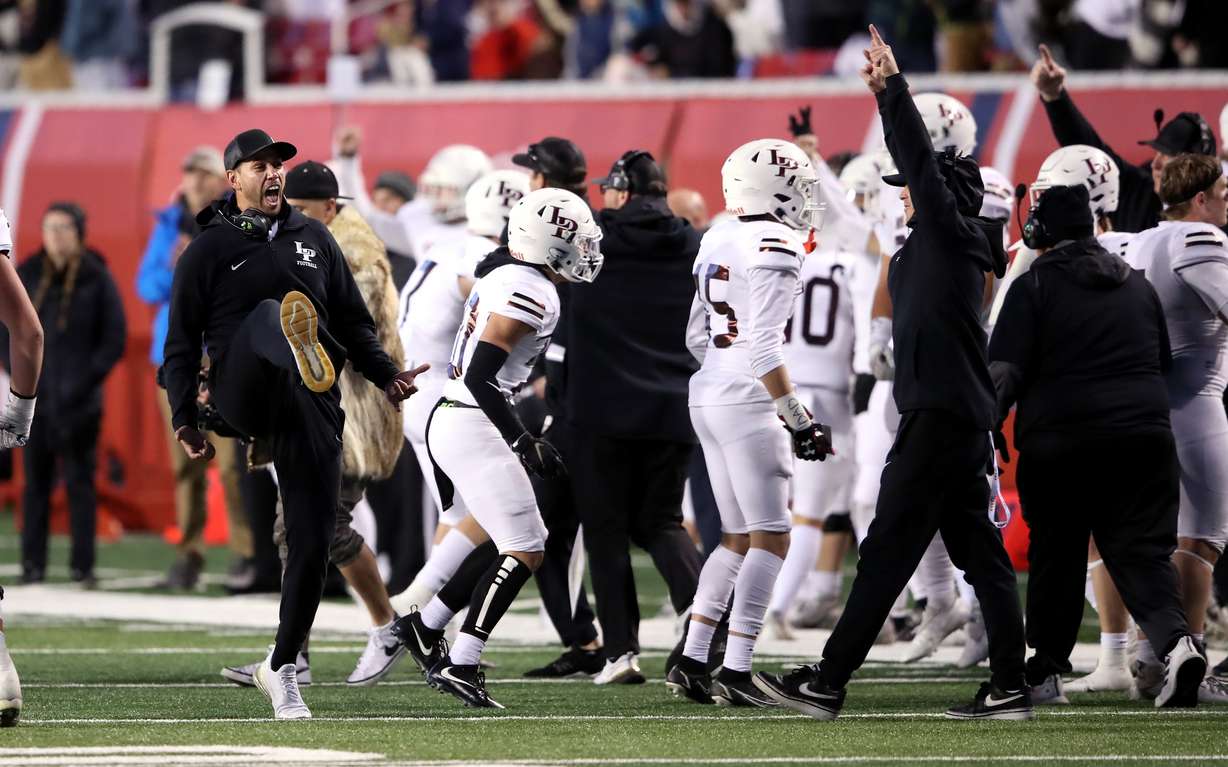 The title is Lone Peak's second in four years, its first since 2018 and the third in school history. And the Knights did it in the hardest way possible — battling through the toughest region in the state, handing Corner Canyon its only two losses in nearly four years, and battling through the most combined points in regulation in a championship game in Utah high school football history, according to high school football historian George Felt.
The numbers were astounding: 91 points, 1,074 yards, 51 first downs.
The Knights survived them all, then emerged from the chaos bloodied, battered and champions.
"That's just this group," Lone Peak coach Bart Brockbank said moments after receiving the winning ice-bucket bath for the second time in his career. "The very first practice this week, I asked them, 'what do you guys think?' They said, 'it's the media that talks about two wins as hard. It's not for us.'
"I never even had to say a word."
Luke Durfey gave the Knights their first lead of the game with a 2-yard touchdown plunge around the two-minute mark of the second quarter, but Brown responded with a 4-yard toss to Hagen with 23 seconds left for the 35-35 halftime draw.
Corner Canyon averaged 10.2 yards per play for 420 yards during its five-touchdown first half, including 298 yards and three scores from Brown.
Led by Comer's 227 yards and three scores, the Knights averaged 12.45 yards per play for 386 yards while converting on 5-of-6 first downs and a fourth-down conversion. McChesney caught four passes for 148 yards and two touchdowns before the break, including an 80-yard score to tie the game at 28-all with 6:04 left in the half.
Hagen and Meine combined for 219 yards and three touchdowns in the first half for Corner Canyon, which narrowly out-gunned the Knights 420 yards to 386.
"It was just punch, punch, punch, and then more punches," Brockbank said. "They're a great team, I feel like we're a great team, and this kid just does whatever it takes to win.
"Last week, it was with defense. This week, the defense got annihilated the first half; I don't know if they were even on the field. But in the second half, they came out and got the few stops we needed while the offense was fantastic."
Lone Peak knew the stops would come — they did back on Oct. 7 in a 41-16 win in Draper, for whatever that's worth.
"As soon as we won that regular-season game, we knew these guys weren't unbeatable," Hansen said. "We put together a great game plan, and took it to them."
The Knights allowed more than 16 points just twice in 11 previous games. It was time for the offense to carry the defense, for a change.
"I always trust my defense. If they let up 42 points, we'll score 49 points," Comer said. "At halftime, I told them, we trust you guys like they were trusting us. They bailed us out in some games, so it was our turn to bail them out."
The Knights slowed the game down in the third quarter, using a nine-play, 43-yard drive over 5:34 to take a 42-35 advantage on Durfey's second touchdown run with 1:14 left in the third.
Brown countered with a 12-yard strike to King to open the fourth quarter.
Comer milked another long drive — 12 plays and 85 yards over 6:49 — before finding McChesney for a 41-yard touchdown with 2:26 to go.
The quarterback found the 6-foot junior after running for back-to-back third-down conversions — among the 10 of the night — and Comer was exhausted.
"I was so tired, man," he said. "I'm in the huddle, and I knew we had to go. I saw the safety come down on a post, and I just let Crew run down under it."
That set up Hansen's final play, an interception off Dallin Moore's tipped pass that led to Brown's only interception of the night.
What a time for it.
"Dallin Moore goes up, and has a great defensive play. It was just an easy catch," Hansen said. "It was crazy, knowing that we were going to win the state championship. It's been my dream for so long."
×
Photos
Related Stories