Estimated read time: 5-6 minutes
OGDEN — Jace Palmer had plenty of reasons to smile Saturday afternoon at Stewart Stadium.
Not only did San Juan's senior quarterback lead the Broncos to their first state championship since their head coach was in high school, but he did it in style.
Palmer threw for 253 yards and four touchdowns, and ran for 26 more and a score as San Juan flew past Beaver 34-21 in the Class 2A state championship to clinch the Broncos' first title since 2010.
Ladd Ivins had nine catches for 86 yards and a touchdown, and added 10 tackles on defense for San Juan, which clinched a 12-1 season with its 12th-straight victory dating back to a 45-20 loss at 4A Desert Hills in the season opener.
"It's just crazy. I don't even know what to think about it," Palmer said in a statement of delirium after the game. "We've been grinding all summer, all year, and we deserve that one. The fans have been supportive and they deserve it too."
Most of Blanding's 3,375 residents from the southeast corner of the state may have been in the stands at Stewart Stadium, and why not? If nobody was left in town, it would have been worth it for a community waiting for a state title since before San Juan head coach Barkley Christensen's glory days.
The wait is over, Bronco fans.
"Our head coach was in the state championship and lost it, what, nine years ago," Ivins said. "And so he wanted this just as bad as we did and we put it together and made it happen."
What does the Broncos' seventh state championship in school history mean for that community? Take it from the coach, a 2013 graduate who played three sports and threw for nearly 4,000 yards and 40 touchdowns while watching the Broncos win two titles during his four years in high school at San Juan before signing as a wide receiver with Dixie State.
"It's everything," Christensen said. "I tell the kids all the time: 'Guys, I'm a loser. Football is my whole life. This is what this is what I live for.' And it's what a lot of our committee members love. Sports are amazing and it means everything. I'm so excited."
If Palmer was the engine of the Broncos' offense, Ivins was the gasoline. The duo powered San Juan's 332 yards of offense, hooking up for nine of Palmer's 16 completions that provided 76% of the offense.
"He's a dang good athlete," Ivins said of Palmer. "We've been friends ever since I can remember, and he's just got that ... I don't know what you call it. But we link together really well, and it's just a lot of fun playing with him."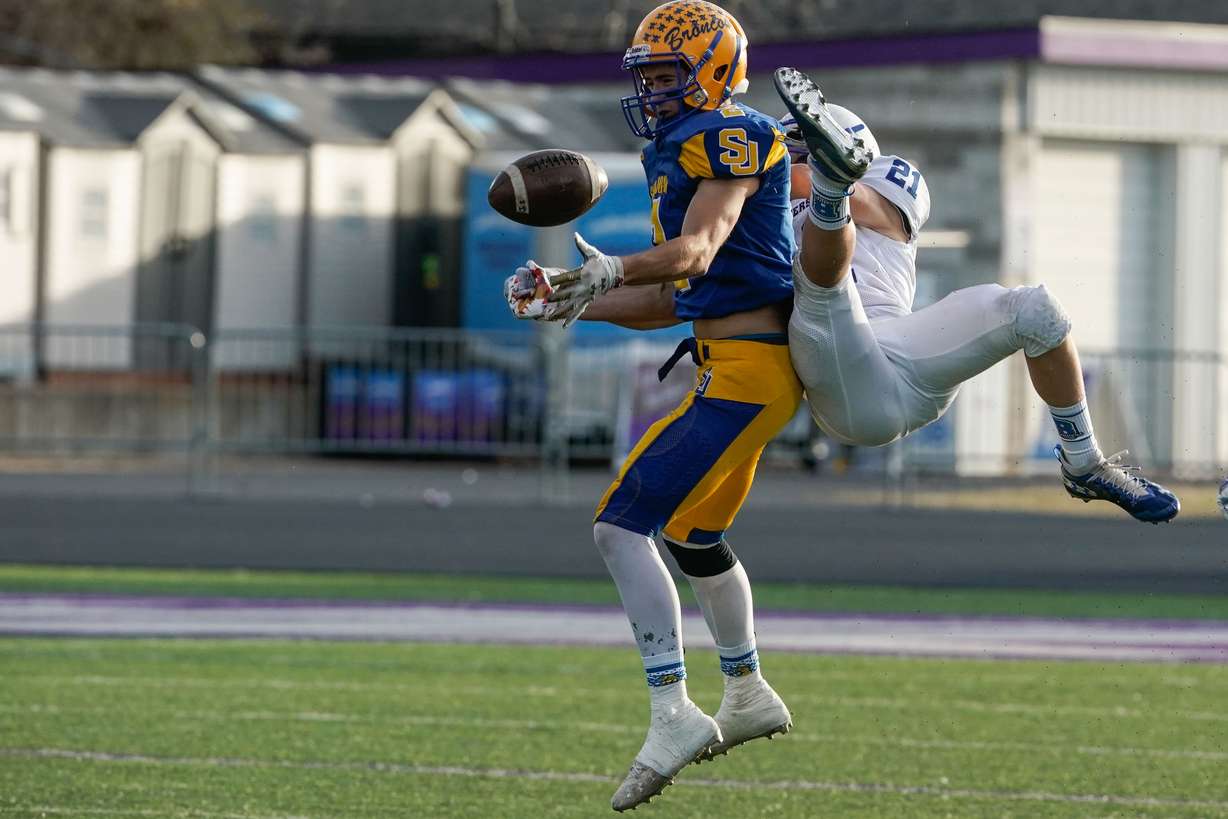 Ivins is no slouch himself. One of the smaller players on the team, the senior finished his final campaign averaging 14.7 yards per catch and 74.5 yards per game for over 2,600 receiving yards with 25 touchdowns.
"That should show every small kid that you can do anything because that kid is insanely impressive," Christensen said of Ivins.
Palmer had a hand in all 14 points for the Broncos in the first quarter, from a 13-yard strike to Ivins to a 1-yard run for another score and the ensuing 2-point conversion pass with 1:25 left in the opening stanza.
The senior didn't stop there, though.
After a 71-yard strike to Cooper Black, Palmer found Jerzy Nieves with a 30-yard touchdown on fourth-and-21 with 1:43 left in the half to give the Broncos a 26-0 halftime lead.
"We just wanted it bad. We want to come out from the start and just hit him in the mouth and just leave no doubt who's the best team in 2A," Palmer said. "There were some questions with the last time we played them, and we only went up 8-0; people think it could have gone either way. But we just went out and showed him that we're the best team in 2A."
Palmer completed 10-of-13 passes for 185 yards and three touchdowns, and ran for 14 yards as San Juan out-gunned the Beavers, 228 yards to 79 and held Beaver on the same number of offensive plays. Ivins finished the half with six catches for 72 yards, Black added 74 yards on two catches, and Jensen Grover ran for 29 yards for the Broncos.
"He's a he's a big-time player," Palmer said of the diminutive Ivins. "He knows what he's doing and he's aggressive and he'll go get the ball for me."
It was about as dominant a performance as a championship contender could imagine, but it may have been surpassed by San Juan's defense. Magnum Nielson had a game-high 10 tackles and half a sack for San Juan, and Tyler Bayles tied Ivins with 10 tackles, including 1.5 tackles for loss.
San Juan's offense didn't need much help, doing all its scoring in just 9:39. But its defense gave plenty to them.
Palmer added a second touchdown to Nieves in the third quarter, a 26-yard strike with 1:23 on the clock to put the Broncos up 34-7.
"He exceeded everything. That was the best game he's played," Christensen said. "He made a couple of mistakes. But that last touchdown, we had a run play call and he just threw the fade. I won't take credit for that one; that was just him in Jerzy making a play."
They needed every one of them, too. Beaver running back Jayton Jessup scored three second-half touchdowns, including one with 4 seconds remaining to finish with a game-high 146 yards on 29 carries. Tyten Fails threw for 163 yards — including 112 yards to Boston Black — for the Beavers (11-2), who lost to the Broncos for the second time this season and for the first time on a dry field.
But it was too late as the Broncos celebrated their first championship in 11 years in front of a decidedly pro-Broncos crowd that was sent on the 345-mile trip home with a smile — and a trophy.
"It means a lot," Palmer said. "We've been wanting this since we were yay big and it means a lot."
×
Photos
Related Links
Related Stories