Estimated read time: 5-6 minutes
HIGHLAND — Every time Easton Comer needed a play, there was Cole Christensen.
From the biggest play of the game until the very last.
Comer threw for 215 yards and two touchdowns, and Christensen caught six passes for 127 yards and a score to help Lone Peak hold off Bingham 21-14 in a Class 6A state quarterfinal Thursday afternoon.
"Cole is such a dog. He's just so good," Comer said. "I'm pretty sure every pass I threw to him, we either completed or got a PI. He just gets open every time I throw him the ball.
"It makes things easy for me because he's wide open every single time."
No bigger play came than in the final 100 seconds of the first half.
Dallen Martinez gave Bingham a 7-0 lead on a 21-yard scramble down the east sideline to put with 7:34 on the clock, after the Miners held the Knights scoreless through ball control and Semsi Latu's interception on the opening drive of the game.
Bingham gambled to double the advantage with 1:42 left, when Martinez heaved a longball on fourth-and-long from around midfield that fell just out of reach of Maddax Peck.
That opened the door for Comer. The senior who guided Lone Peak to a historic upset of previously unbeaten Corner Canyon directed a seven-play, 43-yard drive over the final 90 seconds of the half capped by a 5-yard score to Christensen.
First Comer hit Christensen with a 40-yard strike to pull the Knights within the red zone. Two plays later, the duo connected again as the 5-foot-9, 150-pound junior leapt over the Bingham defense in the back of the end zone to tie the game at 7-7 at halftime.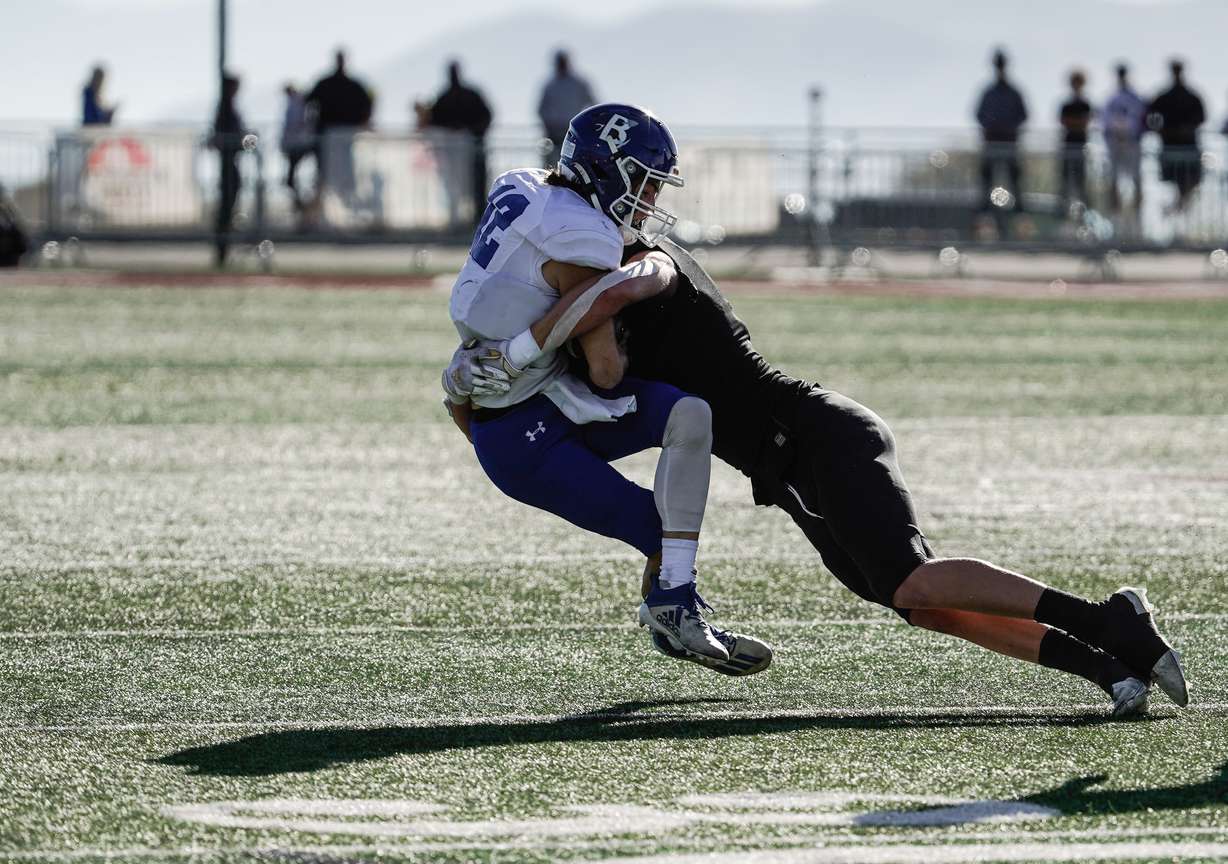 It was exactly the reset that Lone Peak needed.
"Every practice, we work on that two-minute drill, driving down the field like that to at least get a field goal," Comer said. "But we knew that we needed to score after a weird first half. I just knew we had to go score.
"Once I saw Cole man-on-man, I completed an easy post across the middle. Then I saw him in the end zone man-on-man again, and it was even easier."
The Knights took advantage of their opening possession of the second half to go ahead 14-7 on Comer's second touchdown, a 14-yard strike to Luke Hyde.
Mason Patane made it 21-7 on a heads up defensive play on the next possession, bouncing off a running back to collect a fumbled option pitch in the corner of the end zone for a touchdown with 5:33 left in the third.
"Mason's so good, man," Comer said. "He hit the running back and just fell on it. At first, I thought he fell on it at the 1-yard line. But when they signaled the touchdown, everyone was so juiced. It was really awesome."
Added Patane: "It was the best thing I've ever felt in my life. I was kind of questionable; I thought I slid out of bounds. Then I waited for someone to call it, and they did."
The seventh-seeded Miners (7-5) made a comeback attempt when Martinez found Latu with a 14-yard gain. Saia Lomu barreled into the end zone for a 3-yard touchdown on the next play to pull within 21-14.
But Bingham could get no closer thanks to Lone Peak's defensive stand that included a blocked 35-yard field goal with 4:10 remaining.
With the win, Lone Peak advanced to face Region 4 rival Skyridge in the 6A semifinals at Rice-Eccles Stadium for the first time since Patane's sophomore year. Last year's semifinals and championship were held at Cedar Valley High School due to the COVID-19 pandemic.
"My sophomore year, I got pulled up to go there, and the best feeling was walking out of that tunnel at Utah," Patane said. "Now that we get to experience again with all our brothers, that's what we've been wanting.
"We're ready to make a run."
Hyde finished with 33 yards on three catches, including the touchdown, for Lone Peak (8-2).
Martinez threw for 86 yards for Bingham, and added 54 yards rushing. Lomu finished with 27 yards and the score.
Hillstead, Fenton lead Skyridge to rout of Farmington
McCae Hillstead threw three touchdown passes, and Jeter Fenton ran for two more as the Falcons ran away from the Phoenix 53-7 in a 6A quarterfinal.
Hillstead threw for 165 yards and two touchdowns in the first half, including a buzzer-beating touchdown pass to Teagen Calton to go up 33-7 at the break. Fenton plunged in from 11 yards out for his second score after Skyridge (11-1) forced a fumble on the first play of the third quarter, and the rout was on.
Easton White found Kenyon Brown with a 1-yard touchdown with 1:46 left in the first quarter to pull Farmington within 14-7. But the Phoenix (8-4) could get no closer.
Brown's 5-spot lifts Chargers over Cavemen
USC commit Devin Brown completed five touchdown passes, including two each to Cody Hagen and Dylan Carlson, to help top-seeded Corner Canyon roll by Region 4 rival american Fork 45-28 in a 6A quarterfinal.
Brown found Hagen with a 15-yard touchdown in the second quarter en route to a 28-7 halftime lead. Boise State-bound quarterback Maddux Madsen hit Trey Roberts for his first two touchdowns on a 52-yarder to pull the Cavemen within 28-14 to open the third quarter.
But Brown found the BYU commit on the next series to spark a 17-8 run that put the game away for good.
Second-half shutout lifts Weber to 6A semifinals
Aidan Carter connected with Jett Hill on a 26-yard touchdown pass with 2:26 left in the first half, and the Warriors shut out Region 1 rival Syracuse in the second half en route to a 14-7 win the 6A quarterfinals.
Logan Payne gave Weber (10-2) an early lead with a 7-yard touchdown run. But the Titans (8-5) responded, tying the game on Brevin Hamblin's 25-yard strike to Chandler Christensen with 11 seconds left in the first quarter.
The Warriors will face top-seeded Corner Canyon in next Friday's semifinal at 2:30 p.m. at Rice-Eccles Stadium.
×
Photos
Related Links
Related Stories