Estimated read time: 5-6 minutes
SPRINGVILLE — Any worries that top-seeded Springville's football team may have had with an Alta team that had won five of its past seven may have vanished after just one drive, when Ryder Burton connected with Cole Clement on his first of four first-half touchdown passes.
Or maybe it took until Seth Rigtrup broke free for a 76-yard touchdown midway through the second quarter.
Nearly three weeks since their last game, with an off-week in the regular-season finale and a first-round bye in the playoffs, the Red Devils picked up right where they left off.
And then some.
Burton threw for 246 yards and four touchdowns, and Rigtrup added 111 yards on the ground and two total touchdowns to help Springville overwhelm the visiting Hawks 41-7 Friday afternoon in the second round of the 5A state playoffs.
But like any good quarterback, the 6-foot-2 junior defaulted praise to the guys in front of him.
"The line did a great job; I had all day to go through my reads," Burton said. "Alta did a really good job of taking away my first and second read, but because of the line, I could get to my third read, and we just took off from there."
Bradey Mortensen caught six passes for 137 yards and two touchdowns, and Cole Clement added 80 yards and a score for Springville (9-1).
But the balance in the offense relied on Burton, who completed 14-of-17 passes before being pulled after three quarters.
"He's that type of kid," Springville head coach Willy Child said. "He loves to throw the ball and he has confidence in our receivers and our O-line.
"We love to run the ball, and we were able to do that some today as well. But we know that teams are going to take that away sometimes, and we have to make passes. For us to be good and to accomplish something, that's what we've got to do."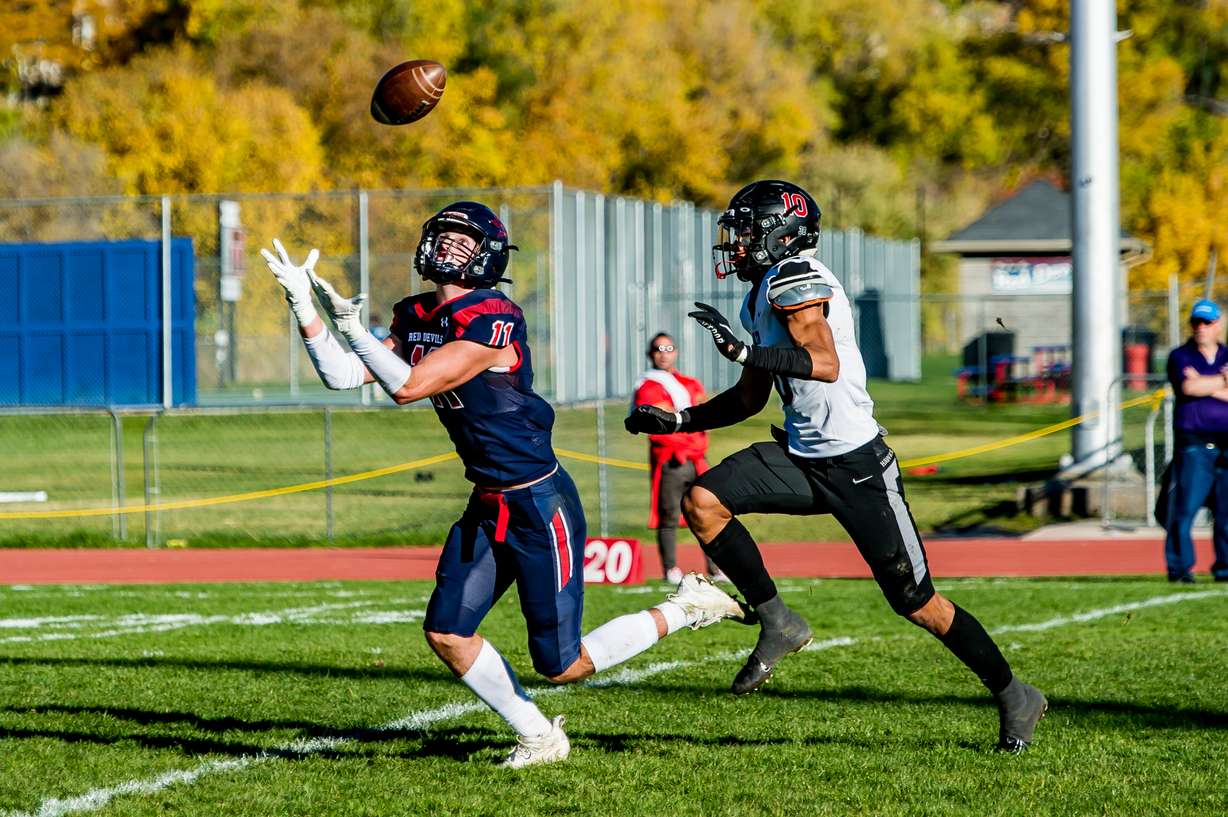 Defensively was just as good. The Red Devils didn't force a turnover but held Alta to just 137 yards — including just 44 on the ground — before the break.
Nearly half of those yards came on the final drive, when the Hawks stalled out the final minute with about 20 yards to go. Prior to that, Alta punted four times and turned the ball over on a fourth-and-1 at the 10-yard drive on their first possession.
That play proved pivotal in establishing the Red Devils' fast start. After getting the ball back, Burton directed a nine-play, 90-yard drive with a 5-yard score to Clement. The series also included a 55-yard strike to Mortensen, who had 137 yards and two touchdowns in the first half.
"They were moving the ball at will on us early," said Child, whose team essentially had three weeks to prepare for Alta. "For us to get that stop and then answer back, a lot of our games we've fallen behind or had slow starts. For us to get a stop and get a score got the confidence of our guys going."
Burton also found Rigtrup with a 15-yard screen pass that the senior captain cashed in for a 14-0 lead just a few moments until the second quarter.
The Red Devils scored on all five of their first-half possessions, including Mortensen's 19-yard touchdown where he shook off two defenders near the goal line for the 35-0 halftime lead.
Tevita Valeti finished off Springville's scoring with a 43-yard touchdown run on the first drive of the third quarter to give the Red Devils a 41-0 lead with the running clock. The sophomore finished with 79 yards and the score.
"There are so many seniors on this team, and the leadership we have is incredible," Burton said. "That's what separates us from most years; leadership plays a huge part in how we play. We're super happy to be here, and we just hope to keep it rolling."
Springville held Alta scoreless until a 4-yard touchdown run by Anson Jaramillo, who finished with 33 yards on 13 carries, with 9:55 left in the fourth quarter.
Ethan Jackson threw for 147 yards, including 52 yards to BYU linebacker commit Maika Kaufusi.
The Red Devils will host eighth-seeded Timpanogos in the 5A quarterfinals Friday at 6 p.m. MT.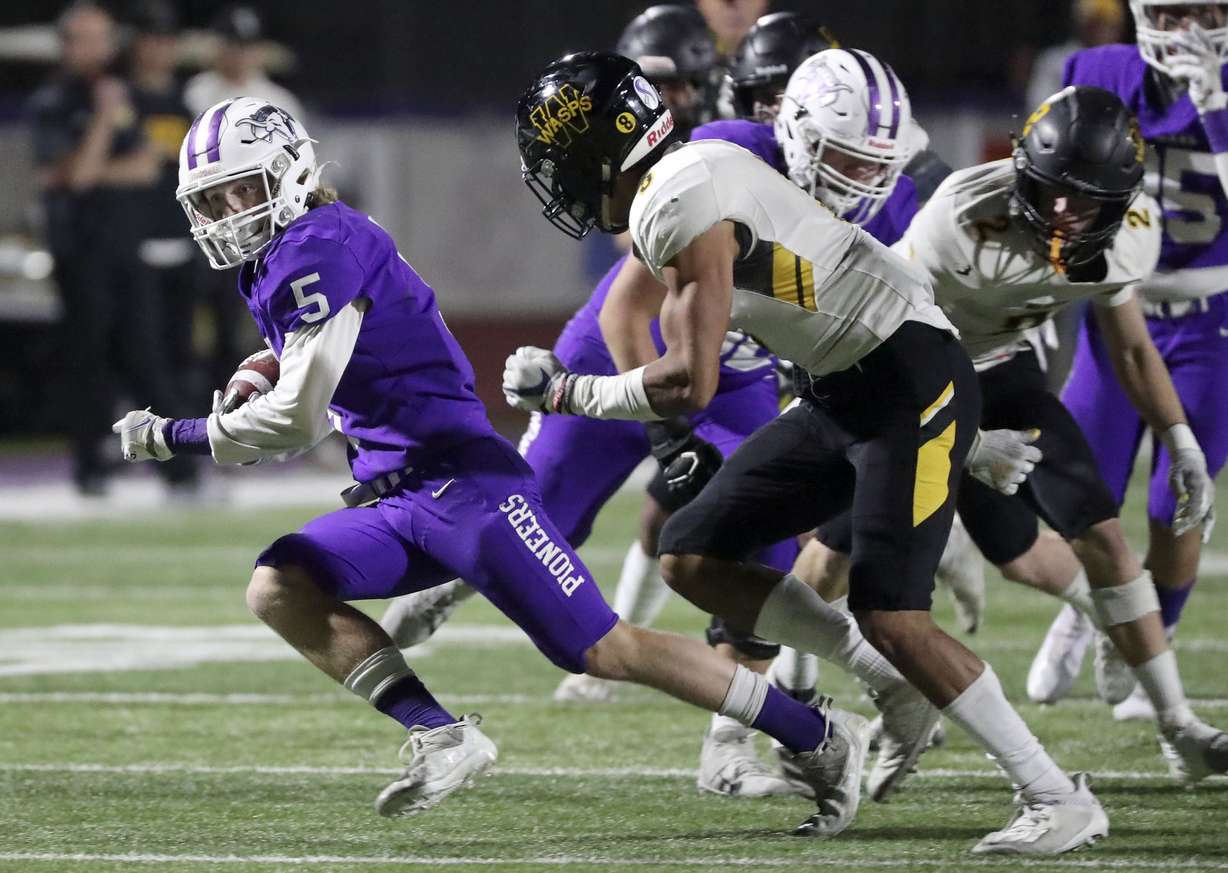 5A second round
Timpanogos 31, Box Elder 29
Chase Riggs threw three touchdown passes, and Luke Livingston had a pair of scores to help the Timberwolves rally from a 22-14 second-quarter deficit and hold off the Bees.
Matthew Torgersen caught two touchdown passes for Timpanogos (8-2).
East 38, Spanish Fork 20
Amine Amone ran for five touchdowns as the Leopards (5-6) rushed to a 38-14 lead after three quarters over the Dons.
Cade Olsen returned two kicks for touchdowns for Spanish Fork (7-3).
Bountiful 38, Park City 20
Drew Bowles scored on a 48-yard pick six, then added a 49-yard touchdown in the fourth quarter to help the Redhawks (8-2) pull away from the Miners (5-6).
Orem 28, Provo 14
Mack Hixson ran for two of four touchdowns for the Tigers (6-5) en route to the road win.
Timpview 42, Bonneville 15
Liu Aumavae threw for three touchdowns, including a 50-yard bomb to Tei Nacua in the first quarter, to help the Thunderbirds (9-2) roll by the Lakers (6-5).
Stansbury 26, Olympus 20
Ezra Harris' three touchdowns from the middle of the second quarter on helped the Stallions (9-2) rally from a 20-14 halftime deficit to overtake the Titans (7-5).
Lehi 35, Wasatch 30
Carson Gonzalez scored on a 10-yard run with 59 seconds left to force overtime, and the Pioneers (8-3) blocked Wasatch's extra-point attempt before Jackson Brousseau's second touchdown pass to hold off the Wasps (7-4).
×
Photos