Estimated read time: 4-5 minutes
OREM — No sooner had Ridgeline's girls volleyball team wrapped up its first-ever state title than the collective thought turned in sync.
Where's the Swan?
As the Riverhawks celebrated on the court and raised the trophy high over their head, one assistant coach sprinted to the bench and grabbed the plush swan to join with the community.
That swan represented freshman Adee Swanton, who was miles away battling acute myeloid leukemia at Primary Children's Hospital. So the Swan had to be included in the biggest win in program history.
"The swan has represented Adee everywhere we go," senior Gracee Putnam said. "She's always on the bench with us, she's always with us on the bus.
"Everywhere we go, she's always with us."
One parent even set up a FaceTime for the freshman in her hospital room, and players took turns yelling with her in excitement.
Nia Damuni dished out 36 assists, three kills and two blocks, and Putnam added 16 kills and an ace as Ridgeline sprinted to a 25-12, 26-24, 25-18 win over Desert Hills in Thursday night's Class 4A state championship at the UCCU Center on the campus of Utah Valley University.
Mira Smullin added 11 kills and four blocks, and Julia Howe supplied five kills off the bench for the Riverhawks (24-6), the sixth-year school that won its first title and kept the 4A championship trophy in Cache Valley for the fourth consecutive year.
Ridgeline wins its first @UHSAAinfo 4A volleyball title in school history. #SwanStrong | #Riverhawkspic.twitter.com/CwXmqpbdLC

— KSL.com Sports (@KSLcomSports) October 29, 2021
And they did it all for Adee.
"All of a sudden our focus really started to shift. We had a bigger purpose to play, to fight, and to do something for her," Ridgeline coach Jaicee Roden said of Swanton, who was diagnosed in September. "Life is bigger than a game, and they started to see that this season. They started to see that it's important to be able to fight, to dig deep, and to have a bigger purpose. They really invested in that, and believed in that."
Saidey Spencer had 16 assists, three kills and two blocks to lead Desert Hills (20-10), and Brooke Haguewood and Anna Jenson added five kills apiece for the Thunder, who got four blocks from Maleia Thurber.
Maggie Larsen had three blocks, and Putnam had an unassisted putback that screamed over the net to give the Riverhawks a 19-10 lead in the first set. It was the senior outside hitter's first of four kills in the opener en route to the 25-12 win.
All the while, Damuni was pulling the strings — and doing so with a purpose.
"We did this for our teammate, Adee 'Swan.' That was our purpose to play this season," Damuni said. "It's the first Ridgeline state title, and we did it for our teammate. We just played together."
In the grand scheme, sports mean little when compared to the trial that Swanton has been overcoming — her second round of chemotherapy has been going "really well," her coach said.
But it meant the world for the group of teenagers during Thursday's final, playing with a higher purpose.
"It's not about me or anyone on the team. It's for Adee," Putnam said. "It was cool to win it for her. And I think she definitely helped us play well and to play together."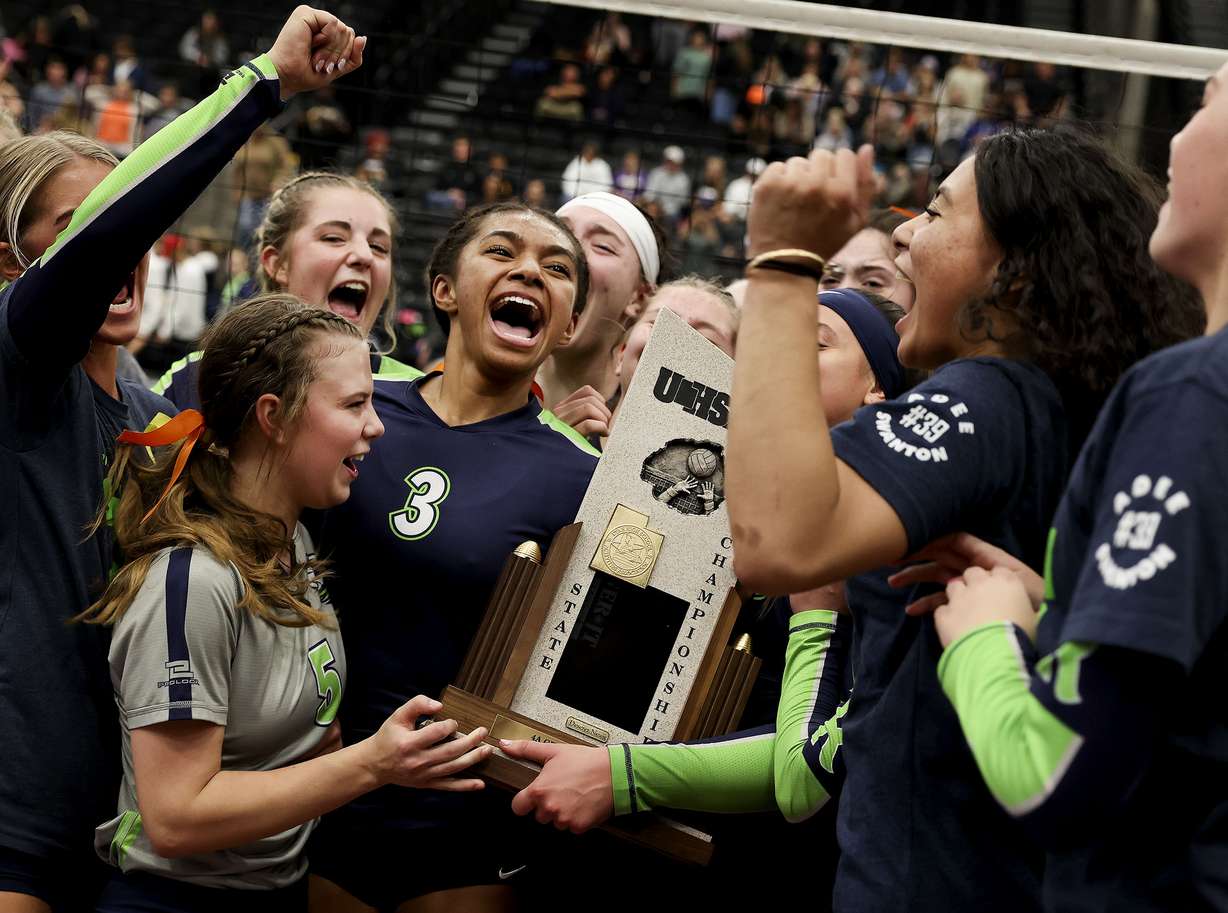 Desert Hills took a 17-16 lead in the second set, when Ridgeline called a timeout.
The Riverhawks used a 6-2 run to right the ship, guided by the steady hand of Damuni. The junior setter found three different scorers — an ace by Gracie Cole didn't hurt, either — as Ridgeline held on for a 26-24 victory for a 2-0 lead.
Every time the Riverhawks needed a point, a defensive stand, or a scrappy play, Damuni knew exactly where to put the ball — or to dump it over the net, which she did on three crucial occasions.
"It's easy when everybody comes ready and everybody can hit anywhere," said Damuni, who averaged 8.6 assists per set during the season. "We have so many threats on our team; I can give it to anybody, and I know that they'll put the ball away."
Damuni found Julia Howe on three consecutive points to help the Riverhawks overturn an early deficit that swelled as large as five into a 16-14 edge midway through the third set.
Within a few minutes, the junior found Mira Smullin for the match-winning kill down the right side, setting off pure joy and celebration.
And with a little bit of help from Damuni, whose three older brothers are playing Division I football everywhere from Utah State to BYU to Idaho State.
"Nia has God-given talents, and she's super athletic," Roden said. "But she stepped into a leadership role; she works hard, and she's growing in the mental game. When you put it all together, it creates a really nice leader on the court and she does a really good job of taking on all of her roles."
Eventually, Damuni will be joining her brothers in Division I. But first, she had some business to attend.
For the Swan.
×
Photos