Estimated read time: 9-10 minutes
AROUND THE SHIELD — No one outside of New York Jets fandom is concerned about the Jets' most recent loss to the New England Patriots.
The Jets fell to their AFC East rivals 54-13 Sunday, but what happened to former BYU quarterback Zach Wilson raised eyebrows across the league.
Wilson was sacked in the first quarter, but was injured in the second. Four plays into the Jets' first offensive series of the quarter, the Corner Canyon product was hit by Matthew Judon while throwing a deep ball to Keelan Cole.
The play wound up being a 46-yard gain thanks to a pass interference penalty on Kyle Dugger that set up a touchdown, but Wilson's injury muted any New York celebrations.
The Jets will send Wilson in for an MRI and other tests on the injured knee Monday. But the starting signal caller told reporters after the game that the early prognosis is a PCL injury suffered when his toe "kind of just got stuck in the ground and Judon just kind of fell on it with all of his weight, and that kind of twisted it," when he "felt a pop there," he said.
"That's what we've heard so far," Wilson said when asked about the PCL injury. "That's what I think would probably be the best-case scenario. I'm not really sure. I don't know a lot about the PCL. Obviously, the pain really isn't there. It just kind of feels like something's a little off as far as just being loose or unstable a little bit.
"So, just making sure we get the MRI to clear up things."
The Jets confirmed a PCL sprain to Wilson's knee Monday, saying the rookie quarterback would be out for at least 2-4 weeks. Later in the day, New York traded a conditional sixth-round draft pick to Philadelphia to re-acquire Joe Flacco, who spent last season as Sam Darnold's primary backup.
Judon offered his apologies to Wilson after the game, including on social media.
"You hate to see injuries," Judon tweeted, especially if you're a part of them. I'll be praying for you, Zach Wilson."
For his part, Wilson — the No. 2 pick in April's NFL draft who completed 6-of-10 passes for 51 yards with a sack taken before the injury — isn't holding it against the linebacker, either. But he also said a hit on the play before — a tackle by Duggar during a 15-yard pass to tight end Ryan Griffin that hurt Wilson's other knee — may have been an issue.
"I didn't think he had tried to hurt me," Wilson said of Judon. "I think the first one, just because he went for my knees, I thought it was a little out there. I didn't understand the situation he had, if he had no other option or whatever it was there.
"But yeah, I think that injuries are just part of the game."
Mike White led the Jets in Wilson's absence, and would be the presumed starter for as long as the former BYU quarterback is out, barring a trade.
The former fifth-round pick of the 2018 NFL draft out of Western Kentucky completed 20-of-32 passes for 202 yards, a touchdown and two interceptions for the Jets, who lost their fifth game of the season with their seventh loss in the last 10 games.
"Guys are obviously frustrated," Wilson said, "but I would say determined. Guys want to get better and the message around is, we're going to be alright, keep getting in the film room, keep getting better and it will be alright."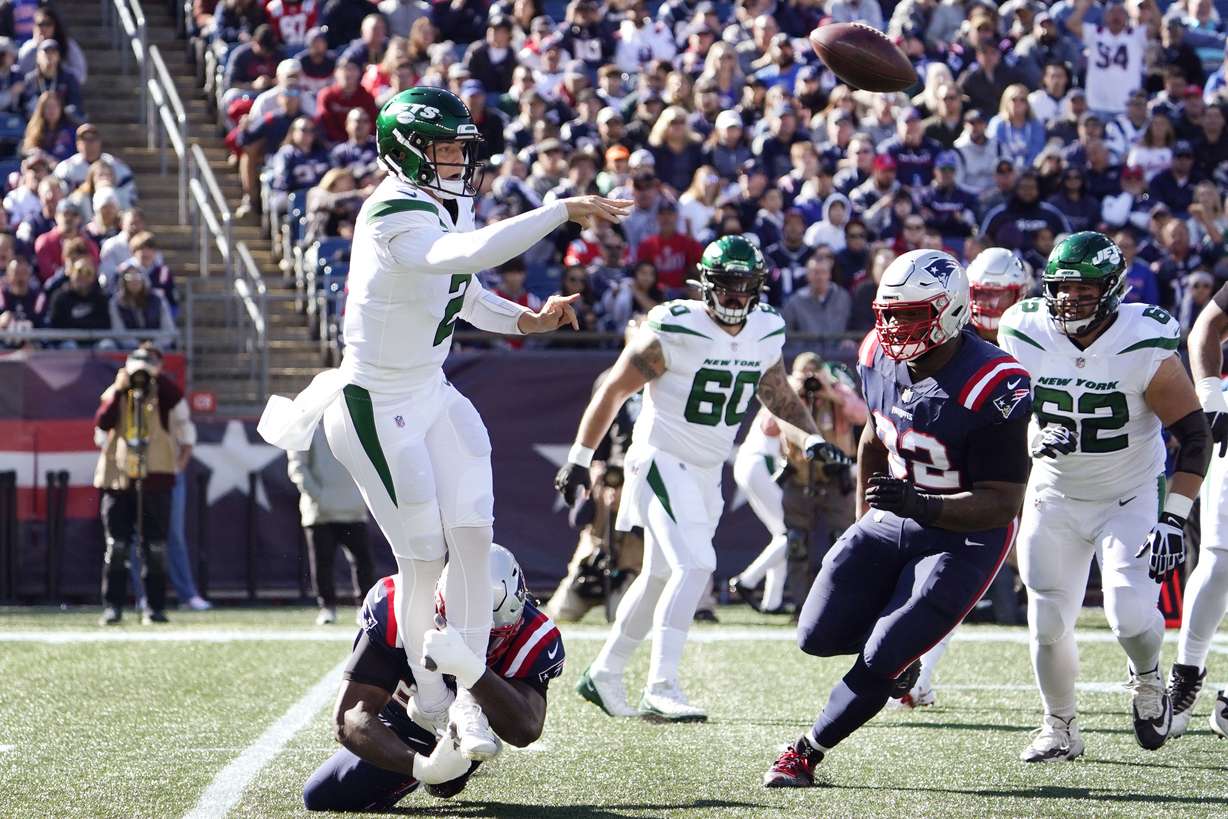 Wilson wasn't the only BYU product injured in the game.
Both Kyle Van Noy and Harvey Langi started at linebacker for the Patriots, but Langi's day finished early.
Langi, the 6-foot-2, 250-pound linebacker from Bingham High who beat the odds to make the Patriots' roster less than four years after suffering major damage in a car accident that also left his wife Cassidy in the hospital, was injured on a kickoff after the Patriots went up 24-7 in the second quarter.
After the play, Langi was helped off the field and later deemed out with a knee injury by New England.
Van Noy finished with three tackles and a pass breakup in the Patriots' win.
Another injury altered the season for former Utah linebacker Kylie Fitts, who announced on social media Friday morning that a concussion will keep him out for the year with the undefeated Arizona Cardinals.
"Although my season has come to an end early, I will always have faith in God's plan for me and his will always be done!" Fitts wrote. "We have such a special team this year and I'm excited to watch them continue to ball."
Fitts played in the Cardinals' first six games, tallying 22 defensive snaps and 11 on special teams with two tackles. The 6-foot-4, 260-pound third-year veteran joined the Cardinals in 2019 when he finished with nine tackles and a forced fumble in 13 games.
Earlier in the week, the Colts ruled out former Layton High star Julian Blackmon with a season-ending Achilles injury from Wednesday's practice.
It's the second significant injury in less than two years for the former Utah defensive back, who tore his ACL during the Pac-12 championship game with the Utes in 2019.
"It's how we respond that matters!" Blackmon tweeted after the Colts confirmed the injury. "Let's get this W this week!"
Indianapolis went on to beat San Francisco 30-18 on NBC's Sunday Night Football behind 150 yards and two touchdowns from Carson Wentz and four forced turnovers.
The Colts (2-4) have placed 19 players on injured reserve since training camp in July, with Blackmon's insertion becoming the 20th.
Blackmon ends the season with 34 tackles, one forced fumble and a pass breakup.
New Orleans 13, Seattle 10
Saints (4-2)
Marcus Williams, FS, Utah: Starting free safety finished with two tackles.
Kaden Elliss, LB, Judge Memorial: Played as a reserve.
Seahawks (2-5)
Bobby Wagner, MLB, Utah State: Starting middle linebacker claimed team-high seven tackles.
Cody Barton, LB, Utah/Brighton: Made one tackle on special teams.
Marquise Blair, S, Utah: Played as a reserve, lefty with injury in fourth quarter.
Bryan Mone, DT, Highland: Starting defensive tackle tied a season high with five tackles
This is one of the more incredible 2-yard runs you'll ever see. Alvin Kamara is having his head pulled off by Bobby Wagner … somehow stays on his feet and gets it to 4th and inches. Jameis Winston converts on the sneak. pic.twitter.com/pS2c6QDJrJ

— Jeff Nowak (@Jeff_Nowak) October 26, 2021
Indianapolis 30, San Francisco 18
Colts (3-4)
No locals on the active roster.
49ers (2-4)
Fred Warner, LB, BYU: Starting middle linebacker finished with nine tackles, two tackles for loss and a fumble recovery while playing all 68 defensive snaps, one on special teams.
Mitch Wishnowsky, P, Utah: Punted four times for 193 yards (48.3 average) with one punt downed inside the 20 in seven special-teams snaps.
Tampa Bay 38, Chicago 3
Buccaneers (6-1)
No locals on the active roster.
Bears (3-4)
Khyiris Tonga, NT, BYU/Granger: Made two tackles as a reserve in 22 defensive snaps, seven on special teams.
Jaylon Johnson, CB, Utah: Starting cornerback made two tackles while playin gall 73 defensive snaps.
Patrick Scales, LS, Utah State/Weber: Played five snaps on special teams.
Arizona 31, Houston 5
Cardinals (7-0)
Leki Fotu, DT, Utah/Herriman: Starting defensive tackle made one tackle in 26 defensive snaps, four on special teams.
Texans (1-6)
No locals on the active roster.
#Raiders tight ends Foster Moreau and Matt Bushman getting loose with tight ends coach Austin King. Onus is on them at the tight end spot today sans Darren Waller, who is missing a game for the first time since he signed with the franchise. pic.twitter.com/DUi9iJujXB

— Sam Gordon (@BySamGordon) October 24, 2021
Las Vegas 33, Philadelphia 22
Raiders (5-2)
Dallin Leavitt, S, Utah State: Made five tackles as a reserve in 23 defensive snaps, 17 on special teams.
Jackson Barton, OT, Utah/Brighton: Inactive for Week 7.
Andre James, OL, Herriman: Started at center and played all 66 offensive snaps.
Matt Bushman, TE, BYU: Active for first time in NFL career, playing 11 offensive snaps and two on special teams.
Eagles (2-5)
Sua Opeta, OG, Weber State/Stansbury: Inactive for Week 7.
LA Rams 28, Detroit 19
Rams (6-1)
Terrell Burgess, S, Utah: Made 1.5 tackles as a reserve in seven defensive snaps, 20 on special teams.
Matt Gay, K, Utah/UVU/Orem: Drilled field goals of 33 and 47 yards, two PATs plus kickoffs in 10 special-teams snaps.
Jonah Williams, DE, Weber State: Made one tackle on defense as a reserve in eight defensive snaps, six on special teams.
Lions (0-7)
Jamaal Williams, RB, BYU: Starting running back ran for 57 yards on 12 carries in 20 offensive snaps.
John Penisini, DL, Utah/West Jordan/Snow College: Made 1.5 tackles as a reserve in 13 defensive snaps, three on special teams.
Penei Sewell, OT, Desert Hills: Started at left tackle and played all 69 offensive snaps, five on special teams.
Tennessee 27, Kansas City 3
Titans (5-2)
No locals on the active roster.
Chiefs (3-4)
Daniel Sorensen, S, BYU: Made one tackle as a reserve in 16 defensive snaps, 10 on special teams.
Marcus Kemp, WR, Layton: Caught one pass for 8 yards, made one tackle in six offensive snaps, 17 on special teams.
NY Giants 28, Carolina 3
Giants (2-5)
Devontae Booker, RB, Utah: Starting running back ran for 51 yards on 14 carries (3.6 ypc), including 19-yard touchdown in the fourth quarter, in 59 offensive snaps.
Panthers (3-4)
Brady Christensen, OT, BYU/Bountiful: Started at left tackle and played all 64 offensive snaps, one on special teams.
New England 54, NY Jets 13
Patriots (3-4)
Kyle Van Noy, LB, BYU: Starting linebacker had three tackles, one pass breakup in 62 defensive snaps.
Harvey Langi, LB, BYU/Bingham: Starting linebacker was injured on kickoff, playing just five defensive snaps and seven on special teams.
Jets (1-5)
Zach Wilson, QB, BYU/Corner Canyon: completed 6-of-10 passes for 51 yards, took one sack prior to knee injury following 18 offensive snaps.
Javelin Guidry, DB, Utah: Had one tackle, one pass breakup in 19 defensive snaps, one on special teams.
Atlanta 30, Miami 28
Falcons (3-3)
No locals on the active roster.
Dolphins (1-6)
Eric Rowe, DB, Utah: Posted team-high nine tackles, including six solo stops, and a pass breakup in 44 defensive snaps.
Green Bay 24, Washington 10
Packers (6-1)
Jordan Love, QB, Utah State: Active, but did not play.
Football Team (2-5)
Dax Milne, WR, BYU/Bingham: Caught two passes for 16 yards in 29 offensive snaps.
Tyler Larsen, C, Utah State/Jordan: Played one snap on offense, three on special teams.
Cincinnati 41, Baltimore 17
Bengals (5-2)
Jalen Davis, CB, Utah State: Had two tackles, one pass breakup in nine defensive snaps, six on special teams.
Ravens (5-2)
Ty'Son Williams, RB, BYU: Ran for 10 yards on two carries in 21 offensive snaps.
Tyler Huntley, QB, Utah: completed 5-of-11 passes for 39 yards in 12 offensive snaps.
Cleveland 17, Denver 14
Broncos (3-4)
Garett Bolles, OT, Utah/Westlake/Snow College: Starting left tackle played all 50 offensive snaps, two on special teams.
Tim Patrick, WR, Utah: Starting wide receiver caught two passes for 16 yards in 47 offensive snaps.
Browns (4-3)
Sione Takitaki, LB, BYU: Starting linebacker made two tackles in 17 snaps on defense, one in 13 snaps on special teams
×
Related Stories