Estimated read time: 3-4 minutes
SANDY — Crimson Cliffs was searching for its first state soccer title in the school's three-year lifetime.
Mountain Crest was looking for the first title in any of its teenage players' lifetimes.
It was only fitting, then, that a freshman finished the job.
Yes, to quote the Mountain Crest student section: "She's a freshman."
Summer Sofonia opened the second extra-time period with the golden goal, and the second-seeded Mustangs from Mountain Crest held off the top-seeded Mustangs from Crimson Cliffs, 1-0 on the golden goal in the Class 4A state championship match Friday at Rio Tinto Stadium.
"It's so amazing. Just exciting," Sofonia said. "We knew we had to keep fighting until the end, and never gave up.
"I love this team, and I couldn't be prouder."
With the win, which came just 24 hours after surviving Ridgeline on penalty kicks, Mountain Crest (17-2) won its first girls soccer title since 1998.
The match also snapped Crimson Cliffs' 16-match winning streak, including a 12-0 mark through Region 10 for the Mustangs from Southern Utah. Those Mustangs — the ones from St. George that finished with a 17-3 record — had only lost twice all year, to 6A Skyridge and Pleasant Grove by an aggregate score of 8-0.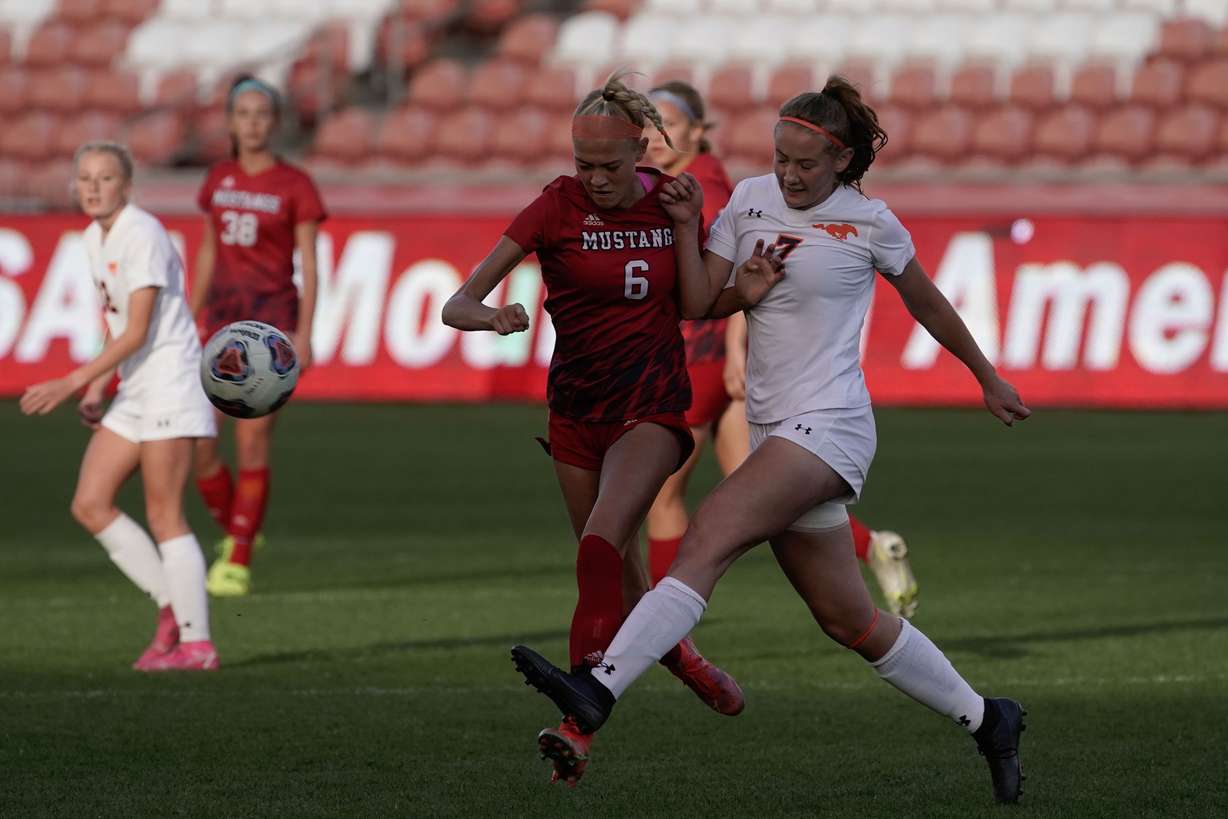 So yes, you could call Mountain Crest's win historic, or at least, a breakthrough.
"I knew this team, if any team coming through Mountain Crest could break through, this was going to be the one to do it for us," Mountain Crest coach Amber Hyatt said. "All the success we were having at the beginning of the season, I had a good feeling about it. I'm glad it went our way."
The teams' traded blows in a scoreless first half that was not without its moments. Ritchie Brynleigh nearly gave Mountain Crest the lead in the 32nd minute, dribbling around and through a pair of defenders before ripping a shot that was tipped just outside the far post.
Jantzyn Losee nearly headed home the go-ahead goal for Crimson Cliffs in the final minute of the half, but her breakaway attempt sailed just high off the crossbar.
Mountain Crest's Baylie Baldwin had the best chance of the second half, a shot from distance that caromed off the right post with 15 minutes remaining as the two sides played to a scoreless regulation.
"I told them we've just got to keep pushing," Hyatt recalled telling her team after regulation. "We've got to keep battling. We've got to keep looking for those chances. We can't give up, go to the ball, win those 50-50s. All those things win us games like this."
That set up Sofonia's free kick, which the freshman scored in the second minute of the second extra-time period. The youngster with the blonde ponytail hovered over the 20-yard free kick just outside the penalty box before connecting with fluidity on a shot that dipped just under the crossbar for the lone goal of the match.
"I knew she could do that. She's done it before in other games," Hyatt said. "As I was on the sideline, I had a good feeling about that ball. Whether we finished it after the fact, or she finished it there, I had a good feeling. It was a beautiful goal."
A beautiful goal for a close-knit team, Sofonia added.
"I just focused on where I was going to place the ball, and went for it," she said.
"We connect really well as a team. I love them so much; we put the time and effort into this sport."
×
Photos
Related Stories