Estimated read time: 6-7 minutes
PROVO — Who will be the head coach for Washington State when the Cougars host BYU this Saturday afternoon? It won't be Nick Rolovich.
The second-year Washington State coach has been terminated for cause due to the state's vaccine mandate signed by Gov. Jay Inslee, which required all state employees — including those at its public universities — to be vaccinated against COVID-19. The Oregonian's John Canzano was among the first to report the news, citing university sources, before it was confirmed by the university Monday evening.
Canzano reported that Rolovich, along with any unvaccinated assistants, had been terminated with cause, which would mean Washington State doesn't owe a buyout fee for the decision. That matter is expected to be challenged legally, however.
Washington State defensive coordinator Jake Dickert will serve as acting head coach of the Cougars (4-3). Dickert received his second vaccine shot on May 7, according to his Twitter account.
"This is a disheartening day for our football program," Washington State athletic director Pat Chun said in a statement. "Our priority has been and will continue to be the health and well-being of the young men on our team. The leadership on our football team is filled with young men of character, selflessness and resiliency and we are confident these same attributes will help guide this program as we move forward."
In addition to Rolovich, defensive tackles coach Ricky Logo, assistant head coach and cornerbacks coach John Richardson, co-offensive coordinator and quarterbacks coach Craig Stutzman and offensive line coach Mark Weber — who spent three seasons at Utah State from 2013-15 as offensive line coach and associate head coach — were also relieved of their positions, in accordance to Gov. Inslee's proclamation.
The four fired assistant coaches represents close to one-third of the coaching staff, which makes things "problematic" as the team tries to prepare for BYU, Chun said. University officials estimated that fewer than 50 of the campus' employees had been relieved of their positions as a result of the mandate.
"We've been working on contingency plans," Chun said about filling in the staff of Rolovich's "run-and-shoot" offense. "Nick gave us some input on those contingency plans. We'll work with the staff and coach Dickert to worry about those plans.
"As we go through this process, we're in the process of background checking a few people. Hopefully in a few weeks, we'll go through some announcements on who is here."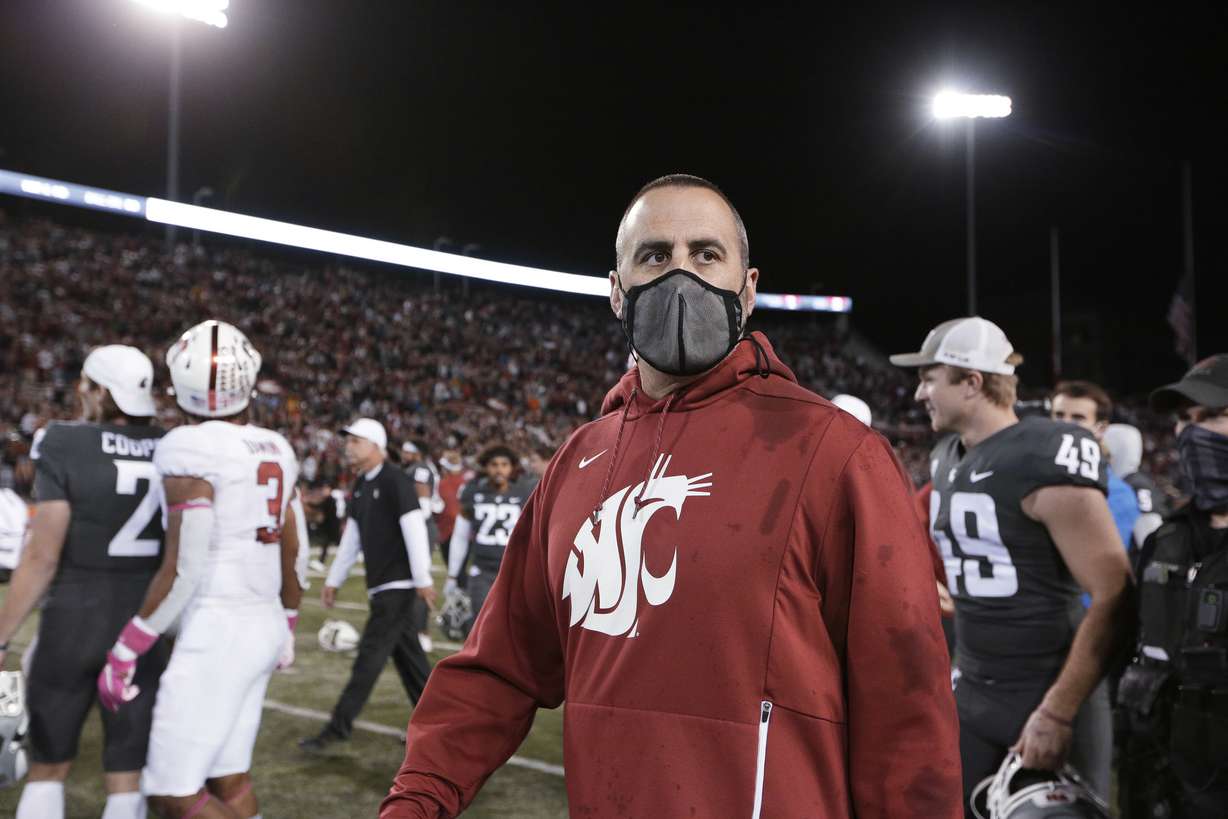 Chun said he met with Rolovich earlier Monday afternoon to inform him of the decision, and the coach left immediately thereafter. He then met with the Cougars' roster to deliver the response.
"I have a lot of empathy for the young men in that locker room but those upperclassmen have been through a lot in my time here," Chun said. "Two teammate deaths. A pandemic. Three coaching changes … It's a tough day for everybody here.
"Unfortunately, they have a lot of experience persevering through adversity. They have our full support … All of their goals are still in front of them. We're going to have to figure out a way to help these young men achieve and accomplish their goals."
Washington State president Kirk Schulz said in a statement that 90% of the university's employees and faculty, as well as 97% of students, had been vaccinated.
"Experience is showing that vaccine mandates help motivate people to complete the vaccination process," said Marty Dickinson, chair of the university's board of regents. "WSU has worked diligently to ensure the health and safety of our students, facility, staff and communities, as seen in our outstanding vaccination rates. WSU leadership takes Governor Inslee's mandate policy seriously and we are committed to complying."
Rolovich was the first major college football coach to be in the crosshairs of a controversial vaccine mandate by Inslee. The 42-year-old former Hawaii coach is the highest-paid state employee at around $3 million a year and was the only unvaccinated coach in the Pac-12. The state set a deadline for all public employees to be vaccinated against the virus or be assigned an exemption on moral, religious or health grounds.
Last week, Rolovich confirmed a USA Today report from his old mentor June Jones that the head coach was seeking a religious exemption for the vaccine. It was not immediately known if the coach was granted that exemption, but Monday's reports makes it seem unlikely.
Rolovich first made mention of his vaccine status — specifically, the lack thereof — July 21 when he revealed he would not attend Pac-12 media day and take questions remotely after not receiving the COVID-19 vaccine. During his interview session, he said the matter was a "individual choice" and the reasons for his vaccine refusal "would remain private."
But Jones, who coached Rolovich at Hawaii, revealed to USA Today on Oct. 9 that the coach had applied for a religious exemption to the mandate — even while Jones pleaded with his one-time protege to receive the vaccine "for your career, and for others." Within a few days, Rolovich confirmed the report.
Washington's vaccine mandate for all state employees went into effect Monday, barring an exemption. Rolovich's request for an accommodation was denied Monday, Chun confirmed.
Washington State won its third consecutive game 34-31 against Stanford two days ago, after which Rolovich said he expected to "come to work tomorrow and get ready for BYU," when asked about the mandate's effects.
"I don't think this is in my hands," Rolovich told reporters. "I've been settled for a long time on it. I believe it's going to work out the right way."
BYU coach Kalani Sitake declined to comment specifically on Rolovich's vaccine situation Monday, saying he didn't know enough about the situation to comment after the Cougars (5-2) fell to Baylor 38-24 for their second loss of the season.
"I've been so into our season I haven't even looked into that as much," Sitake said. "I know coach Rolo; he's a really good coach, and has a really good staff. I'm trying to get our team off this stinking losing streak right now; all my attention is on that."
Rolovich was 5-6 in his second season at Washington State and 33-33 overall as a head coach, including a 1-2 record against BYU. Prior to his time in Pullman, Washington, he went 28-27 as head coach of his alma mater Hawaii — with his last act being a 38-34 win over BYU in the Hawaii Bowl on Christmas Eve in 2019.
The former Hawaii quarterback who played briefly with the Denver Broncos, Rhein Fire of NFL Europe, and in the Arena Football League with San Jose SaberCats, Arizona Rattlers and Las Vegas Gladiators was perhaps best known for his performance in 2001 with the Rainbow Warriors, when he ended BYU's bid for an undefeated season in 2001 with a record-setting eight touchdown performance and 543 passing yards en route to a 72-25 win over the Cougars.
×