Estimated read time: 8-9 minutes
WACO, Texas — As it prepares to host BYU for the first time since the Reagan administration, and in what many are calling a preview of the new Big 12, Baylor has a trump card that knows the ins and outs of BYU from years of experience with the program.
After all, in another timeline, Siaki Ika might have become a Cougar.
We'll get to the Cougars' former offensive coordinator in a moment. But aside from any scheme adjustments that new BYU offensive coordinator Aaron Roderick will have to make in facing his former mentor Jeff Grimes on Saturday afternoon (1:30 p.m. MT, ESPN) is the emotional reunion of Ika, the 6-foot-4, 350-pound defensive tackle from East High School.
It's a school he grew up loving and even briefly committed to before a whirlwind college football career that initially took him to LSU, past the national championship game, and eventually following his old defensive coordinator to Big 12 country.
"Great family. A great young man," BYU coach Kalani Sitake said of Ika, who often goes by his nickname Apu. "We've known him for a long time; I've known him since he was little. He went to LSU and did some really good things, won a championship, and then really connected with Dave Aranda, who was the DC there. He's big, he's physical, and he can run.
"He's a great young man to be around, and I know he's a big part of the success they're having on defense. It's hard to block him. He can really disrupt the line of scrimmage."
Plenty of high-profile recruits commit and de-commit elsewhere, so Ika's story is not unique in that regard.
Ika was the No. 159 overall recruit and top-rated recruit in Utah by 247Sports as a senior at East, so the fact that the All-American Bowl and Polynesian Bowl honoree was highly coveted by a number of programs is not a surprise.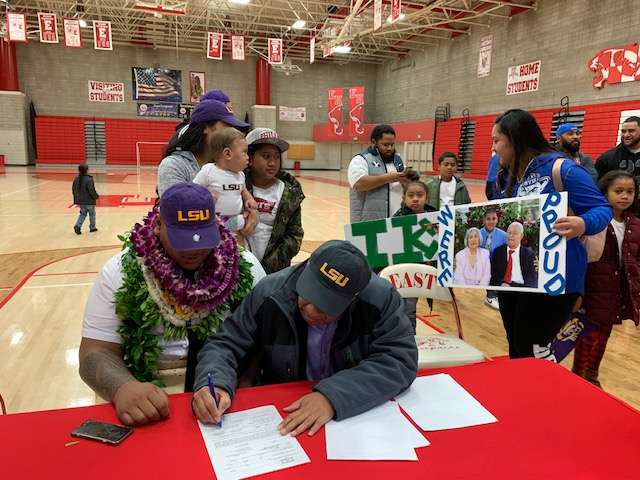 But for BYU defensive coordinator Ilaisa Tuiaki, the recruitment was a bit more personal.
"I recruited him, and we're related," Tuiaki said. "You, obviously, want what's best for the kids, and he was doing a good job playing at LSU and getting a chance to play at Baylor now. I think he's happy, and I'm happy for him.
"Sometimes it's just not a good fit, and you decide to part ways. He did that, and we're happy for him."
Ika spent the entire 2019 season and a portion of 2020 at LSU, playing in 13 games as a true freshman nose tackle while quarterback Joe Burrow led the Tigers to the 2019 national championship. He accumulated 17 tackles and 1.5 tackles for loss that year, and added his first career sack during a four-game spell in 2020 before opting to enter the transfer portal.
That's when he reunited with Aranda, the former LSU defensive coordinator who moved to Baylor for his first Division I head coaching job following the departure of Matt Rhule to the NFL's Carolina Panthers.
"I knew I wanted to go somewhere where I fit best," Ika told Baylor media at the time of his transfer. "Considering that coach Aranda and coach Johnson recruited me out of high school, and I played in the system, I felt like I fit well. I felt like it was meant to be, and it all worked out."
It's no secret that Baylor hit the transfer portal hard in the offense season, bringing in offensive linemen Grant Miller from Vanderbilt and Jacob Gall from Buffalo, as well as All-Ivy League receiver and kick returner Drew Estrada from Dartmouth, in addition to Ika. All four started in Saturday's win over the Mountaineers.
Under the one-time defensive coordinator at Utah State and Southern Utah, Ika has blossomed. In his first full season with the Bears (5-1), the Salt Lake City native has nine tackles, 2.5 tackles for loss and his first two career solo sacks in last week's 45-20 win over West Virginia.
More importantly, Ika, who is a sophomore by eligibility, is playing a pivotal role in what Aranda and defensive coordinator Ron Roberts want Baylor to become.
"I think this defense here is still finding its identity," Aranda said. "I felt for the first time Saturday that we put some stuff on tape. Previous to that, there was a big play here and there; those big plays were intermittent between eight guys playing the right way, a couple of guys not.
"I think the most consistent effort that we've had was Saturday. For us to build off that, the level of offenses are only going to increase as we go. Our aptitude and our intensity must increase, too."
Of course, Ika isn't the only person who will be wearing Baylor's green and gold Saturday with BYU experience. Even Aranda has been around BYU a lot — despite never coaching there — in his time spent at LSU, Wisconsin, Utah State, Hawaii and Southern Utah.
"I've known Kalani for a long time," Aranda said. "I've known Ed Lamb for a really long time, since he was at Redlands and I was at Cal Lutheran.
"I worked with Ilaisa at Utah State, worked with Kevin Clune at Utah State."
But the most familiarity is with Grimes, who made the move from BYU to Baylor in the offseason — a shrewd and savvy pickup by Aranda as he looked to jumpstart the offense in his second season at the helm.
The move has paid off, with an offense that ranks 26th nationally with 461.3 yards per game — despite the departure of 9,000-plus yard passer Charlie Brewer to Utah. Quarterback Gerry Bohanon has risen to become a 66% passer for 1,337 yards and 11 touchdowns through six games without throwing an interception, and the Bears have a balanced attack with Tyquan Thornton (463 yards, five touchdowns) at receiver and Abram Smith (597 yards, seven touchdowns) at running back.
"I've been really impressed with what I've seen there; Grimey's a good coach," Sitake said. "We were very fortunate to have him here for three years.
"They had an impact on their team and program already, just like they did here. They know our personnel, they know our scheme, but that's college football. I'm really more focused on focusing on our issues first, and then we know that they know a little bit about our program and our personnel."
In many ways, the Bears' offense looks like BYU last year, with Zach Wilson under center and Tyler Allgeier running next to him behind a big, physical and powerful offensive line. It's the line — led by former BYU assistant Eric Mateos, who followed Grimes to Baylor — that has drawn the most praise from observers of Baylor football, powering the 16th-best rushing offense in the country to 227.5 yards per game and 38.3 points for No. 17 nationally.
But while Aranda may have taken the Emperor of BYU's offense, he didn't take Provo's Darth Vader — Aaron Roderick, the former passing game coordinator who was swiftly promoted to primary play caller upon Grimes' departure.
The Cougars maintained as much continuity on offense during the coaching changes, even moving wide receivers coach Fesi Sitake into Roderick's former chair in charge of the pass, and didn't add an offensive coach until Mateos joined Grimes a few weeks later.
They used the staff opening with Grimes' departure to fill a hole on the defensive staff, promoting analyst Kevin Clune to linebackers coach and rearranging the staff to allow Tuiaki to work more exclusively with defensive tackles and put Preston Hadley over defensive ends and hybrids.
Has the apprentice become the master? Saturday will go a long way toward determining that. But there's little doubt that the two offenses — even to this day, just over nine months after parting ways — share plenty of commonalities.
"There are a few pass concepts that are a little different, but overall, most of it is very similar — right down to some terminology," Roderick said. "That's not uncommon in football; there are enough coaching trees in college football … that things can get fairly similar. It'll be interesting."
Roderick said that the Cougars may have to vary their signals to account for Grimes' knowledge of the offense, changing up the cadence and tone of the play calling and possibly even rewriting some language. But all of that was done prior to the season, through spring practices and fall camp since Grimes left for central Texas, so it won't come as a surprise to presumed starting quarterback Jaren Hall and the offensive players.
And when it comes to Saturday afternoon, the Cougars want to beat the Bears as much as anybody else — regardless of who's calling the plays.
"We love Grimey, but this week he's on the other team, so we're doing our best to try to win," Roderick said. " I'll say hi to him before the game, and I'll give him a hug after. But I don't enjoy going against my friends. This is life-and-death business for us coaches sometimes."
How to watch, stream and listen to the game
No. 19 BYU (5-1) at Baylor (5-1)
McLane Stadium; Waco, Texas
Kickoff: 1:30 p.m. MT
TV: ESPN (Mark Jones, Robert Griffin III, Quint Kessenich)
Radio: BYU Radio, KSL 1160 AM/102.7 FM (Greg Wrubell, Riley Nelson, Mitchell Juergens)
Series: 1-1
37 Years, But Who's Counting?: BYU and Baylor open a home-and-home series for the first time since 1983 and 1984, which the home team won on each occasion. The Cougars' initial loss in Waco precluded a 25-game winning streak that ended with the national title the following season in 1984, a season that also included a 47-13 win in Provo during the run.
Grimey Connections: Baylor offensive coordinator Jeff Grimes spent three seasons on Kalani Sitake's staff in Provo from 2018-20 before moving to join Dave Aranda in Waco. The long-time offensive line specialist also took with him offensive line coach Eric Mateos, who is filling the same role at Baylor. In addition to Grimes and Mateos, Baylor head coach Aranda also spent time coaching against BYU at Hawaii, Utah State, Wisconsin and LSU, and was current BYU associate head coach Ed Lamb's defensive coordinator at Southern Utah in 2008.
Big 12 Preview: The Cougars and Bears will become conference mates in the Big 12 beginning with the 2023 season, when BYU is expected to join Cincinnati, Houston and UCF in what would expand to become a 14-team league prior to Texas and Oklahoma departing for the SEC. The Cougars are 85-49 since becoming an FBS independent in 2011.
×
Related Stories