Estimated read time: 3-4 minutes
STANSBURY PARK — When a high school moves up to a different classification, there is usually an adjustment period — a couple years to settle into a larger and tougher classification before it can compete at a competitive level.
That was not the case for the Stansbury football team.
Stansbury made the jump from 4A to 5A after last season, but completed the regular season with a commanding 49-14 victory over Timpanogos to remain undefeated in region play and to secure the outright Region 7 title in dominant fashion on senior night.
Glancing at the score, some would assume everything went perfectly for the Stallions Wednesday night as they cruised to their seventh consecutive win, but head coach Erik Alder assured the win wasn't easy.
"Lots of good football in this region; wins don't come easy," Alder said. "I know everyone wants to look at the score, but wins don't come easy."
The Stallions finished atop Region 7 by giving up only 11.2 points per game, which was No. 1 in the region; and it was defense that ultimately was the deciding factor against a Timpanogos team that averaged 48.8 points per game in region play heading into Wednesday's contest.
"Four turnovers in one half was kind of the story of the game," Alder said.
But the four turnovers weren't even in one half — all were forced just in the second quarter alone.
Stansbury ended the first quarter up 21-7 and had early control of the game. But the two possession lead going into the second quarter wasn't enough for the Stallions, so they found a way to ensure the game was safely put away by halftime.
The turnover fest started when Stansbury senior Dawson Chapman picked off Matu Holdaway's pass on the Timberwolves' first possession and second play of the quarter.
To close the quarter and the half, the Stallions went on to force three consecutive turnovers: Austin Isom had an interception that lead to a scoring drive and a 6-yard rushing touchdown by Ezra Harris; sophomore Easton Baker recovered a fumble on a Timpanogos third-and-goal and ran it back 97 yards for a touchdown; and Dylan Hamilton added another interception of the quarter with 23 seconds left to close the half.
"(Takeaways) is always a point of emphasis, but for our linebackers to come up with the interceptions that they did and to get that goal line stand going into half was huge because then we had the running clock," Alder said. "But all credit to the players and them making plays tonight."
The Stallions led 42-7 at halftime, and there wasn't anything Timpanogos could do to mount a comeback in the second half, especially since the clock ran continuously until the end of the game.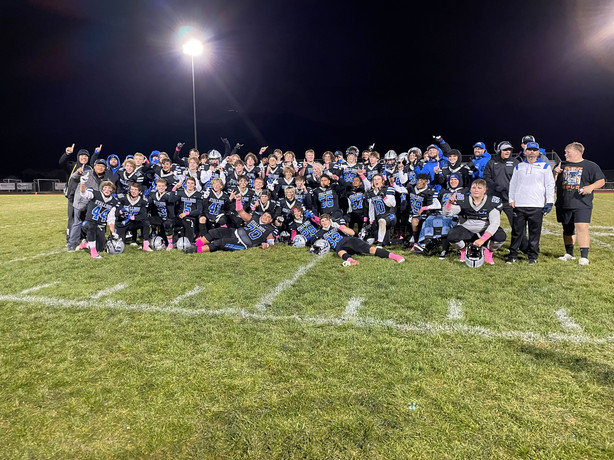 The Stallions suffered two losses early in the season — one to Logan and another to an undefeated Ridgeline — but the losses helped them see what they needed to improve upon and adjust before their region schedule.
"Those two losses feel like a lifetime ago; we lost to two really good football teams," Alder said. "We made adjustments, we learned, we responded to that adversity exactly the way a championship team should."
After the two losses, the Stallions have gone on to win seven straight games and have created momentum going into the 5A playoffs, which Alder said is "everything."
"Momentum is everything," he said. "Momentum is huge in sports. It's huge in football. … Momentum is everything during the playoffs."
The 5A playoffs begin on Friday, Oct. 22, where the Stallions will look to make an impressive run in their first year of being in a new classification; but for now, they have a region championship to celebrate.
"Certainly a great feeling: first year in 5A to go undefeated in region play," Alder said. "A lot of good teams out there, though, so we'll have our hands full with the playoffs."
×