Estimated read time: 8-9 minutes
SPANISH FORK — Charlie Thomas probably shouldn't have known where Skyline's boys golf team stood on the final day of the Class 5A state tournament as they battled neck-and-neck with host Spanish Fork.
But he had a little bug.
His father Matthew was following the meet's live scoring, and as the Eagles and Dons rounded the turn, he caught wind that the competition was neck-and-neck. It wasn't enough to know the exact scoring, but a glance here, a finger-tip check there, and he knew that the shot at a fourth-straight team title would come down to a few strokes.
So he got aggressive.
Thomas carded four birdies on the back nine, finished fifth with a two-day total of 2-under-par 142, and helped the Eagles turn a short deficit into a four-stroke lead en route to a fourth consecutive state title Tuesday at the Oaks at Spanish Fork.
"I thought we were two strokes down on 10, and then going into 15, I treated it like we were tied the rest of the way," Thomas said. "I knew I had to be aggressive, had to hit the right shots, and just not get too conservative."
One year after the graduation of BYU golfer Tyson Shelley and Cal's Simon Kwan, Peter Kim tied for second and the Eagles placed four golfers in the top eight for what may be the most impressive team title of the four-peat.
Jackson Shelley and Sean Lamb each tied for eighth with a two-day total of 2-over 146 to lift Skyline to its 12th golf title in school history.
"Losing our two best players was obviously tough this year, and people knew that," Thomas said. "Proving that we can do it without Simon and Tyson was a pretty big deal to us.
"Peter played great last year, and came through this year. But I came through, Sean came through, Jackson came through. We all had to play good this year — none of us had anything to fall back on."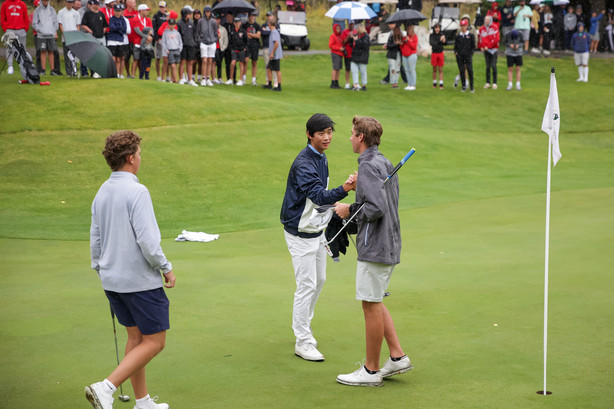 Jackson Rhees shot 11-under 133 to claim medalist honors, including a 7-under 65 on the second day highlighted by six birdies and an eagle on the par-5, 485-yard third hole.
"I started off really well, and that kind of set the mood for the rest of the round," Rhees said. "I was 225 in (on No. 3), so I just decided to hit a full 4-iron with the backstop behind the pin. I played it off that and had a 10-footer.
"I read it pretty straight, and my putter was pretty hot."
Rhees is the first medalist from Spanish Fork since Blair Bingham shot 70 at Hobble Creek in 1995. The Dons were gunning for their first team title since 1998, and pushed Skyline to the brink.
But experience won the edge.
Kim connected on three-straight birdies on the 11th, 12th and 13th holes, and Thomas capped off a 1-under 35 on the back nine with back-to-back birdies on Nos. 15 and 16 and a clutch up-and-down out of a bunker on the par-5, 493-yard 18th hole to help the Eagles hold on.
Thomas pulled a 60-degree loft out of his bag, plunked a shot to the middle of the soggy green and watched it roll within a few feet of the hole with a smile on his face.
"That shot was incredible; I just knew I needed to get it inside 20 feet and two-putt, and we could still get the victory," Thomas said. "It was just about falling well for the team.
"But then it stuck to within two feet and the rest is the rest."
Top 10 individuals
133 — Jackson Rhees, Spanish Fork
141 — KJ Ofahengaue, Lehi; Noah Taylor, Spanish Fork; Peter Kim, Skyline
142 — Charlie Thomas, Skyline
144 — Rex Poulsen, Woods Cross
145 — Kieran Dunn, Brighton
146 — Emmitt Harris, Olympus; Jackson Shelley, Skyline; Sean Lam, Skyline, Tyler Barlow, Woods Cross
Team totals
Skyline 575, Spanish Fork 579, Woods Cross 599, Lehi 604, Olympus 610, Box Elder 621, Brighton 631, Highland 635, Salem Hills 635, Orem 642.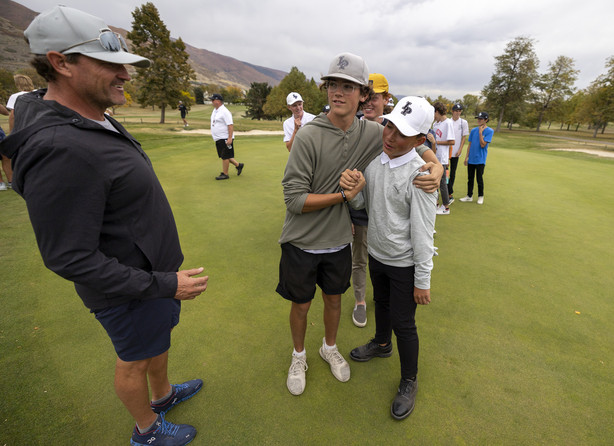 6A: Freshman Akina leads Knights to 8th title in 9 years
Lone Peak freshman Kihei Akina shot back-to-back rounds of 3-under-par 68 to pull away for medalist honors and lead the Knights to their fourth-straight 6A state championship at Davis Park in Kaysville.
Akina carded four birdies with one bogey in Tuesday's final round, with two Lone Peak teammates nipping at his heels in the top five.
Knights junior Cooper Jones finished with a two-day total of 4-under 138 to finish second, one shot ahead of Fremont's Jack Wadsworth. Herriman freshman Ryker Lind and Lone Peak senior Preston Smithson rounded out the top five at 140.
The Knights shot 8-under-par 560 over 36 holes as a team, rolling to an eight-shot win over runner-up Corner Canyon. Zach Labrum shot 1-under 141 to lead the Chargers, who placed all five scoring golfers in the top 20.
Fremont, Layton and Herriman rounded out the top five.
Top 10 individuals
136 — Kihei Akina, Lone Peak
138 — Cooper Jones, Lone Peak
139 — Jack Wadsworth, Fremont
140 — Ryker Lind, Herriman; Preston Smithson, Lone Peak
141 — Zach Labrum, Corner Canyon
142 — Josh Savage, Pleasant Grove
143 — Zak Richins, Layton; Maddox Vincent, Corner Canyon
144 — Luke Kelley, Farmington; Max Landon, Davis; Bowen Mauss, Corner Canyon; Jackson Mauss, Corner Canyon
Team totals
Lone Peak 560, Corner Canyon 568, Fremont 582, Layton 588, Herriman 590, Farmington 594, Weber 608, Pleasant Grove 612, Syracuse 616, American Fork 616.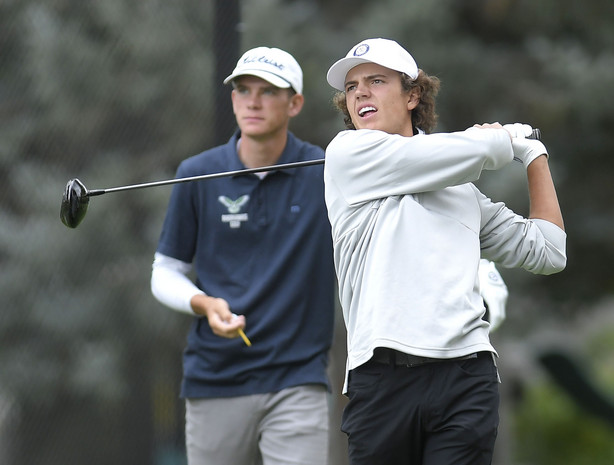 4A: Medalist Skinner rallies Ridgeline by Crimson Cliffs in playoff
Ridgeline's Zach Skinner shot 2-over 74 on the second day of the 4A state meet to claim medalist honors and rally the Riverhawks from four strokes down and edge Crimson Cliffs in a playoff at Birch Creek golf club in Smithfield.
Boston Bracken shot the low round of the day at 2-under 70, finishing second individually to help Crimson Cliffs force a tie for first in the team standings. Ridgeline held off Crimson Cliffs 17-22 in the playoff, which featured the top-four golfers on each team playing the Par-5 18th hole until a winner was crowned.
Isaac Petersen clinched the playoff victory with a birdie putt on No. 18, stunning the two-time defending champion Mustangs.
Skinner carded eight birdies with just one bogey in Wednesday's opening round for 7-under 65, and did just enough to hold on for medalist honors. The Riverhawks junior birdied three holes with five bogeys Thursday to finish with a two-day total of 5-under 139, two shots ahead of Bracken.
Skinner's performance paced Riverline to a 9-over 297 Thursday, the best round of the second day. That was just enough to overcome a four-stroke deficit after round one.
Well-timed birdies on the first, fifth and 13th holes kept Skinner in front, but it wasn't enough to keep the Mustangs at bay. Crimson Cliffs placed four golfers in the top 15, including Bracken and Zach Felts, who shot 6-over 150 to finish in a six-way tie for third. Cruz Kirchhausen was one shot back, tied for ninth, while Lincoln Markham finished tied for 13th at 11-over 155.
Top 10 individuals
139 — Zach Skinner, Ridgeline
141 — Boston Bracken, Crimson Cliffs
150 — Hayden Howell, Sky View; Michael Stirland, Hurricane; Zach Felts, Crimson Cliffs; Beckham Johansen, Ridgeline; Sam Ballingham, Green Canyon; Jax McMurdie, Dixie
151 — Cruz Kirchhausen, Crimson Cliffs; Fletcher Hamblin, Ridgeline
Team scores
Ridgeline 597* (winner via 37th-hole playoff), Crimson Cliffs 597, Sky View 620, Green Canyon 620, Pine View 624, Desert Hills 633, Cedar 653, Logan 671, Hurricane 672.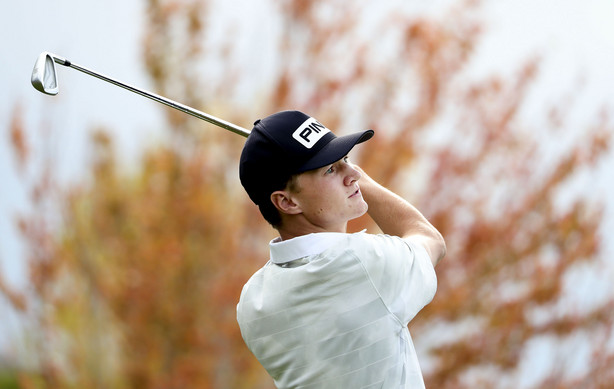 3A: Telford fires 8-under to lead Morgan to consecutive titles
Tanner Telford shot a blistering 8-under-par 136 over 36 holes to claim his second consecutive medalist honors and lift the Trojans to their third-straight 3A title at Oquirrh Hills in Tooele.
Telford followed up Wednesday's opening-round of 8-under 64 with an even-par 72 to cruise to the finish by eight strokes over runner-up Bode Salas of Carbon. The Morgan senior carded 12 birdies, including eight in the first round to go along with an eagle on the par-5 seventh hole.
Caige Toone and Lance Loughton each added a top-12 finish to boost Morgan, which beat second-place Grantsville by nine strokes in the team standings.
Union's Titan Birchell, Ogden's Coltin Powell and Layton Christian's Hugo Padilla rounded out the top five.
Top 10 individuals
136 — Tanner Telford, Morgan
144 — Bode Salas, Carbon
146 — Titan Birchell, Union; Coltin Powell, Ogden
147 — Hugo Padilla, Layton Christian
149 — Keaton Anderson, Richfield; Kauner Kay, Juan
152 — Caige Toone, Morgan; Chris Hansen, Grantsville
153 — Ben Daybell, Grantsville
Team scores
Morgan 602, Grantsville 611, Richfield 624, Juan 632, Union 634, Ogden 647, Carbon 654, Emery 689, Grand County 691, Canyon View 705.
View complete results here.
2A: Moon helps Beavers rise to fifth-straight title
Beaver's Sky Moon shot even-par 72 in the second round to claim medalist honors and help the Beavers to their fifth-straight 2A championship Thursday, Sept. 30 at Roosevelt Golf Club.
Waterford's Carson Reynolds and American Prep's Easton Toone each finished with a two-day total of 10-over 154 in a tie for second, two shots behind Moon.
Beaver teammate Hoyt Blomquist added a fourth-place finish at 156, followed by Rowland Hall's Matt Siegal (158) and Beaver's Dallas Yardley (160).
Jace Richter (164) and Rexton Hollinsghead (174) also finished in the top 15 for Beaver.
Top 10 individuals
152 — Sky Moon, Beaver
154 — Carson Reynolds, Waterford; Easton Toone, American Prep-Draper
156 — Hoyt Blomquist, Beaver
158 — Matt siege, Rowland Hall
160 — Dallas Yardley, Beaver
161 — Jax Jones, Enterprise
163 — Braxton Stubbs, South Sevier
164 — Jace Richter, Beaver
167 — Cannon Randall, Saint Joseph
Team scores
Beaver 632, Rowland Hall 689, South Sevier 699, Gunnison Valley 722, Kanab 732, Waterford 735, Saint Joseph 745, Millard 757, American Prep-Draper 769.
×
Photos