Estimated read time: 8-9 minutes
SALT LAKE CITY — Corner Canyon tied the Utah High School Activities Association record with its 48th straight win in much the same way it got through the first 47: dominantly.
The Chargers' 56-0 win at Westlake tied Duchesne's streak set between 2010 and 2014, and includes three state championships in that time span.
And while the focus remains on No. 49 this week against Lone Peak in what may be the Chargers' toughest game to date — the Knights are one of just a handful of programs to play within a single possession of the Chargers, including a 21-17 win as recently as Sept. 27, 2019, when Corner Canyon trailed 17-7 with 2:17 remaining. Head coach Eric Kjar took a brief moment after Friday's win to reflect on the accomplishment.
"Everything we've accomplished in our program is based off our kids. We have really good kids, but they also just buy into everything," Kjar told the Deseret News. "It's hard as a coach to make sure you're kids are consistent, but everything you ask of them in our program, the lifting, the running, the film, the focus, the hard work in practice, all the things that make up a team, the attitude, all those things have been there as a collective group every year."
It's the second-longest active streak in the nation, behind only Fyffe, Alabama, which has won 51 in a row; and it very well could reach that number, too.
The Chargers' average margin of victory in eight wins in 2021 is 40.8 points per game, with averaging 481 yards of offense and allowing just 261.
Only six games during the streak have been decided by 10 points or less. Lone Peak was the opponent in two of those games, as well as Skyridge (29-26 in 2020), Olympus (20-15 in 2018), Jordan (28-20 in 2018) and Pleasant Grove (40-30 in 2018).
Where do the Chargers go from here?
Immediately, it's home, where they host the team from Highland with a shot at history. Then it's a regular-season finale at Pleasant Grove before the 6A state tournament, where Corner Canyon currently holds the No. 1 seed via the UHSAA RPI.
But that's where the main focus is — game-by-game, step-by-step, the Chargers want to win another state title. Adding a fourth championship to the trophy case would tie fourth-longest consecutive title streak in state history, a list that also includes Duchesne from 2010-2013, Millard from 1950-53, Orem from 2017-2020 and Timpview from 2006-09.
In the meantime, here's how the rest of the KSL.com Top 20+1 shook out after Week 8 of the 2021 high school football season. Fall break approaches, so remember games are split between Thursday and Friday this week.
1. Corner Canyon (8-0, 3-0 Region 4)
Devin Brown threw for 406 yards and five touchdowns, finding recent BYU commit Cody Hagen eight times for 149 yards and two scores to lift the Chargers to the historic win.
Lone Peak looms large Thursday on Senior Night before the Chargers may take a victory lap against Pleasant Grove (1-7).
2. Skyridge (7-1, 2-1 Region 4)
The Falcons bounced back from their first loss of the year in Draper with a defensive-minded 14-9 home win over Lone Peak, so it is perhaps fitting that Dalton Young scored the game-clinching touchdown on a 22-yard interception return.
Skyridge hosts Pleasant Grove in Thursday's regular-season home finale before traveling to American Fork next Wednesday with their sights clearly on a top-two finish in the league.
3. Lone Peak (4-2, 2-1 Region 4)
Jaxson Willits ran for 124 yards on 22 carries, and Luke Durfey added 24 yards and a short touchdown run for the Knights, who host Westlake next Wednesday in the regular-season finale.
4. American Fork (5-2, 1-2 Region 4)
Maddux Madsen threw three touchdown passes, including two to Peyton Rees, to help the Cavemen snap a two-game slide with a 41-14 win over Pleasant Grove.
Westlake is on the horizon Thursday before wrapping up the regular season with No. 2 Skyridge.
5. Timpview (6-2, 2-0 Region 8)
The Thunderbirds did nothing but prove that the road to the 5A title goes through Provo with Micah Beckstead's four touchdowns and a 43-13 home win over reigning champion Orem under the Thursday night lights. But the Region 8 title comes down to Friday's tussle with newly resurgent Lehi.
Good thing for Timpview that one is at home, too.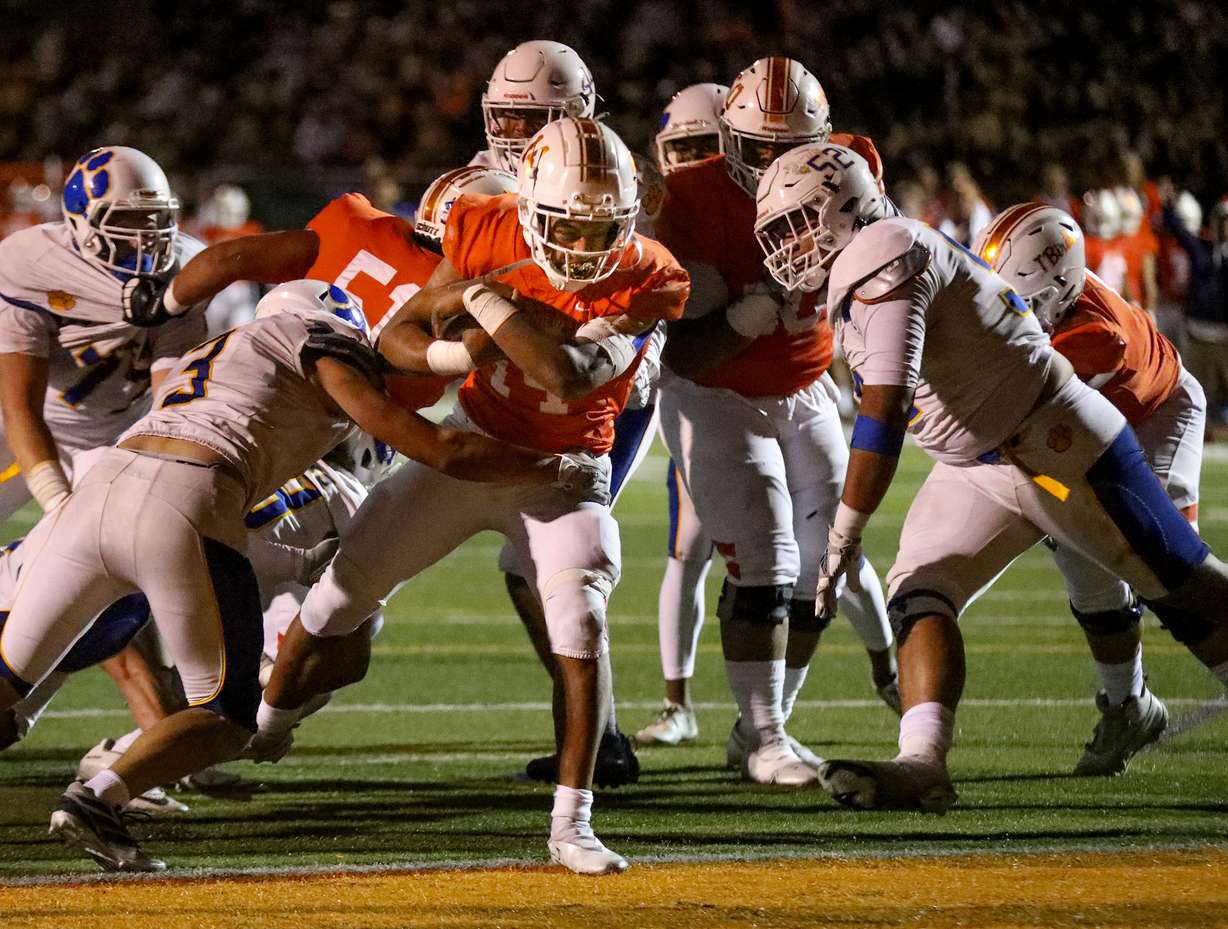 6. Bingham (5-3, 3-0 Region 3)
It's October, and Bingham still control its own destiny after a 56-0 shutout at Copper Hills lifted Dallen Martinez and the Miners to a crucial Friday night showdown with West Jordan, where they can clinch at least a share of the Region 3 title with a win.
7. Ridgeline (8-0, 4-0 Region 11)
Kaden Coz threw for five touchdowns to keep the Riverhawks undefeated with a 49-7 rout of Bear River and to keep alive hopes of at least a share of the Region 11 title with a win at Logan on Friday.
8. Weber (6-2, 4-0 Region 1)
After opening the season with back-to-back losses (at No. 6 Bingham and at No. 4 American Fork), the Warriors open October in a familiar position: unbeaten in Region 1 and a win Thursday at Davis away from clinching at least a share of the region title.
9. West (5-1, 4-0 Region 2)
The Panthers were off last week to stay unbeaten in Region 2 play, with a trip to Kearns to clinch at least a share of a region title with a win Friday.
Phenomenal game!!! @Brodylagaaa coming in clutch. Defense with the huge stop in overtime and the big fellas paving the way to finish! One for the ages!! https://t.co/IhsxMf3hd1

— Mike Meifu (@CoachMeifu) October 2, 2021
10. Mountain Ridge (7-1, 2-1 Region 3)
The Sentinels responded to their first loss of the season with an incredible rally against West Jordan. Trailing by three after the Jaguars scored back-to-back touchdowns with 4:08 left, Brody Laga nailed a 54-yard field goal with 21 seconds to go to force overtime.
Then Ayden Helm scored his second touchdown of the game on a 9-yard run in the extra session to hand West Jordan its first loss of the season.
Mountain Ridge celebrates Senior Night against Riverton on Friday before wrapping up the regular season next Wednesday at Herriman.
11. Springville (7-1, 3-1 Region 9)
Seth Rigtrup ran for 321 yards and three touchdowns, and the top-rated team in 5A in the UHSAA RPI piled up 605 yards of offense in throttling rival Maple Mountain 64-17.
"Seth showed you how special he is, rushing for 300 yards," said Springville coach Willy Child, whose Red Devils wraps up the regular season Friday hosting 1-7 Salem Hills.
12. Brighton (6-2, 4-1 Region 6)
Jack Johnson threw for 125 yards and two touchdowns with two interceptions, and was better together with Abinadi Bigelow, who booted a 36-yard field goal with 3:07 remaining to lift the Bengals to a crucial 27-24 win at Park City.
Brighton plays Thursday at Clearfield before a trip to Murray next Wednesday to wrap up Region 6 play.
13. West Jordan (6-1, 2-1 Region 3)
Boston Farmer threw for 202 yards and two touchdowns, and Octavian Heflin ran for 164 yards and a score in the loss to Mountain Ridge.
The Jaguars end the regular season with back-to-back road games, Friday at Bingham and next Wednesday at Copper Hills.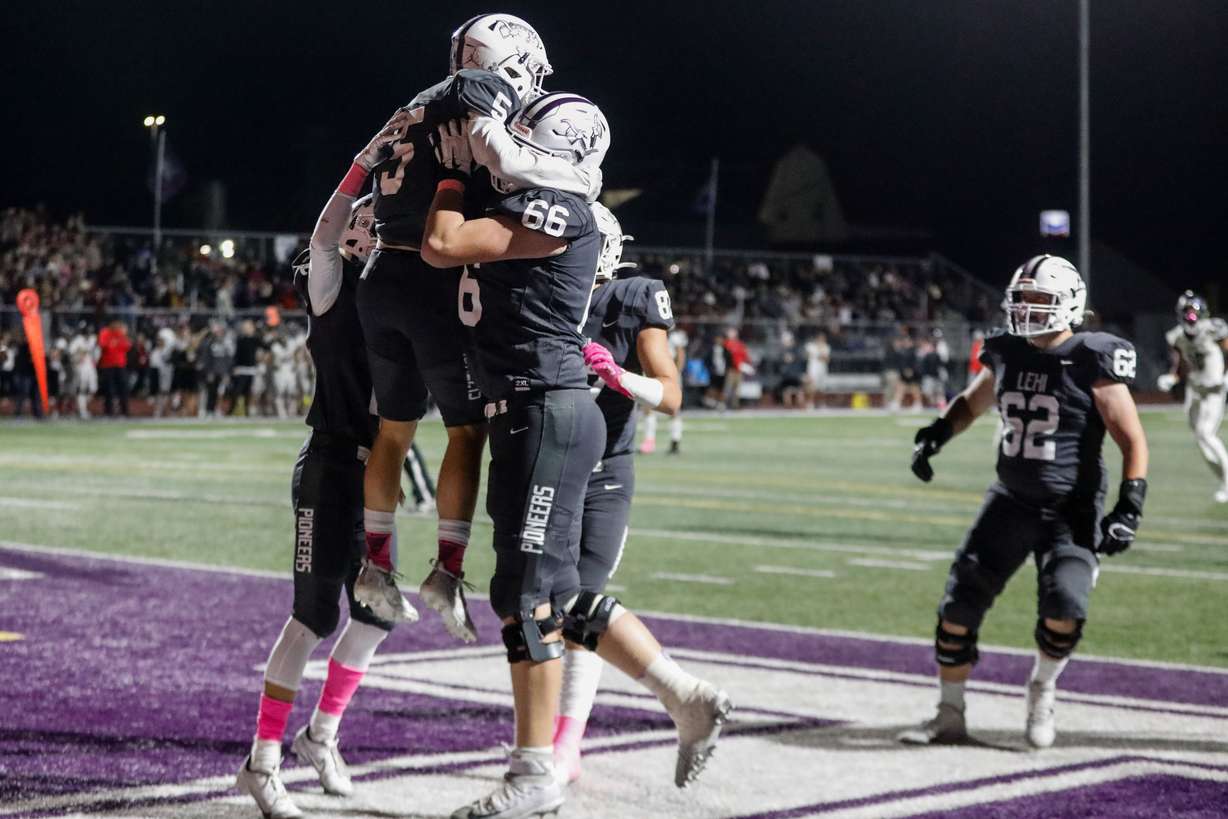 14. Lehi (6-2, 2-0 Region 8)
Jackson Brousseau's five touchdown passes didn't just give Lehi a 49-14 win over Alta, but gives the Pioneers a chance at a shot at a Region 8 title beginning Friday at Timpview.
Lehi also travels to Orem next Wednesday to end the regular season.
15. Beaver (8-0, 3-0 2A South)
All the Beavers do is win, win, win, stretching their own streak to 33 with a 56-6 win over Millard.
Senior night is Friday against San Juan.
16. Layton (5-3, 3-2 Region 1)
Garrett Gilford threw three touchdowns, Nicolas Sanders caught two and added a 99-yard kickoff return for another, and the Lancers shut out Clearfield, 35-0 to hang around the Top 20.
17. Provo (7-1, 3-1 Region 9)
Jace Welsch scored twice as the Bulldogs handled Salem Hills 29-7, and can potentially make Region 8 interesting with a win Friday at Wasatch.
18. Desert Hills (7-1, 4-0 Region 10)
Don't look now, but the Thunder rolled to 7-1 and 4-0 in Region 10 play with a 47-6 rout of Hurricane behind 82 yards and two touchdowns by Tyden Morris.
With Pine View's stunning 28-14 loss at Crimson Cliffs, the region title could come down to next Wednesday's regular-season finale at Pine View — if Desert Hills takes care of business Friday at Cedar.
19. Grantsville (6-2, 3-0 3A North)
The Cowboys are quietly 6-2 with a perfect 3-0 mark in the 3A North and own the top RPI in 3A after Blake Thomas ran for two scores in a 21-7 win over Morgan.
Grantsville is on a six-game winning streak after opening with losses to Provo and Beaver, and ends the season at Union (4-4, 2-1) and Juan Diego (5-2, 2-1), which may have region title implications.
20. Spanish Fork (5-2, 3-1 Region 9)
Joshua Buck ran for two touchdowns, Austin Stevenson threw for two more, and the Dons kept pace with Springville in Region 9 with a 35-21 win at Wasatch to set up next week's league finale at Maple Mountain.
Good win for the boys on Friday😈 keep rollin🤟🏽 pic.twitter.com/EijMqAFfO6

— Boston Reinhold (@boston_reinhold) October 3, 2021
Plus-1. Farmington (5-3, 3-1 Region 1)
Easton White threw for three touchdowns to lift the Phoenix to a 31-10 victory at Davis.
After opening with three losses in its first four games — with the only win coming over Maple Mountain — Farmington has won four in a row with games remaining Thursday at Fremont and next Wednesday against Syracuse.
And they're doing it most recently without star running back Boston Reinhold, who announced he will miss the rest of the season with a knee injury.
×
Related Stories