Estimated read time: 9-10 minutes
SALT LAKE CITY — With just three weeks left in the regular season, Utah high school football is hitting the stretch run of 2021.
And the Chargers are pulling away from the field.
Top-ranked Corner Canyon, the three-time defending state champions who has run roughshod over 6A for more than 1,000 days, continued to tighten its grip on Utah's top class with a suffocating 38-23 win over previously second-ranked Skyridge Friday night.
But the scariest part about the Chargers, who have their sights set on the state record of 48 consecutive wins set by Duchesne in 2014, is that they may still have another gear left in them.
"From an execution standpoint, there's definitely another level we can take," head coach Eric Kjar said after Friday night's win. "They have more in them; I know they do. I see it within them in practice. They can be better, for sure."
Scary thought, indeed.
The Chargers don't just lead the Top 20+1 for the eighth-straight week. They're also the No. 1 team in 6A in the Utah High School Activities Association's RPI ratings. The immense gulf between Corner Canyon's .799 rating and second-place Lone Peak's .696 could also widen in the next two weeks, with the Knights scheduled to visit Corner Canyon on Oct. 7.
5A Springville, 4A Ridgeline, 3A Morgan, 2A South Summit and 1A Duchesne lead their respective classifications in the RPI with 2-3 games left on the schedule each.
By then — and if the Chargers get past a road trip to Westlake unscathed — the 14th-ranked team nationally by MaxPreps could be going for win No. 49 in a row.
Here's how the rest of the Top 20 look going into Week 8 of the 2021 season.
1. Corner Canyon (7-0, 2-0 Region 4)
The Chargers used a 14-0 second quarter to turn a 10-7 deficit into a 21-10 halftime lead, and the defense did the rest to stay unbeaten. Jett Meine had a monster game with 250 receiving yards, including scoring grabs of 80 and 69 yards, in the win.
Westlake won't be a pushover after a 38-21 win over Pleasant Grove, but Corner Canyon will be fighting to push over the state record between now and next week.
2. Lone Peak (4-1, 2-0 Region 4)
The Knights still haven't lost to an in-state opponent, and Friday's 27-21 win over rival American Fork was scarcely in doubt thanks to 21 unanswered points in the middle quarters by Luke Hyde, Luke Durfey and Crew McChesney.
Can Lone Peak stay focused with a trip to Skyridge before another colossal showdown with Corner Canyon looming?
3. Skyridge (6-1, 1-1 Region 4)
A 15-point loss to what is increasingly showing to be the best team in the state is no reason to feel sorry, though the Falcons were held to their second-lowest scoring output of the season. McCae Hillstead had 253 yards and two touchdowns, and Jeter Fenton added 43 yards on 16 carries for Skyridge, which will probably need a third offensive weapon (Connor McAllister? Smith Snowden?) to step up against the Knights.
4. American Fork (4-2, 0-2 Region 4)
The bad news? The Cavemen are 0-2 in region play. The good news? They've faced two of the other "Big 3" in the SEC of Utah high school football, and won't face the third until hosting Skyridge in the regular-season finale Oct. 13.
American Fork is still ranked fifth in the RPI ahead of Friday's home game against Pleasant Grove.
5. Timpview (5-2, 1-0 Region 8)
The Thunderbirds laid down 62 points in each of their last two games and are looking like the best team in 5A.
They can take out the "looking like" part Thursday with a win over Orem.
6. Bingham (4-3, 2-0 Region 3)
The road to a Region 3 title still goes through South Jordan after the Miners laid the lumber on upstart Mountain Ridge.
Bingham travels to Copper Hills on Friday to prepare for fellow unbeaten West Jordan in a likely region title matchup next week.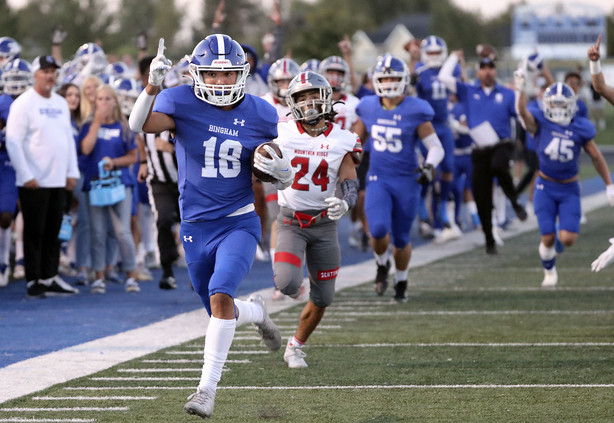 7. Weber (5-2, 4-0 Region 1)
The Warriors saw a lot of bandwagon jumpers when they opened the season 0-2, but maybe that's just a sign of how good Bingham and American Fork were (to say nothing of the other teams ahead of them). Is it time to load up the wagon again in Pleasant View after Friday's nail-biter over Layton?
Weber will step away from Region 1 play Friday to host Olympus, and should have a shot to cement its region title next week at Davis.
8. Ridgeline (7-0, 3-0 Region 11)
Going unbeaten is hard, and the Riverhawks have done it against most of the top teams in 4A (so far), in addition to Friday's 56-20 rout at Mountain Crest.
Can Bear River, Logan or Box Elder slow down Ridgeline's bid for a perfect regular season?
9. West Jordan (6-0, 2-0 Region 3)
Speaking of unbeaten teams, it may be time to talk to your kids about an undefeated West Jordan team after last Friday's 26-7 win over Herriman, where the Jaguars scored the final 19 points.
Mountain Ridge's loss took some of the shine off Friday's top-shelf region matchup, but West Jordan will still be plenty motivated to host before traveling to Bingham next week.
10. West (5-1, 4-0 Region 2)
We forgot that next Friday's game at Kearns is a Region 2 matchup under the newly drawn alignment, but the Panthers didn't forget that they can clinch at least a share of the region title with a win.
West has a bye until then. The Cougars travel to Granger in preparation.
How's that for motivation?
11. Springville (6-1, 2-1 Region 9)
The biggest bump on the Red Devils' schedule was a befuddling loss to Spanish Fork, but that looks more like a hiccup after back-to-back, double-digit road wins over Provo and Wasatch.
Home cookin' will be good when Springville welcomes rival Maple Mountain to Red Devil Way on Friday.
12. Syracuse (5-2, 1-2 Region 1)
The Titans lost back-to-back games by a combined 8 points, but a 17-0 shutout of Clearfield appears to have cleansed the pallet.
We'll give Syracuse one more shot to stay alive with the top teams in 6A, and back-to-back games against Fremont and Layton seem like a nice proving ground.
13. Mountain Ridge (6-1, 1-1 Region 3)
We need to acknowledge the job that Mountain Ridge coach Mike Meifu has done in building the Sentinels into a legitimate region title contender in just the third year of the school's history. The new kids in Herriman have come a long, long way in a short time.
But Friday's loss to Bingham showed how much farther the Sentinels still have to go to be considered one of the state's powers. And it doesn't get much easier Friday at West Jordan.
14. Orem (4-3, 1-1 Region 8)
The Tigers took one on the chin Friday with a 48-23 loss to Alta in the Maika Kaufusi return game (more on that in a minute). Word on the street is some minor injuries may have played into the result, but Orem will need to be plenty healthy when it travels to Timpview for a televised game Thursday in a contest that should all-but decide the region title.
15. Pine View (5-1, 2-1 Region 10)
If laying 62 points in a 62-29 win over Cedar doesn't count as a "get right" game after the Panthers' first loss of the season, then perhaps the commitment of twin brothers Dominique and Marcus McKenzie to former BYU coach Bronco Mendenhall and Virginia will assuage those concerns.
"I always had the goal to play college sports," Dominique McKenzie said in a video posted on Instagram, listing off Oregon, Arizona and BYU as other finalists for the blue-chip talents. "I grew up watching uncles and cousins play college sports, so to be here today feels really good."
The Panthers are back on the road Friday against Crimson Cliffs.
16. Brighton (5-2, 3-1 Region 6)
Before top-rated linebacker prospect Lander Barton could take an official visit to Texas over the weekend, he had some business to attend: a thrilling 35-28 win over East.
Once back on the Wasatch Front, the younger brother of former Utah stars Cody and Jackson Barton can prepare for an even bigger game Friday at Park City.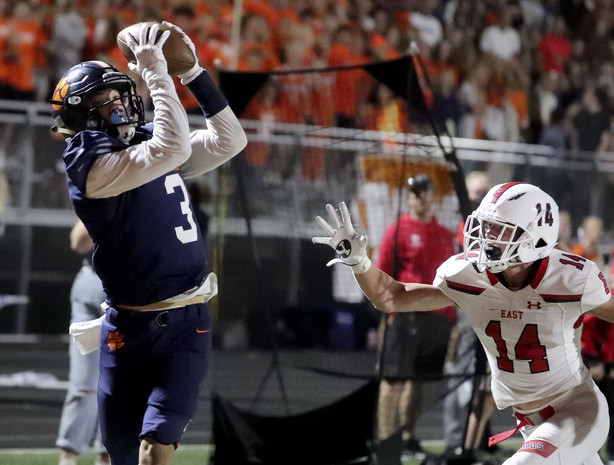 17. Alta (4-3, 1-1 Region 8)
There are two sides of Alta football: the one with BYU commit Maika Kaufusi, and the one without. Teams will now see the side with Kaufusi, who made his return after a five-game layoff with three touchdowns in a 48-23 win over Orem.
Ethan Jackson's seven touchdown passes helped, too. Will the offense stay hot Friday at Lehi?
18. Beaver (7-0, 2-0 2A South)
Look, we get it; a lot of you think there was a glitch in the matrix that let the Beavers into the Top 20. But now that they keep winning — 33 times in a row, in fact — they have to stay.
Sorry, we don't make the rules. Or maybe we do, but Beaver definitely doesn't as it hosts Millard on Friday.
19. Northridge (6-1, 3-0 Region 5)
The quietest five-game winning streak in the state may belong to the Knights, who have bested all challengers since an intra-city rivalry loss to Layton.
The next two weeks against Bonneville and Bountiful will likely decide the region title.
20. Provo (6-1, 2-1 Region 9)
The Bulldogs were staring at a two-game losing skid when they trailed Spanish Fork Friday, but Daniel Asisi keyed a 21-0 spurt with an 80-yard blocked kick return to help Provo pull away and keep pace with Springville for a region title.
The Bulldogs have the second-best RPI in 5A and play at Salem Hills (1-6) this week.
Plus-1. South Summit (7-0, 2-0 2A North)
The Wildcats were marching easily to their seventh consecutive win before Summit Academy's Devin Watson found Chance Arbon three times to pace a furious 28-0 second-half run to force overtime and take a 42-35 lead in the extra session.
But Kyler Sudweeks ran in his third rushing touchdown of the game, and Wildcats coach Mike Grajek's gamble on a two-point conversion paid off when Sudweeks delivered the game-winner on another run following an emotionally charged game.
"They played for each other," Grajek told the Deseret News. "It was a great win for the program."
×
Related Stories