Estimated read time: 7-8 minutes
LOGAN — BYU was down two quarterbacks, two starting offensive linemen and breaking in a true freshman signal caller in the Cougars' first true road game of the 2021 season.
One thing they weren't down at Utah State? Tyler Allgeier.
Good thing.
Allgeier ran for a career-high 218 yards and three touchdowns as No. 13 BYU jumped out to a 17-3 first-half lead and never let up en route to a 34-20 win over in-state rival Utah State to retain possession of the Old Wagon Wheel in front of an announced crowd of 25,240 at Maverik Stadium.
And after a 22-carry night that stretched near to Saturday morning, Allgeier could barely make time for words after the game, using most of them to compliment his offensive line of Connor Pay, Clark Barrington, Joe Tukuafu, Blake Freeland and Campbell Barrington, as well as the handful of subs that rotated in throughout the night.
"I'm exhausted. I'm really tired," said Allgeier, who also caught three passes for 22 yards. "But it was a great team win. We're 5-0, and now literally on to the next."
Take a well-deserved nap during general conference weekend, Allgeier. It was well-earned.
"He got really tired; he couldn't finish the game he was so tired," BYU coach Kalani Sitake said. "I'm just really happy. And if you ask him, he'll give a lot of credit to the line and blocking down field. But he did a great job protecting the ball.
"I was really happy with the way he ran the ball. But the O-line also blocked great for him."
#BYU RB Tyler Allgeier after rushing for a career-high 218 yards and 3 TDs on 22 carries in a 34-20 win over in-state rival Utah State:

"I'm exhausted." pic.twitter.com/zLkqYfeo9e

— KSL.com Sports (@KSLcomSports) October 2, 2021
Allgeier was the visible MVP, for obvious reasons. But the matchup in the trenches, where BYU's offensive line gave up just two sacks and 11 tackles for loss, was what "won the game for them," Utah State coach Blake Anderson said.
"They controlled the line of scrimmage for the most part," the first-year Aggies head coach added. "We got to the quarterback a lot. We didn't sack him, but we hit him and made it hard for him to continue to play, and they had to bring in another guy. At times we used our quickness and speed to create some lost yards plays, but ultimately their ability to run the ball downhill and create the big plays that they did won the game for them. We knew that was a huge challenge. We felt like that was the strongest part of the team and it showed. That's the part we have to recruit and develop."
With the win, BYU (5-0) improved to 21-5 in the last 26 meetings in the in-state series, but just 3-2 in the last five meetings.
Baylor Romney completed 15-of-19 passes for 187 yards, but was replaced by Jacob Conover with an injury in the second half. That included a 15-yard touchdown strike to Isaac Rex to give the Cougars a 17-3 advantage to start the second quarter.
Conover, the former four-star recruit from Chandler, Arizona, started the second half for BYU when Romney could not continue. The redshirt sophomore became the seventh quarterback injured during the Wagon Wheel rivalry since 2012; and when Logan Bonner went down with an apparent right leg injury for the Aggies, the eighth.
The returned-missionary freshman, Conover finished with 45 passing yards for BYU, but BYU's defense pitched another shutout in the third quarter and Jake Oldroyd opened the fourth with a 32-yard field goal — his second of the night after a 49-yarder in the first quarter — to extend the Cougars' lead to 27-13 to help put the game away.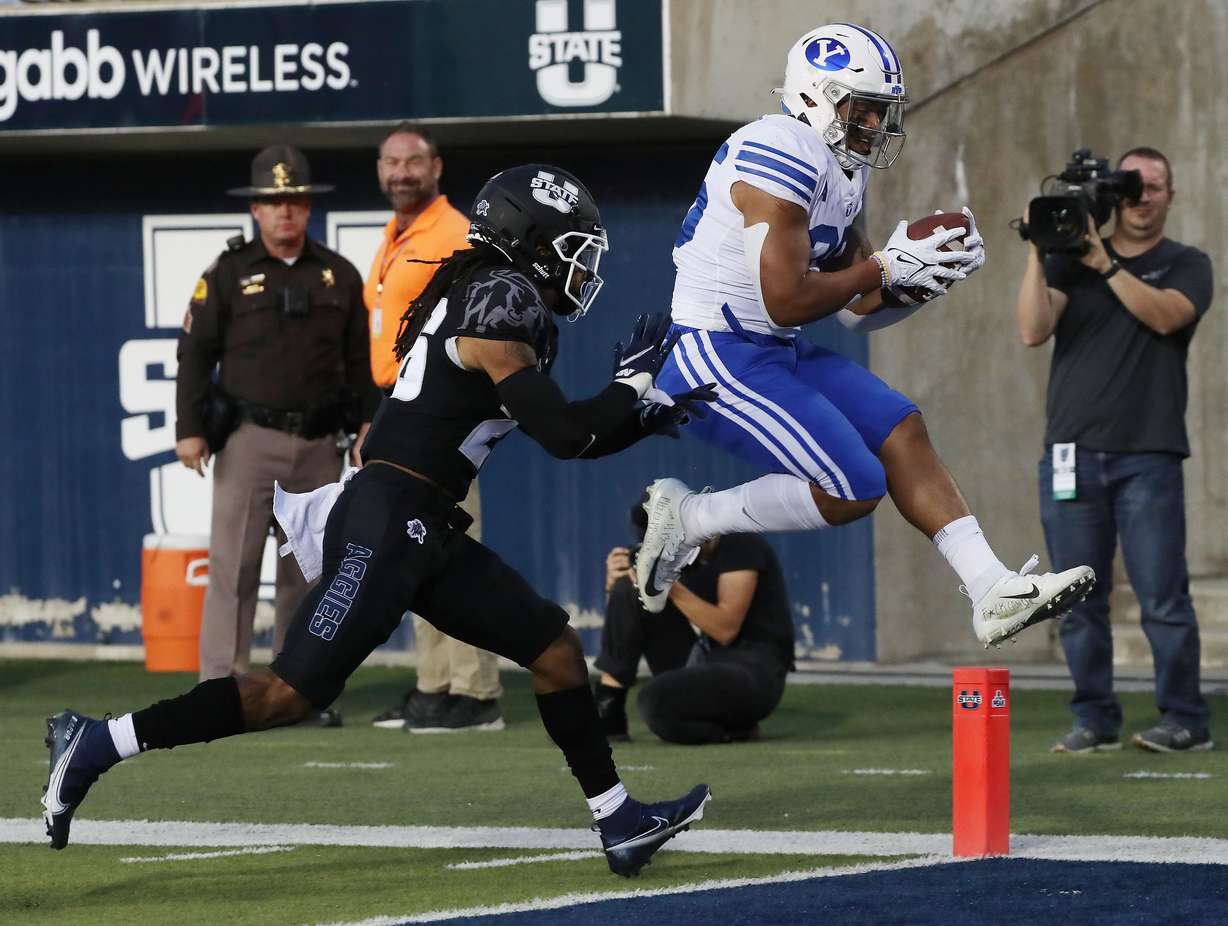 But you didn't expect the Wagon Wheel to be won that easily, did you? With a true road environment and the first hostile crowd of the season — in an in-state rivalry game, no less — the Cougars handled the test as well as could be expected. The visitors piled up 466 yards, including 221 on the ground, and held the Aggies to 22 net rushing yards and 336 yards of total offense.
"I'm proud of how the guys played, especially with how hard we worked all offseason," said BYU linebacker Ben Bywater, who had a team-best nine tackles and a career-high three tackles for loss one week after replacing the injured Keenan Pili as the Cougars' starting mike linebacker. "For us to go in and dominate the line of scrimmage like that is a testament to our hard work."
And the crowd? The crowd was intense, making everything BYU did difficult, and held signs that included "BYU players shower with their socks on" and "Gunner is a stupid name" directed at wide receiver Gunner Romney, who caught a team-high five passes for 42 yards, and a handful of knuckleheads tossing water bottles at the players as they exited the field following the win.
"They were hostile as hell," said Allgeier, with a laugh. "But honestly, we made it into a positive and just literally laughed at their jokes. We took that, and had it gotten in our heads, it would've been bad. But having that cool head, I think that won it today.
"They were saying some funny stuff."
Bonner connected with Deven Thompkins with a 28-yard rocket, capping a 14-play, 90-yard drive to pull the Aggies within 7 points (27-20) with 9:52 to go. Thompkins finished with a game-high 125 yards on nine catches, including the score.
But Allgeier responded — much like he did all night — with a 67-yard burst down the Aggies' sideline to the 1-yard line. Two plays later, the standout running back from Fontana, California, dived into the end zone and the Cougars extended the lead again for the final time.
The worst thing about the drive was that it only gave BYU's defense 1:06 of time off the field. No big deal, Bywater said.
"Tyler Allgeier is a stud. He's a freak athlete, and I love being his teammate," the former Olympus rugby standout added. "He's a guy who gives incredible athlete. I hope he goes high in the draft.
"He's tough, he's strong, and you can look up to that guy in multiple ways."
Leading rusher Elelyon Noa averaged 2.8 yards per carry for 17 yards for the Aggies, who got 13 more on eight scrambles from quarterback Logan Bonner.
Bonner finished with 276 yards, two touchdowns and an interception before leaving the game with an apparent right leg injury in the fourth quarter. Andrew Peasley completed 5-of-7 passes for 38 yards and an interception in relief for Utah State (3-2).
Utah State totaled just 19 yards on their first two possessions, including one that ended in Malik Moore's second interception of the season.
BYU held the Aggies' prolific offense below 80 yards in the first quarter before Romney connected with Rex on a 15-yard touchdown with 13:42 left in the half.
But Utah State converted five third-downs and a fourth-down conversion during an 18-play, 75-yard drive over 7:34 to pull within 17-10 on Bonner's 21-yard strike to Justin McGriff with 6:08 on the clock.
Allgeier responded with a house call on third-and-2 on the next drive, making a tackler miss in the middle of the park and rumbling 59 yards before tumbling into the end zone.
Connor Coles hit his second field goal of the game, a 55-yarder with 55 seconds to go, to pull the Aggies within 24-13 at halftime.
BYU held Utah State, which entered the game in the top 10 nationally in total offense averaging 533.2 yards per game, to just 167 yards at the break. But the Aggies had nearly double the third downs (seven) as the Cougars (four) to pull within 11 (24-13) at the break.
Jakob Robinson, an Orem High product who started his career at Utah State, clinched the win with an interception as Utah State drove for one final score with 39 seconds to go. It was the second interception of the game for BYU, which has not trailed through five games in 2021.
"We wouldn't be able to win the game without him and Jacob Boren replacing Caleb Christensen," Sitake said. "Those guys really stepped up. The 11 guys on the field were great, but it's the other 11 who really stepped up and made some plays."
×
Photos
Related Links