Estimated read time: 3-4 minutes
PROVO — In their final season as an FBS independent before joining the Big 12, BYU will finally bring Notre Dame to the west.
Just in the Cougars' second home of Las Vegas.
The two schools will meet Saturday, Oct. 8, 2022 at Allegiant Stadium in Las Vegas, they announced Tuesday. While it wasn't mentioned in either school's announcement, the Irish will apparently be the home team, as the game will be broadcast on NBC — the exclusive television partner of Notre Dame home football games.
"We are really excited about the opportunity to return to Allegiant Stadium and face Notre Dame," BYU athletic director Tom Holmoe said in a statement. "This has been a process, with a lot of back-and-forth, to be able to find a return game in this series that would work for both sides. We feel very good about playing this game in Las Vegas, where Cougar Nation always shows out, and look forward to an incredible matchup and atmosphere."
The matchup was first reported by the Las Vegas Review-Journal back on Sept. 4, prior to a 24-16 win over Arizona at Allegiant Stadium to open the season. Holmoe didn't deny the reports then, but did mention in a pregame interview with BYUtv that the two sides were working together to schedule at least one home game of what is originally a six-game series with the Irish when BYU went independent in 2011.
The Cougars made two trips to South Bend, Indiana, as part of the deal, losing them both. But Notre Dame never made a visit to Utah as the Irish put together their usual national schedule as well as an affiliate agreement with the ACC that kept men's basketball and its Olympic sports in the conference.
BYU and Notre Dame will meet for the ninth time all-time, and the first at a neutral site since the series began in 1992. The Irish hold a 6-2 advantage in the series, including the last three matchups — BYU hasn't won since a 20-17 victory in Provo in 2004.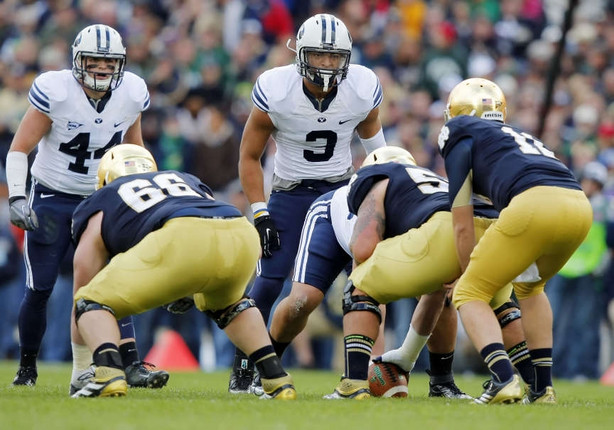 Both teams are currently ranked in the Associated Press Top 15, with Notre Dame coming in at No. 9 in the AP poll and BYU following at No. 13. Both schools are also among the winningest programs in college football over the past 50 seasons — BYU ranks eighth with 425 wins in 50 years, while Notre Dame is 17th with 392 victories over the same span.
The Cougars have made a second home of Las Vegas, between games against former Mountain West foe UNLV at Sam Boyd Stadium and utilizing the Las Vegas Raiders' new stadium to host events for a fanbase that travels well to Southern Nevada and also includes around 184,000 members of The Church of Jesus Christ of Latter-day Saints in the Silver State.
The finalized agreement with Notre Dame gives BYU 12 teams on the 2022 schedule, a complete schedule the year before the Cougars are expected to join the Big 12 Conference.
With the Notre Dame game finalized for next season, BYU now has agreements with all 12 opponents for its final season of independence in 2022 before the Cougars join the Big 12 Conference in 2023.
The Cougars will also host Baylor, Wyoming, Utah State, Arkansas, East Carolina and FCS school Dixie State, and have road games scheduled at South Florida, Oregon, Liberty, Boise State and Stanford during a two-year hiatus where they will not play rival Utah.
×
Related Stories