Estimated read time: 6-7 minutes
SALT LAKE CITY — Aaron Lowe's mother, Donna Lowe-Sterns, was woken up to a phone call at her home in Malakoff, Texas, just before 2 a.m. MT from one of her son's friends.
Her 21-year-old son, the "B baby" of her triplets, had been shot at a house party in Salt Lake City.
The initial word from the other voice on the line was that he had just been shot in the arm. "Immediately I said, 'Oh God, thank you; they're going to save my baby,'" Lowe-Sterns recalled in an interview with KSL-TV. Her son, however, was later pronounced dead at the scene.
In the immediacy of the tragic event, Lowe-Sterns has had to come to terms with the fact that her son, the one that was always "concerned about his momma," was now just a memory in a state 1,000 miles away.
"It has really, truly devastated me to know that I don't have my son," she said.
"I'm not crying because he's gone," added his father, William Smith, in an interview with WFAA in Dallas, Texas. "I guess I'm crying because I can't see him, I can't talk to him, I can't hold him."
The circumstances surrounding his death are still being pieced together, but Lowe-Sterns said Salt Lake police told her that "it was just my child in the wrong place at the wrong time. He did nothing wrong, and I got that from authority. He did nothing wrong.
"It helps me to know that I raised a good child," she added. "He wasn't a troublemaker. He didn't engage in fighting and arguing, and he didn't tote weapons — he didn't do any of those things. I raised him to love God and to love people."
Lowe was attending a house party the night after Utah defeated Washington State earlier in the day. The party started out "relatively small," according to police, before growing to possibly several hundred people before the shooting. Individuals that were not invited to the party were told to leave and a fight ensued, police said.
Lowe and a woman, whose identity has not been released, were shot. The defensive back from the University of Utah was found on a sidewalk across the street.
"I know whoever hurt him, Aaron wouldn't have hurt him," his mother said. "He wouldn't have did nothing to hurt him, because it's not in him. A mother shouldn't have to bury her child. I just want everyone to know: If you know anything — anything — about the people that did this to my child, please come forward and say something. I don't think they should be allowed to be free.
"I want them to pay for what they've done, and I hope they've got a conscience — that they'll come forward and turn themselves in because they know what they did."
Lowe-Sterns flew up to Salt Lake City to meet with police and the University of Utah coaching staff. And in that time, she said she still expects to wake up from a dream.
"I swear to you, I woke up this morning wanting it to be a dream, but it's not, it's reality and I have to accept it because my God knows best," she said. "I just feel like that his time here on earth was done. Whatever it was — I'm hurt and it's about to kill me — but I know my God, and I know God makes no mistakes. So whatever it was that Aaron had to do, he had already done it and God called him home. I hated that it had to be tragic like it was."
She's going to miss the daily calls from her football-loving son. Each day he'd call and simply ask: "You good?"
"Those were his words. He loved his mother," Lowe-Sterns said. "That was his daily thing. I know that it's going to take time because he was very close to me. He was a momma's baby."
Now, she's left trying to put the pieces together — pieces that seemed so natural for the child with the "infectious smile" and whose only concern was "about his momma." He loved the game of football. And while it was something he loved "since he was a baby," it was his opportunity to take care of his mother in the "big house" he promised to buy her once he made it to the NFL.
He was on his way there.
And while Lowe-Sterns says she trusts that God had a plan for her son, the future is still unknown — the grief she feels will continue to be a "day-by-day" aspect of her life forever.
"That is something I probably can't answer," she said. "I'm probably going to have to take it day by day. Yesterday was not a good day, but it was the first day. I was able to smile today, but it's going to be a day-by-day thing."
Smith pleaded with others to avoid gun violence and to "put the guns down."
"Young men, young women, don't believe the hype; that is a set up. Please, please put the guns down. Pray. Ask God to give you strength. You don't need a weapon," Smith told WFAA. "If you fall on your knees, go in a closet and talk to God, I guarantee you everything will be better.
"There is nothing, and I tell you nothing, there's nothing on this earth I don't think worse than losing a child."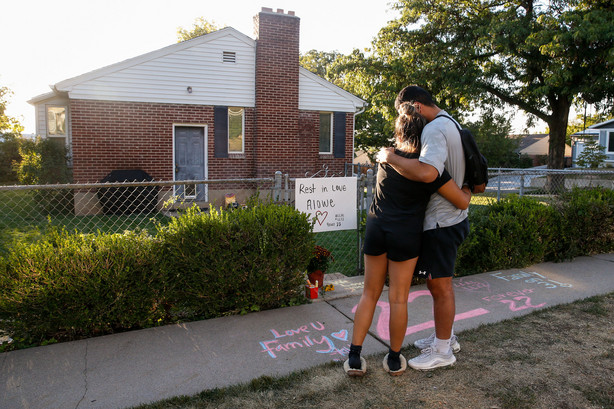 On Monday, a GoFundMe campaign,* which was confirmed by the University of Utah to be real, was started by Smith to help raise money for his son's funeral expenses; the fund has received more than $25,000. Several donors said they were surprised to receive personal notes back from Lowe's father thanking them for the donations.
"Through it all, he still found the time to send the token of appreciation," one donor said on Twitter. "I hope they've also been able to see all of the love and support the family has received from the Utah Family from here."
*Disclaimer: KSL.com has not verified the accuracy of the information provided with respect to the account nor does KSL.com assure that the monies deposited will be applied for the benefit of the persons named as beneficiaries. If you are considering a deposit or donation you should consult your own advisers and otherwise proceed at your own risk.
×
Related Stories