Estimated read time: 3-4 minutes
SOUTH JORDAN — By the time the clock mercifully hit triple zero, the message had been delivered loud and clear: Region 3 is still run by Bingham.
Actually that message was pretty clear after the first 12 minutes Friday night. In a matchup that could be considered a quasi-region title, the Miners left no doubt who is still the team to beat.
Bingham scored 24 points in the first quarter en route to a 45-14 win over previously unbeaten Mountain Ridge.
While Bingham coach Dave Peck didn't necessarily think things would be as one-sided as they were Friday, he expected a strong performance from his team.
"I believe this week was the best practice we've had in the two years since (I've been back)," said Peck, who returned to Bingham last season after creating a dynasty with the Miners. "It felt like a championship-caliber week."
Peck knows a thing or two about championships, having led the Miners to state titles on five different occasions. And he let his team know just how important Friday was when it came to a lesser title: If they wanted to win a region championship, they needed to beat Mountain Ridge.
The players responded with a dominating performance.
"They are definitely the toughest team I think we're gonna face and I think we handled them well," quarterback Dallen Martinez said.
That's putting it lightly.
Bingham's defense suffocated the Sentinels, who had averaged nearly 36 points during their 6-0 start — and just last week dropped 42 points in a win over Copper Hills. Against the Miners, they struggled to even cross midfield.
Bingham's offense scored on its first four possessions, including a beauty of a pass from Martinez to Maddax Peck for a 26-yard touchdown. Bingham even had a big play on special teams when Peck returned a punt for a touchdown to make it 17-0 just over five minutes into the game.
The Miners jumped out on Mountain Ridge early and simply never let up.
"I thought we got after it," Peck said. "We just grinded and played extremely hard. I thought we were real physical and played with a lot of confidence."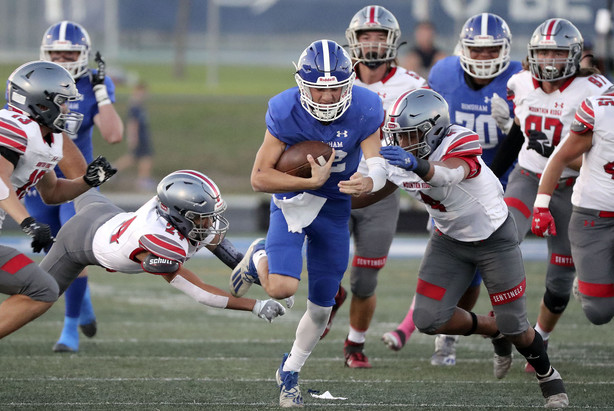 At 4-3, Bingham's record is far from spotless, but those three losses are all against some of the best teams in the state: Corner Canyon, American Fork and Timpview; all three are near consensus top five teams. It was those games, even though they ended up in defeats, that helped breed some confidence in the Miners.
"I'm glad that we got those preseason hard games," Martinez said. "It really showed us what we need to improve on and what we can work on to get better."
That led to Bingham's best performance of the season Friday.
It was a disappointing night for the Sentinels, who had a chance to solidify themselves as a 6A contender Friday after rolling through the first six weeks of the season against a decent schedule. Mountain Ridge beat Wasatch, Olympus and Westlake in the preseason — far from the murderer's row Bingham went against, but solid in its own right.
The Miners, though, provided an opponent that would further legitimize Mountain Ridge's hot start. It turns out, the new kids from Herriman aren't quite ready for the limelight.
By halftime, the Miners were up 31-0, with Mountain Ridge never even sniffing a scoring opportunity.
Even when the Sentinels, at long last, put together a scoring drive that ended with a 10-yard touchdown run from Cade Uluave to cut the Miners lead to 24 with 6:39 left in the third quarter, Bingham had an immediate response.
On the first play of the ensuing drive, Martinez found the edge and ran 80 yards for a touchdown.
"He had a couple of really big plays," Peck said. "He's a great athlete. I'll tell you what, probably the best running quarterback maybe I've ever had as far as just taking off and getting going. He's capable of any play going for a big play."
×
Photos