Estimated read time: 6-7 minutes
AROUND THE BEEHIVE — Jackson Stevens had one last throw — a prayer, even — as he dropped back to pass.
Ty Hoagland was there to answer.
Stevens heaved a 40-yard Hail Mary bomb to Hoagland on the final play of the game as Davis avoided overtime with a 14-point rally to beat Syracuse in Region 1 play.
The senior wide receiver and two-way player went up for the grab and pulled down the touchdown, which Max Painter pulled out of Hoagland's arms and to the ground, Davis coach Scott Perry told the Deseret News.
"The key was jumping out early and that lit a fire under the boys. We put a full game together on all sides of the ball and I couldn't be more happy for the boys with the Hail Mary to win it," Perry said. "Jackson bought some time in the pocket and for the ball off, then Ty Hoagland high-pointed the ball in the end zone and on his way down Max Painter decided to pull it out of Ty's extended arms and went to the ground in his possession. Just a wild finish and I'm just ecstatic for the boys."
Hoagland, a senior wide receiver and two-way player, finished with 110 yards and a touchdown for the Darts (3-3), who snapped a two-game losing skid with the late dramatics that set off a wild celebration of incredulous screams from the crowd, a field-storming of epic proportions, and a postgame fireworks display.
Hail Mary winner!!!
Dramatic winner for Davis over Syracuse tonight as Ty Hoagland hauled in a 40-yard TD pass from Jackson Stevens on the final play of the game.
📽️ — Courtesy Davis HS pic.twitter.com/aOkSLDfHfl

— James Edward (@DNewsPreps) September 18, 2021
Syracuse (4-2, 0-2 Region 1) fell for the second straight week on the final play of the game after last week's 34-32 loss to Weber on Jaycee Jones' 50-yard field goal with 4 seconds left.
Here are five standout performances from Week 6 of the 2021 high school football season.
Ty Hoagland, WR/DB, Davis
Ezra Harris, QB, Stansbury
Harris did all of his scoring in the second half as the Stallions rallied from a 14-0 halftime deficit to hand the Buffaloes their first loss of the season.
The junior quarterback opened the second half with a 65-yard TD strike to Dylan Hamilton in the third quarter, then added scoring runs of 4- and 12-yards to finish off Stansbury's Tooele Valley rivals that kept the Stallions 3-0 in Region 7 play.
"It's always a big one, and they were 5-0," Stansbury coach Eric Alder told the Deseret News. "We just needed that one spark to get us going. That first half was terrible, but once we got going, we didn't stop. It's a credit to those players."
Tooele dropped to 5-1 with the loss, including 3-1 in region play.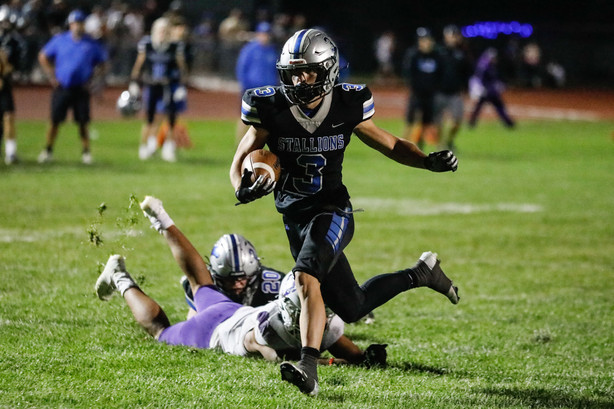 Devin Brown, QB, Corner Canyon
Brown scored four touchdowns as the Chargers did something they haven't done in more than two years in Friday's victory over the Cavemen, their 46th straight and 1,409th day without a loss.
The senior USC commit led them from the shadow of a first-quarter shutout.
The Chargers (6-0) rallied from an early 7-0 deficit with a 51-15 blitzkrieg the rest of the way to move within two games of Duchesne's state record for consecutive wins set from 2010-14.
A team prone to strong starts, the three-time defending state champions have not been held scoreless in the opening frame since Aug. 23, 2019, a 31-0 road win over Herriman. Friday night's result snapped that 31-game streak.
But it did anything but snap the Chargers' impressive winning streak, all while handing the Cavemen their first loss of the season with a season-low offensive output.
"We just had a couple mental errors and that was really it," Brown told KSL.com. "We knew what we had to do and we really prepared well during film. We had a good week of practice ... but we just got back and realized what we needed to fix and just got after them."
Dropped in on former @QC_football QB Devin Brown tonight here outside of Provo, Utah. He told @claudianfaust and I earlier that he's still committed to USC but heard twice from @ASUFootball in the last 24 hours. Video interview later on https://t.co/oGw954jUxp#Fridaynight360azpic.twitter.com/jOhbJ6gqmL

— Brad Cesmat (@bradcesmat) September 18, 2021
Easton Schank, RB/QB, Cedar Valley
Schank accounted for four touchdowns and the game-winning 2-point conversion as the Aviators rallied from a 27-14 third-quarter deficit to stun the previously unbeaten Timberwolves.
Timpanogos jumped out to a 21-7 lead behind three touchdown passes by Matu Holdaway. But the visitors trailed just 20-14 at the half before Schank got rolling.
The senior rumbled to a 30-yard touchdown run with 1:54 left in the third quarter to help spark the Avaiators' offense, scoring 19 of the team's final 22 points during a 22-8 run in the spectacular comeback.
Josh Jones scored on a 3-yard run for Timpanogos (5-1, 1-1 Region 7), and Jaxon Vanchiere's 2-point conversion gave the Timberwolves a 35-28 lead.
But Schank broke through a 1-yard run with 32 seconds left, and the Aviators bet the house on Schank's 2-point conversion run to win it all.
"Our boys played tough all night and made plays at the right moments to win," Cedar Valley coach Weston Zabriskie told the Deseret News. "We overcame a bunch of mistakes but kept fighting. Big win tonight."
With the win, Cedar Valley (3-3, 2-1 Region 7) hosts Stansbury next week. The Timberwolves will look to rebound on Friday against Uintah.
Nick Despain, QB, Morgan
Despain threw for 166 yards and a touchdown and ran for another score as the Trojans rallied from a 28-9 second-quarter deficit with 32 unanswered points in the win.
Tyler Easter's 24-yard touchdown from James Diego Valdez gave the Soaring Eagle a 28-9 advantage with 1:01 left in the half. But Despain pulled one back with a 65-yard strike to Gavin Turner, then went to work after the break, beginning with his 13-yard touchdown run with 4:07 remaining in the third quarter.
William Lance added two fourth-quarter touchdown runs for the Trojans, who improved to 3-3 and 2-0 in the 3A North with the win.
"Juan Diego is a quality team that plays great football. They came out fast and got up early and made great plays," Morgan coach Jared Barlow told the Deseret News. "Our team battled and kept within striking distance. We were confident that if we could shut them out the second half that we could battle back and win.
"Our coaches made some great adjustments, athletes executed, and we earned a hard-fought victory. I'm proud of how the team battled for four quarters."
Clarification: Davis coaches initially reported that Hoagland caught the game-winning touchdown catch instead of Painter. The omission has been clarified.
×
Related Stories