Estimated read time: 4-5 minutes
PROVO — The offense always starts with the quarterback, and Arizona State is no exception.
The 19th-ranked Sun Devils' prolific offense — one that ranks 44th in the nation with 446 yards per game in home wins over Southern Utah and UNLV — has a true gunslinger under center, one who is completing 73% of his passes for 307 yards and two touchdowns with an interception in his third season in Tempe, Arizona.
"Jayden Daniels is a really, really good player," BYU coach Kalani Sitake said of the 6-foot-3 junior from San Bernardino, California. "He just has a lot of poise and is playing really good football right now."
Daniels is a special talent, one who threw just three interceptions in his first 422 career attempts while leading the Sun Devils to an average of 231 yards of offense and accounting for nine touchdowns a year ago during the Pac-12's COVID-truncated season a year ago.
An efficient 147.29 passer, the former Utah recruiting target also makes defenses account for his rushing ability. The dual-threat quarterback is being simulated in BYU practices by Boise State transfer Cade Fennegan and former Utah walk-on Nick Billoups — but there may be no true simulation for the long-limbed, strong-armed Daniels.
The best way to counter him may be a quick shift back to basic football principles.
"The biggest thing is being assignment sound," BYU defensive end Earl Tuioti-Mariner said of defending Daniels. "I'm sure we'll have a guy for the quarterback, watching him scramble. But just like last game, being assignment sound and having someone to watch the quarterback and put pressure on him is the key. Hopefully we can get those yards down so he's not running all over us."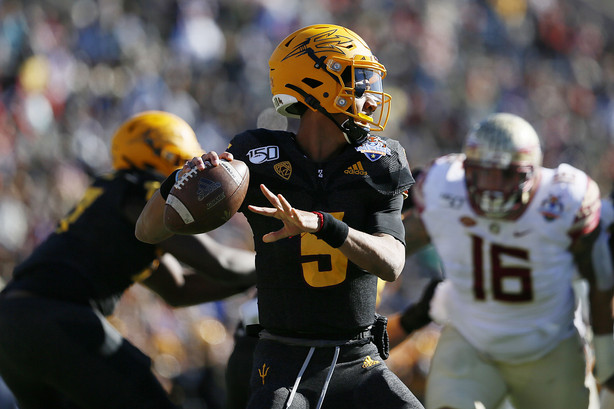 Yet when the No. 23 Cougars host ASU on Saturday night (8:15 p.m. MT, ESPN), Daniels may not be their biggest offensive concern. As talented as the quarterback may be — and there's no denying his talent — the Sun Devils also boast an explosive ground game.
ASU has run for an average of 259 yards per game in home wins over lower-level competition, led by fifth-year senior Rachaad White, who has 154 yards and four touchdowns on 29 carries.
But in front of White is perhaps the bigger lynchpin to the offense — and maybe even more than Daniels: an old-school fullback recently returned from a two-year mission for The Church of Jesus Christ of Latter-day Saints.
Case Hatch, a 6-foot-1, 230-pound fullback who prepped at Perry High School in Gilbert, Arizona, returned from his church mission to Fort Lauderdale, Florida, without a scholarship and few offers to play major college football.
In fact, when most major colleges found out he planned to serve a mission, they started backing off his recruitment, he told Sports360AZ upon his return.
"It was kind of disappointing, in a way, and discouraging to see all those offers kind of leave," Hatch said. "But I had to stick my faith in God and go serve him first and know football was going to be there when I got back.
"To step away from the sport for two years definitely impacted me in both ways. I missed it and I just wanted to be out there again. It's a fight, and you start to miss the fight if you haven't been in it for a while."
The former Arizona all-state linebacker who registered 384 tackles, 30.5 tackles for loss, 12 sacks and three fumble recoveries at Perry accepted a preferred walk-on spot from coach Herm Edwards and eventually earned a scholarship last year.
Now he's a team captain with the lead blocker role on offense, a fullback with a penchant for hitting as much as running or catching the football.
Hatch does the dirty work ahead of an ASU run game that averages 5.95 yards per carry, the 17th-best mark nationally. White and fellow running back Deamonte Trayanum get the credit, but the former linebacker has delivered key blocks on eight of ASU's nine rushing touchdowns this season, according to The Athletic, while also playing H-back and tight end.
"I love football. I'm kind of more old school, the way I like to play," Hatch told Devils Digest. "I like to hit as much as possible. If there's any possibility for contact, I'm going to take it.
"I'm not one to go juking around guys; I'm going to take you head on. And I know that I was able to put in the work in the offseason to take you one-on-one."
For all of the Sun Devils' bells and whistles, starting with Daniels but also White and flashy wide receivers like LV Bunkley-Shelton and Junior Alexander, the most important piece of the offense may be Hatch.
He's ASU's "seat belt," Edwards told The Athletic: the guy who keeps everything together.
And Saturday's game is personal for him. As a Latter-day Saint growing up in The Valley, Hatch had plenty of friends from high school who went to BYU. Some of them will be lining up opposite him this weekend.
And he has a message for each of them.
"You better be ready," he said. "I'm coming full speed."
×
Related Stories