Estimated read time: 5-6 minutes
This archived news story is available only for your personal, non-commercial use. Information in the story may be outdated or superseded by additional information. Reading or replaying the story in its archived form does not constitute a republication of the story.
ON TOUR — Back in 2018, Tony Finau made history as the first native Utahn to be named to the prestigious Ryder Cup squad by U.S. captain Jim Furyk.
On Wednesday, he made history again.
The Rose Park native earned his second Ryder Cup nomination as one of six captain's picks by Steve Stricker announced Wednesday morning that will take on the European stars at Whistling Straits golf course in Sheboygan, Wisconsin beginning Sept. 24.
"I'm honored to join this team. It's quite an honor to represent the USA and wear the red, white and blue," Finau said during the announcement on the Golf Channel. "I think I can help this team like I did in Paris. I want to draw on those experiences to help bring the Cup back to the U.S. It's an honor for me to make my second appearance. To join these young guys in this group, I'm extremely excited and honored to be a part of this team."
Finau was joined by Olympic gold medalist Xander Schauffele; Harris English, who is making his first Ryder Cup appearance as captain's picks; Scottie Sheffler, who will be making his debut in a Ryder Cup or Presidents Cup event; fellow rookie Daniel Berger; and Jordan Spieth, who will be making his fourth Ryder Cup appearance.
"He's a tremendous athlete, very long off the tee, which we think we fit very well at Whistling Straits," Stricker said of Finau. "We're excited; he's a tremendous guy, a tremendous athlete, has so much talent. I don't even know if he knows how much talent he has."
U.S. golf legends Phil Mickelson and Fred Couples will serve as vice captains to Stricker. The European squad will be named later this week.
Collin Morikawa, Dustin Johnson, Bryson DeChambeau, Brooks Koepka and Justin Thomas each earned a spot on the U.S. team via automatic qualifier. Patrick Cantlay, the FedEx Cup champion who edged Finau in the overall standings prior to his Tour Championship title, also held off the Salt Lake City native with with the final automatic berth.
That left Finau just outside the cut line, and easily the top golfer expected to earn one of the six captain's picks. Add to it the most rookies available to Stricker since 2008, and Finau's experience also became a factor in the decision. The now two-time Ryder Cup participant went 2-1 in his debut appearance in 2018.
"Everyone's getting better these days at a younger age," Stricker said. "They come here with eyes wide open, a put me in coach kind of attitude, and it's refreshing to see."
Plus, the experience of standing on the 18th green as the European squad celebrated in Paris has stuck with Finau in the three years' since, motivating him to get back.
"I was with Jordan (Spieth) standing on the green, watching them celebrate on 18," Finau said. It's never a good feeling losing, especially with the home crowd behind them.
"I remember that feeling, and I remember making it a goal to make this team to try to return that favor. It was kind of a salty feeling watching them celebrate, but we have the opportunity to return the favor this year and hope to do that with this squad."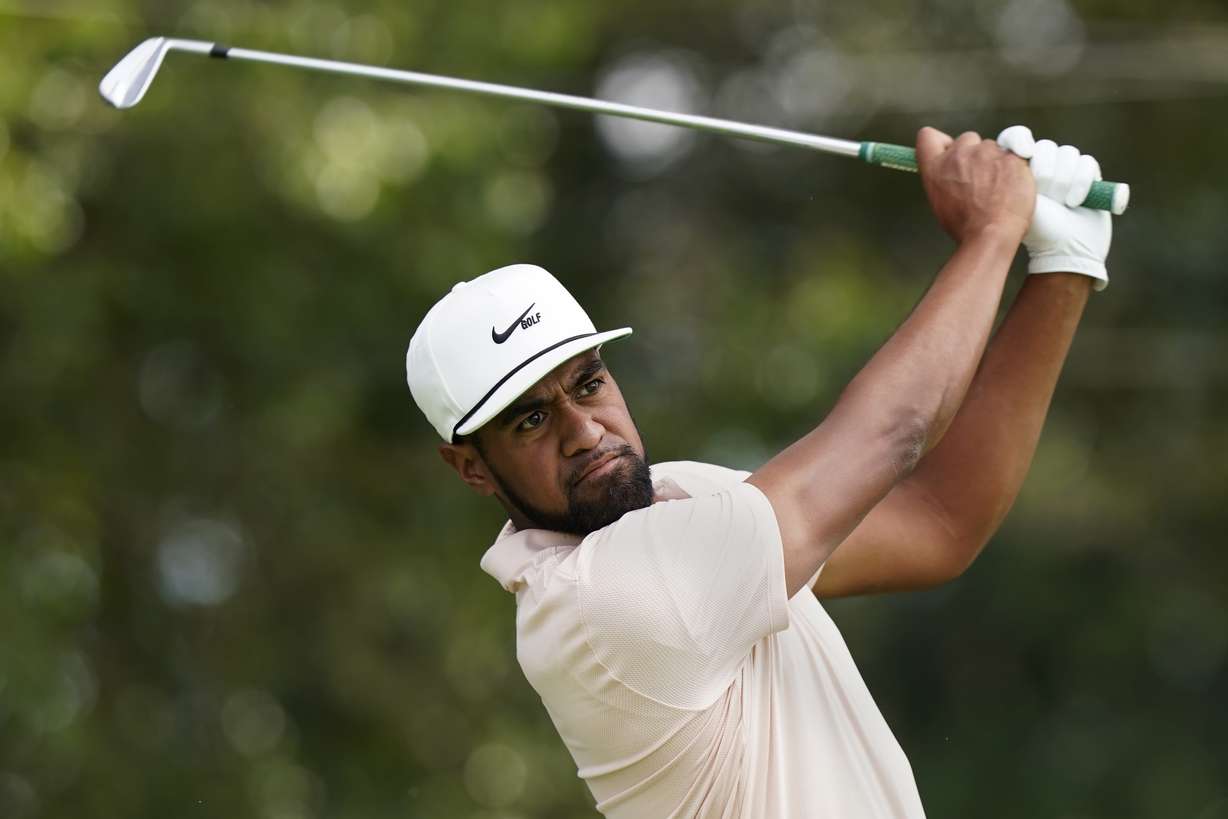 There's nothing like that feeling — for good and bad, but in this case, for bad — in sports, Spieth added.
"It was awful on that green," he recalled. "I don't know of many sporting events where you have to stand there and watch like that. I've done it twice now … It's a very defeating feeling. You just have to stand there and watch it, and you just want to go back to your team room and decompress.
"I remembered walking off that green thinking, 'let's not do this again.' I'm glad to be back on home soil. They feel very different than away tournaments."
Schauffele, Spieth and English — the other players ranked 7-10 in the final Ryder Cup standings — were easily expected to join Finau in the top spot. Schauffele hardly feels like a rookie for the moment, as the 27-year-old San Diego native is the reigning Olympic gold medalist with four career wins on the PGA Tour.
But picks are, by their very nature, subjective. Berger, Scheffler, Patrick Reed, Webb Simpson, Sam Burns, Kevin Na and Billie Horschel all had strong claims to a spot on the U.S. team. As much as he might like to, Strickler can't choose every American golfer on tour for his team — because there may be other factors to consider, such as public draw, television ratings, and the "it" factor that answers less pure golf-centric questions like, "would bringing Bubba Watson to the team pull in more eyeballs on TV?"
One thing was known for certain, though: Finau was a priority choice.
And for good reason.
With his No. 2 finish in the FedEx Cup that led to a No. 11 finish at the Tour Championship, Finau is having one of his best seasons on the PGA Tour since the No. 9-ranked golfer in the world turned pro in 2007.
The 31-year-old long driver — he'll will turn 32 next week — has eight top-10 finishes to his credit, including runner-up spots at The Genesis Invitational and Farmers Insurance Open, in addition to his long-awaited championship at The Northern Trust. That's all in addition to 15 top-25 appearances in 21 cuts made across 26 total events, including a pair of top-15 finishes in the postseason following his Northern Trust win.
Finau has claimed $5.7 million in winnings this season, bumping his career total to $25.7 million in total earnings. And perhaps most importantly, he's one of the easiest players to cheer for.
No one, it seems, has anything bad to say about Finau — an act that was once held against him as "the nicest guy who never wins on Tour" until a month ago.
He ranked 31st in driving distance with a 305.5 yard average, hitting 56.8% of his drives and 67.125 of greens in regulation. Finau's 110.6 holes per eagle ranks 15th on Tour, and his 4.19 birdie average is 26th for an overall average of 69.915 strokes per 18 — the ninth-best mark on the PGA Tour.
And now he's headed to his second career Ryder Cup.
×
Related stories
Most recent Golf stories