Estimated read time: 4-5 minutes
This archived news story is available only for your personal, non-commercial use. Information in the story may be outdated or superseded by additional information. Reading or replaying the story in its archived form does not constitute a republication of the story.
ON TOUR — Tony Finau turned a middling final round Sunday at the Tour Championship into a solid finish with a birdie on the final hole, but ultimately fell well short of his goal of winning the FedEx Cup with a 2-under-par 68.
The Rose Park native carded a four-day total of 8-under 280, 13 shots behind Patrick Cantlay, who used a 6-iron instead of a putter to put away the world's No. 1 golfer in a $15 million duel and claim the Tour Championship and FedEx Cup at Eagle Lake.
Cantlay held off Jon Rahm by one stroke, shooting 1-under 69 in Sunday's final round to finish with a four-day total of 21-under 269. Kevin Na was four shots back of Rahm for third, followed by Justin Thomas, Xander Schauffele and Viktor Hovland to round out the top-five with ties.
"Felt like a huge win and it was," Cantlay said. "I played great today. It hasn't even sunk in yet. I just kept telling myself to focus and lock in and I did a great job of that today.
"It was definitely different than any other week," he added. "It was the longest lead I've ever held. But I just tried to stay, day after day in the present, and I did an amazing job of that this week because the last couple days I made some mistakes I don't usually make and I was able to really center myself and hit a lot of good shots when I needed to."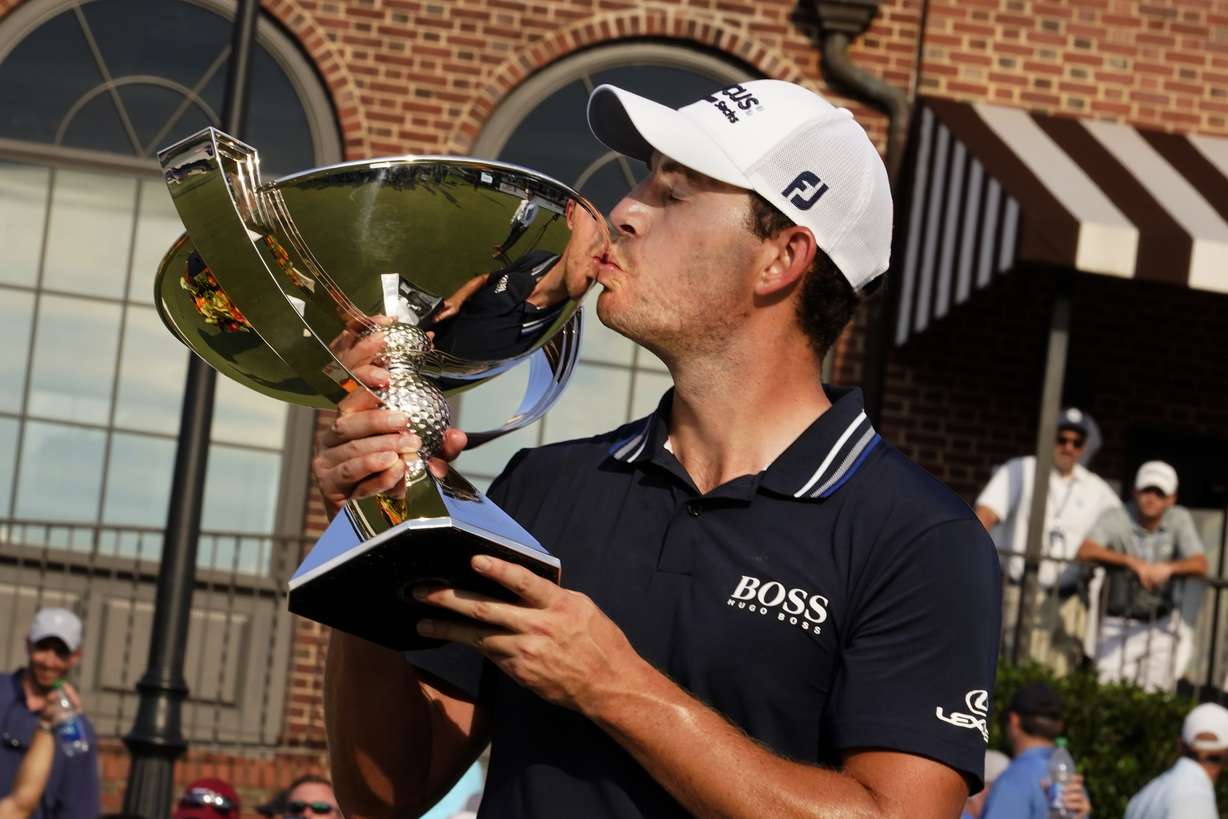 Finau knew he needed a spectacular round in Sunday's finale and get some help to contend after shooting rounds of 72 and 73 broken up by Friday's 67 for the definition of an up-and-down weekend. The current Scottsdale, Arizona resident who also owns a home in Lehi was 2-under through nine in the final round, collecting three birdies with a bogey on the par-4, seventh hole. He gave one back on No. 10, then played par golf for most of the rest of the way and looked to salt away a solid-if-not-spectacular 69 at East Lake.
"I didn't have my best stuff but scraped out a couple rounds that I didn't play very good, but you know, looking back on the season, the highlight of the year was the win a couple weeks ago," Finau said. "It was nice for that to happen. I felt like so much work has gone into that and to have that happen just a couple weeks ago was huge for me.
"I knew I was playing well going into this week. Not the golf I wanted to play, but another successful year and another great year."
But one hole made the difference Sunday. Finau smashed his driver 329 yards on the par-5, 579-yard 18th hole, then laid up over 200 yards over the hazard to the edge of the green.
His 14-yard putt for eagle fell just short, but a two-footer for birdie gave Finau his fourth birdie of the round to finish at 2-under 68 — one off his best round of the tournament spelled out Friday.
Finau missed out on an automatic qualifying spot on the U.S. Ryder Cup team, but is largely expected to make the selection with a captain's pick.
"I hope I'm a part of the team," Finau said. "And if that's the case, I for sure will take a couple days off. This three-week playoff run with a win and even playing well last week took quite a bit out of me. I'm going to take some time off, be with my family and again hopefully get ready for The Ryder Cup and get ready to bring that Cup back to the States."
Finau is playing his best golf since he became the first native Utahn named to the Ryder Cup in 2018, with his first win in five years at the Northern Trust that vaulted him to No. 9 in the World Golf Rankings. He finished at No. 2 in the FedEx Cup rankings, pairing the win at Liberty National with top-15 finishes in both the BMW Championship and Sunday's FedEx Cup finale.
Playing as one of the last players in the field as a Ryder cup rookie in 2018, Finau defeated previously unbeaten Tommy Fleetwood 6 and 4 in a well-regarded singles match, day after he and Brooks Koepka took a 1 up victory over Justin Rose and Jon Rahm in Friday's four-ball round. The Europeans won that year 17 1/2 to 10 1/2, but Finau was a bright spot in his maiden Ryder voyage and knows what he can bring to arguably the top test annually in world team golf.
"I grew up playing two sports, basketball mostly, and I know what it's like to be in a locker room and a team atmosphede," said Finau, who was recruited to play college basketball out of West High before turning pro with several long-drive competitions and eventually landing on the PGA Tour. "You have to be selfless. It's more of a team attitude. I know also what it takes to play and be in those situations.
So I've just got to bring my best stuff and be ready to play whenever my name is called. Again, it will be an exciting thing if I were to get picked, and I would very much love to be a part of that team."
×
Photos
Related stories
Most recent Golf stories