Estimated read time: 9-10 minutes
This archived news story is available only for your personal, non-commercial use. Information in the story may be outdated or superseded by additional information. Reading or replaying the story in its archived form does not constitute a republication of the story.
ON THE LINKS — Only 143 starts and 1,975 days since his last win on the PGA Tour, Tony Finau had his best shot at another win yet.
He's been close on countless occasions since then.
Until Monday.
Finau shot 20-under-par 264, including a tournament-best round of 6-under 65 in Monday's final round, to survive Australia's Cameron Smith in a one-hole playoff and claim his second PGA Tour victory at The Northern Trust in Jersey City, New Jersey.
It's been nearly 2,000 days since Finau's last win on the PGA Tour. But perhaps more agonizing were the eight runner-up finishes — including four playoff holes — and 39 top-10 finishes. Every day was tough, every runner-up finish or top-10 result equal parts dagger as it was jubilation. Majors, individual tournaments, match play; it didn't matter.
Each finish was an accomplishment, a reminder of just how far Finau has come since he was smashing golf balls into an old mattress in his parents' garage in Rose Park — and how much farther the $23 million career earnings winner has to go.
But Finau never gave up on himself, and they all finally paid off Monday afternoon in Jersey City.
"I have an extreme belief in myself, and I have to," Finau told the media following Monday's final round. "This game is hard as it is. These guys are so good as it is. If you can't believe you can beat them, man, it's just an uphill battle, and I just continue to believe. I believe in myself. I believe in my team.
"I haven't had the wins to maybe have that type of confidence and belief, but you just have to. I have to believe I can go out there and beat J.T. today, and I can beat Jon Rahm. I have to believe that, and I did, and I continue to do that, and that's the only reason why I'm sitting here today as the champion. I continue to believe in myself no matter where the chips fall and try and do my best."
The entire way, he never gave up on himself. Media, pundits, fans and tour officials asked him the same question — when's the next win coming? — over and over, but Finau continued to believe in himself.
"I continued to believe in myself. That's the bottom line," said Finau, an active member of The Church of Jesus Christ of Latter-day Saints who plans to celebrate the win not with alcohol but several rolls of sushi. "It's more massive for my sense of accomplishment. I've worked extremely hard to put myself in these type of positions.
"It's hard losing, and it's hard losing in front of the world. I've done that before. That made me more hungry. You guys keep telling me, 'when are you going to win again?' makes me more hungry. It's all led up to this time, right now, and hopefully I don't have to wait another five years for the next one."
All of those numbers — the days, the starts, the runner-up finishes and the top-10 appearances for one of the world's overall top golfers — led to Monday's finish. Back home in Utah, the world was watching as former local broadcaster Jim Nantz called the final round in the final tournament on CBS airwaves of the year. That included Utah Jazz owner Ryan Smith, a close friend of Finau who live-tweeted his feelings the entire way. BYU coach Kalani Sitake invited his recruiting co-director Jack Damuni into his office in Provo to watch the playoff hole — then gleefully proclaimed "back to work" when Finau picked up the biggest win of his career to date.
Even Kyle Whittingham, who was leading the Utes through another day of training camp at the time, was rooting for his friend and one-time playing partner while the final round record at home — before a reporter spoiled the result in post-practice media availability.
"Awesome! Congratulations Tony Finau. Go Utes; go Tony Finau," Whittingham said Monday. "He's at our games all the time."
Whittingham added that when he's golfed with Finau, "it's a different sport that he plays from what I play."
Whether he directly knew names of not, Finau felt the Beehive State cheering him on, too. Televisions rapidly spun to the final round, and as Finau made his charge, a collective wave of excitement spread back home. Even if he doesn't live in Utah full-time, he knows where his largest band of family, friends, supporters and faithful were following him.
"Utah is home for me, and to be able to share this with so many people is what is really cool about this," Finau said. "I have so much family, friends and supporters back home in Utah and throughout the nation, that this is for all of them. I'm excited that we can share this all together."
A piece of Utah was also with Finau, walking every step of the way and standing a few feet off the green as Finau drained the winning putt on the first playoff hole — his swing coach Boyd Summerhays, a member of Utah's "first family of golf" who helped Finau find a winter home in Arizona so he could take his game up another level.
"I was more excited for him than any win I've seen," Summerhays told the Golf Channel. "He's come so close for so long, and we're so tight as friends and family. He's had some agonizingly tough losses.
"Today was just his time. He's gotten better every year, and I think the losses have made him have to get better. For him to win on a course where the balls would normally be sucking back at him, I couldn't be more proud."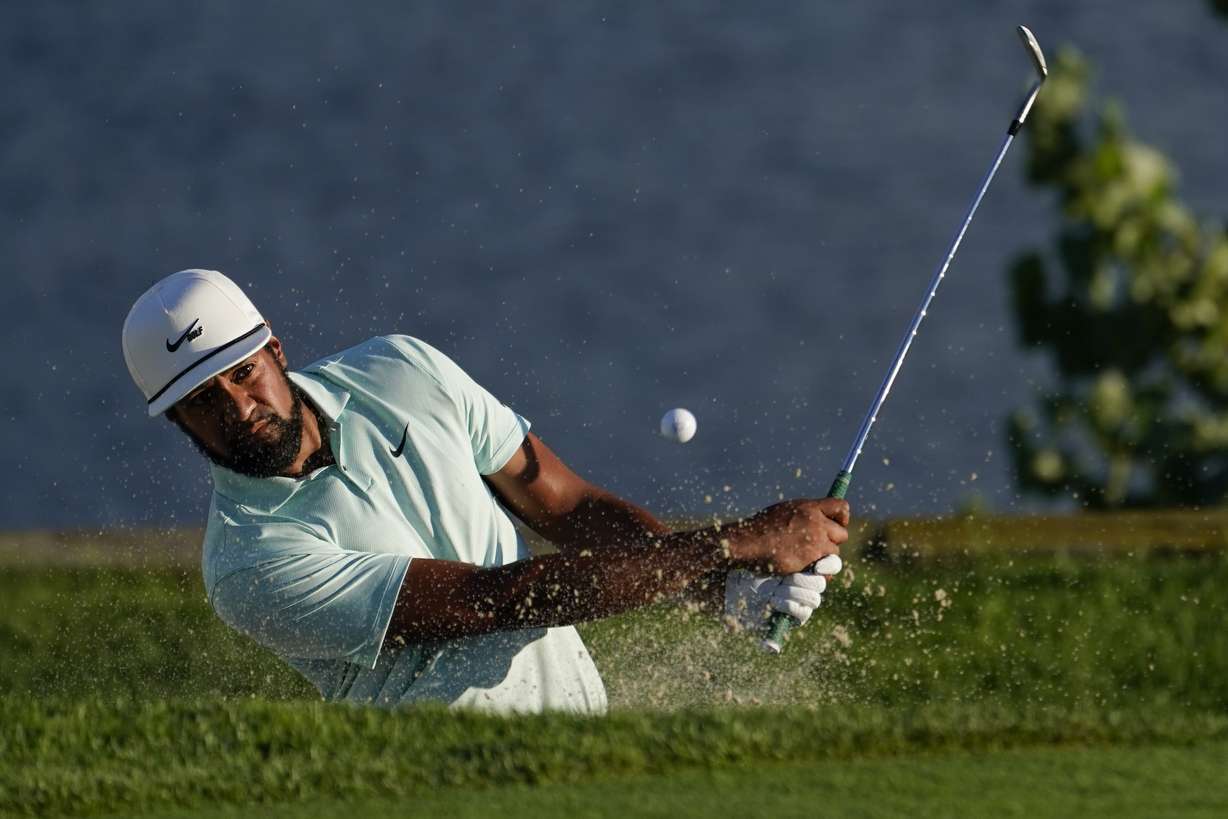 Finau played the back nine in 5-under 30 strokes, including a stretch of birdie-eagle-birdie beginning at No. 12. He also hit his approach shot six-iron from 218 yards out that set up a three-foot putt for eagle that gave him a share of the lead.
"I was playing great, and I tried not to get too far ahead of myself," Finau said. "Worst-case scenario for me was a playoff. Then I hit some clutch shots when I needed to, and I think it will be huge for my confidence moving forward. To turn in a 30 on the back nine of a playoff event, trying to chase down the best player in the world, those will all go into the memory bank."
Spain's Jon Rahm shot sub-70 every day to finish third at 18-under 266, while Alex Noren, Tom Hoge and Justin Thomas finished three shots back in a tie for fourth. But the Rose Park native teed off on the 18th hole with a one-shot lead on Smith and Rahm in the final round of the trust, where he finished as high as second in 2018.
Moments later, Smith joined him above the rest of the field. Finau drained a 10-foot putt for par to save face on the 18th green, saving par after initially hitting his approach shot into the nearby bunker.
Smith tied Finau with a birdie on the par-4, 445-yard 17th hole, his sixth birdie of the day. But the West High graduate shot a tournament-low 65 in Monday's final round, including a birdie on the par-4, 298-yard 16th hole that gave Finau a one-stroke lead on then-co-leader Rahm and capped a run of 5-under-par in five holes, including the eagle on the par-5 13th that highlighted the spurt.
The 28-year-old Smith nearly drained a 20-foot putt for birdie on No. 18, but left it just shut to force a playoff with a tap-in par.
The Australian was 3-0 in playoff holes entering Monday, but swung his tee shot out of bounds on the first hole to set up Finau's win. All the No. 22-ranked golfer in the world had to do was save par in repeating the par-4 18th hole, which he did with even the most conservative play.
The 31-year-old Finau, who lives in Arizona and owns a home in Lehi, won for just the second time in his PGA Tour career, snapping a futility streak dates back five years and has come agonizingly close since then, including four losses via playoff holes.
Tropical Storm Henri washed out long moments of the Northern Trust this year, pushing the final round to Monday. Onsite conditions at Liberty National Golf Club also forced the PGA Tour to play the final round without spectators.
The course received more than six inches of rain from Saturday evening through Sunday afternoon, with another 1-2 inches expected overnight that left cart paths and walkways all-but impassable for even golfers on the course.
"I didn't really do much," Finau said. "It was a little bit odd feeling, because you relax, but I still had to look forward to Monday because I was still in contention. I didn't want to totally clock out.
"I was ready to go when it was time to play today."
Rahm jumped out to an early lead, moving up as many as three spots through the back nine by scattering birdies on Nos. 6, 8, 12 and 13. But a bogey on the par-4 15th moved him back a spot and helped open the door for Finau's finish.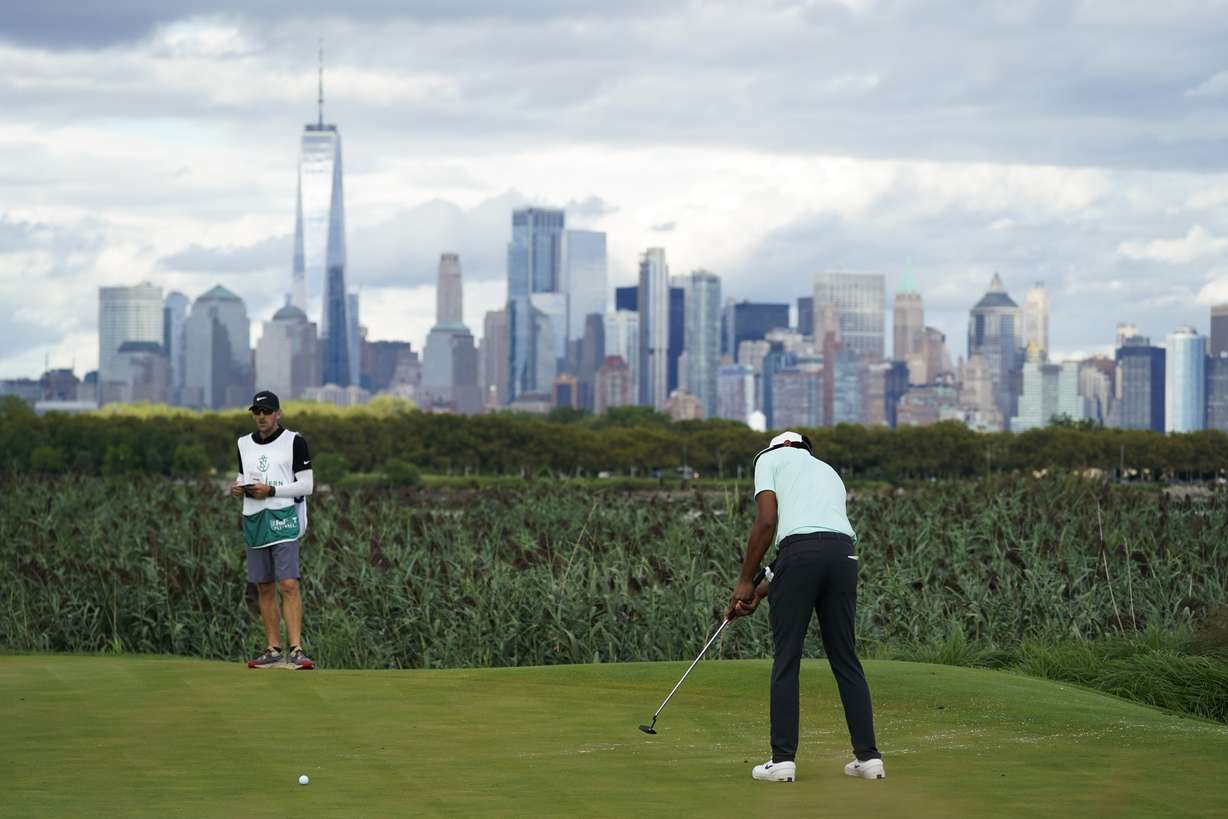 The win is the first on the PGA Tour for Finau since the 2016 Puerto Rico Open. He's only the second golfer on tour to break the "Puerto Rico Open curse," a fabled run of bad luck for tournament victors that kept them off the top of the leaderboard since 2011. Finau seemingly played into the curse by missing the cut in his subsequent start, the Shell Houston Open in April 2016.
Viktor Hovland finally broke through the "curse" with a win in the Mayakoba Golf Classic in December 2020 after winning the Puerto Rico Open earlier int he year.
"All I know is I'm a lot different player than I was then," Finau said. "I'm a lot better player and I feel like it's been a long time coming but I also feel like you have to earn everything out here. Nothing's given to you and I was able to earn this win, and you know, hopefully the future continues to be bright.
"I'm playing some great golf. We've got two big tournaments in front of me, so I'm going to enjoy this one. I'm playing great golf. I feel like I can go on a run, so why not continue right on to next week."
Finau enters the week not only with the curse broken — but also 1,348 FedEx Cup points and the lead ahead of next weekend's BMW Championship. He also takes confidence into that event, as one of only five golfers who finished under par in last year's event alongside Rahm, Dustin Johnson, Joaquin Niemann and Hideki Matsuyama.
"This is obviously going to be my best position going into the BMW," Finau said. "I've never played that golf course, so we're back at work tomorrow to put ourselves in position at the BMW, and then on to the Tour championship.
"I've played great all season, but this is what makes the playoffs: immense pressure, and a lot of things riding on these three events."
Contributing: Josh Furlong, KSL.com
×
Photos
Related stories
Most recent Golf stories