PROVO — Spencer Linton had never stayed in a hospital before. The worst physical ailment he ever had was a broken thumb and maybe some stitches.
But on Aug. 21, he was in the emergency room — on oxygen — and was one of two fully vaccinated COVID-19 patients in a full hospital.
The 39-year-old BYUtv sports reporter and host of "BYU Sports Nation" had first noticed a slight stinging in his nose 10 days prior. He thought nothing of it. He was young, healthy and received the Johnson & Johnson COVID-19 vaccine at a BYU clinic in mid-May. He thought he had nothing to worry about.
But then a few days later he left work, took a 2½-hour nap in his car and woke up with a fever and aches, and was barely able to move. He thought: "This cannot be happening."
He got a COVID-19 test that came back negative. He then drove home, where he spent the next few days curled up in the fetal position on his bed in disbelief, as sick as he had ever been in his life, he said. He was barely able to eat or drink through nausea and wild swings in body temperature. He also almost passed out in the shower after standing for only three minutes.
"It was the most debilitating thing that I've ever experienced," he said. "The body aches, oh my gosh, the body aches are incredible. Your body is fighting hard to remove the toxins, and you have all this inflammation inside you."
Days later, he finally caved and went to an urgent care facility. A nurse found his blood oxygen levels were way too low and his heart rate way too high. A doctor told Linton he had the second-worst case of COVID-19 pneumonia the doctor had ever seen.
Even though Linton got a severe COVID-19 case while vaccinated, he doesn't regret getting the vaccination. In fact, both he and the doctor agreed that the vaccination was worth it if it helped him even a little bit in such a dangerous situation.
"He told me, 'It's crazy to me because you seem like a healthy, young guy. You have no preexisting conditions, no asthma, don't smoke or drink, not immunocompromised. It's crazy. I look at your X-rays to see how randomly invasive this virus can be for the individual,'" Linton recalled.
The doctor sent him home with oxygen, some prescriptions and instructions to rest and monitor his blood oxygen levels and go to the emergency room if they didn't improve. Two days later, Linton was admitted into the emergency room where he was treated with oxygen and fluids.
While Linton's COVID-19 experience is rare, Utah doctors say they are beginning to see more cases like his as hospitalizations due to COVID-19 reaching levels experienced in early January. They say patients are getting younger and some, with no previous health issues, are ending up hospitalized as a result of COVID-19.
A look at new hospital trends
Hospitalizations due to the virus are rising in recent months at a steeper rate than during the first year of the pandemic. Current and archived Utah Department of Health data shows that hospitalizations as a result of COVID-19 remain relatively rare, but the frequency when a case results in a new hospitalization is up nearly 50% since May 1, compared to the period between March 2020 and May 1.
The health department recorded 396,677 COVID-19 cases among Utahns age 1 or older on May 1. Combined, they accounted for 16,158 hospitalizations — about 4.1% of the total cases among those age groups.
Since May 1, the department has reported 66,078 cases among Utahns aged 1 or older, according to data released Tuesday. It also reports 3,958 hospitalizations since May 1, which equates to about 6% of all those cases.
KSL.com did not include cases and hospitalizations among patients younger than 1 in this analysis because the statistics, especially at the start of the pandemic, weren't significant enough to track, compared to other ages. The health department now reports there have been 1,639 cases and 87 hospitalizations among newborns since March 2020, or 0.3% of all cases and 0.4% of all hospitalizations to date.
It is now more likely that a COVID-19 case results in a hospitalization based on older age and certain comorbidities, the data suggests. But the likelihood is increasing for all groups, except two, in particular:
About 2.6% of cases among those aged 25 to 44 resulted in hospitalization prior to May 1; it is happening for 4.7% of cases in that age group since.
Hospitalizations for people between 45 and 64 also have jumped from 4.2% on May 1 to 10.1% since then.
These percentage upticks could be the result of underreported cases, but a deeper dive into the hospitalization data still points to a growing number of new hospital cases among cases involving people between the ages of 25 and 64.
Dr. Brandon Webb, an infectious diseases physician with Intermountain Healthcare, said during a recent briefing that doctors have noticed the average age of patients at hospitals is starting to decline. The health department data shows the state's 45-64, 25-44 and 1-14 age groups have increased their share of hospitalization cases since May 1, while the 15-24, the 65-84 and the 85 and older age groups have dropped.
Older Utahns between the ages of 65 and 84 accounted for 31.4% of COVID-19 hospitalizations as of May 1. That was followed by Utahns 45-64 at 30.7% and then 25- to 44-year-olds at 22.9%.
Since then, younger Utahns 45-64 accounted for a little more than one-third of all hospitalizations. Utahns 25-44 rose to second place, accounting for 29.5% of hospitalizations in the past four months. Children 1-14 increased from 1.7% to now 2.1% of hospitalizations.
The 65-84 age group accounted for 24% of hospitalizations between May 1 and Tuesday, dropping more than 7 percentage points from first to third.
Utahns 85 and older accounted for 6% of all hospitalizations on May 1 and account for 3.9% since, while hospitalizations among Utahns 15-24 dropped from 7.3% to 6.3%.

The health department doesn't provide a breakdown of intensive care unit cases by age. As of Tuesday, there are 178 ICU cases and the percentage of ICU beds occupied by COVID-19 patients reached 35%, at referral centers and statewide. It's the highest percentage hospitals have reported since late January as Utah's largest COVID-19 wave to date subsided.
Webb explained most patients that end up in the hospital have underlying factors, such as obesity, high blood pressure and diabetes. However, doctors have come across "surprising" hospitalizations among younger adults who were otherwise normally healthy from time to time — people like Linton.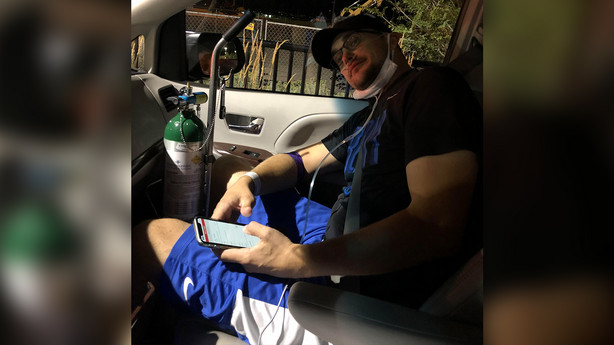 Linton found that a mental blow came with the physical ailments. Although he describes himself as a "very optimistic, bright-future type of person, just innately," he found himself sinking into a state of depression. He watched as his already busy wife and mother of his four kids compassionately took care of him and their 8-month-old baby, who also had COVID-19, on top of everything else.
"You just feel defeated. You just kind of want to give in and go to sleep," he said. "It's a real mental challenge, a mental struggle to fight through day after day, symptom after symptom, slow grind, not being able to breathe wears on you mentally. I spent the time counting hours and minutes wondering, 'When am I going to start to feel better? Am I going to start to feel better?'"
What's causing the change?
Many of the new hospitalizations over the past few months are believed to be tied to the delta variant of COVID-19, Webb said.
The variant surged dramatically over the summer. The Utah Department of Health first found cases of the strain as they sequenced random COVID-19 cases for variants in April. By early July, the variant accounted for 80% of sequenced cases in the state. It now accounts for about 98% of sequenced cases, per data accessed Tuesday.
Doctors and researchers aren't entirely sure why they've seen patients like Linton, who was otherwise young and healthy. What is known is that the variant causes "high viral numbers" and that can result in more severe outcomes even in younger and healthier people, Webb explained.
"We know that the more virus that you're exposed to, the higher the likelihood that virus is able to overwhelm the first lines of defense with the immune system, and likely causes or could cause more severe disease," he said. "We think that might be one of the reasons why we're seeing more severe disease in younger patients with delta."
Why doctors and patients urge vaccinations, other measures
Webb urges Utahns to get vaccinated because it's still more likely for unvaccinated people to become sick and end up in a hospital than vaccinated people. The state health department reports that since Feb. 1, unvaccinated Utahns are at 4.8 times greater risk of testing positive for COVID-19, at 5.4 times greater risk of getting hospitalized and at 5.8 times greater risk of dying as result of COVID-19 than vaccinated Utahns.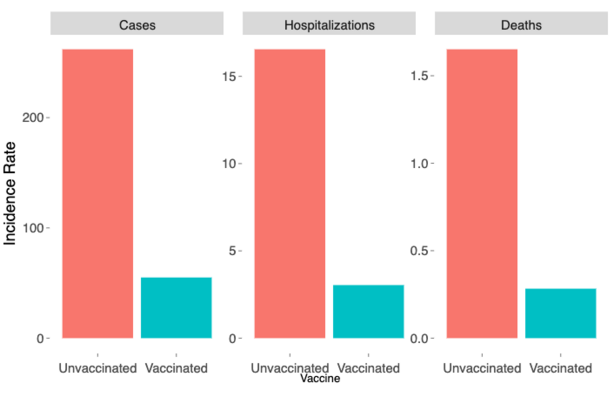 Older Utahns remain more likely to be vaccinated. The health department reports close to 95% of Utahns 70-79 are vaccinated, and all age groups 60 and older are at least 85% vaccinated. It drops down to 73% for those 40-49 and 65% for those 30-39.
Linton said his doctor even thanked him for getting vaccinated since almost everyone else in the hospital for COVID-19 at the time wasn't and the ICU had become full. It's why Linton's doctor was comfortable sending him home with the appropriate care needed to recover.
After receiving treatment, Linton is finally starting to wean himself off oxygen and gain back some of the 16 pounds he lost while he was sick.
While rare, Linton's story is a reminder that vaccinated people — even ones who are young and healthy — can contract COVID-19 and develop severe complications.
The health department reports 10,318 "breakthrough" cases like Linton's, with vaccinated people getting sick with COVID-19, resulting in 567 hospitalizations and 52 deaths. The number of cases is about 0.7% among all fully vaccinated Utahns, while the hospitalizations are 0.04% and the deaths are 0.003%.
---
This thing, it'll target anyone and because it is so random, you never know if it could be you. People aren't taking this thing seriously enough.
–Spencer Linton, breakthrough COVID-19 case
---
Given that the risk isn't zero and the delta variant is spreading as it has, Webb said it's also important that Utahns use tactics that are known to decrease transmission rates. That means wearing masks, social distancing from others in different households and avoiding large gatherings that increase the risk of delta variant particles that people can be exposed to.
Linton agrees.
"I don't want people to see this and think, 'See, the vaccine doesn't even work.' The science and the numbers are overwhelmingly in favor of vaccination and stopping the spread," he said.
After suffering through a severe breakthrough case and hospitalization, Linton took to social media to share his story, in the hope that it will be a wake-up call for people to take the pandemic more seriously. Although he says the pandemic has been "nauseatingly divisive," he wants people to realize "it's not political at all; it's a health crisis."
He also encourages anyone, especially younger people who feel like they may not be affected, to use their choices and their agency to do everything they can to avoid getting the virus, because it could very well happen to anyone — including somebody you know and love.
"This thing, it'll target anyone and because it is so random, you never know if it could be you. People aren't taking this thing seriously enough. I wore a mask. I was vaccinated. I tried to do my part. But even I really did not know just how significantly this virus can impact people who are young, healthy and have no preexisting conditions," Linton said.
"As a breakthrough case, somebody who thought they had done their part, it just shows that there is still more work to do."
×
Photos
Related Stories