SALT LAKE CITY — The conference commissioners from the ACC, Big Ten and Pac-12 held a joint press conference Tuesday to detail — if a broad generalization can be described as such — an alliance between the three Power Five conferences.
It's an alliance without a contract but one done on good faith and trust between the three conferences to provide stability to the sport — at least according to the message pushed by each of the three commissioners.
"There's no contract. There's no signed document. There doesn't need to be," Pac-12 Commissioner George Kliavkoff said.
In short, there's nothing of immediate substance to the alliance that will change the landscape of the sport. There's an emphasis to promote more scheduling opportunities among the leagues in football and men's and women's basketball, though nothing is imminent. In fact, Big Ten Commissioner Kevin Warren said there are already 68 or so football games scheduled — before any alliance was made.
But what that scheduling agreement looks like remains uncertain. The conference commissioners made it clear they won't look to blow up already-signed contracts or agreements, but a group of athletic directors that represent the three conferences will oversee whatever scheduling component exists in the future.
With still much to be decided about the alliance and its impact on the sport, let's look at how this may impact Utah Athletics as a member of the Pac-12.
Scheduling
In football, scheduling is tricky business. The nonconference schedules are made years in advance — Utah has games scheduled as far out as 2033 — so expecting anything of immediate substance is unlikely. But that could be alleviated, in part, if the Pac-12 decides to go down to an eight-game conference schedule.
Kliavkoff said a decision of that magnitude will have to wait, as the nine-game schedule — with three nonconference games — is written into the current media rights contract that is locked for the next 18-24 months, so nothing can be done. But the idea is on the table, he said, and it's something the conference will discuss.
If the conference drops to an eight-game conference schedule, Utah would have more opportunities to look for games against ACC and Big Ten schools in a short timetable. But while that provides coast-to-coast opportunities, it's also not a guarantee Utah will be able to secure high-profile opponents. Utah may get an Ohio State or Clemson — or the Utes may get Rutgers and Wake Forest.
Utah currently has two games scheduled against Wisconsin — at Camp Randall Stadium in 2028 and at Rice-Eccles Stadium in 2033 — but those are the only games involving any team from either the ACC or Big Ten team.
While the prospect of adding games against ACC or Big Ten teams sounds exciting, it's still too early to see how this affect the Utes.
In basketball, this becomes a much more manageable situation and one potentially done sooner. Whether Duke or North Carolina visit Salt Lake City anytime soon or not remains uncertain, but there's at least a handshake agreement that the conferences could look to each other more than they have in the past.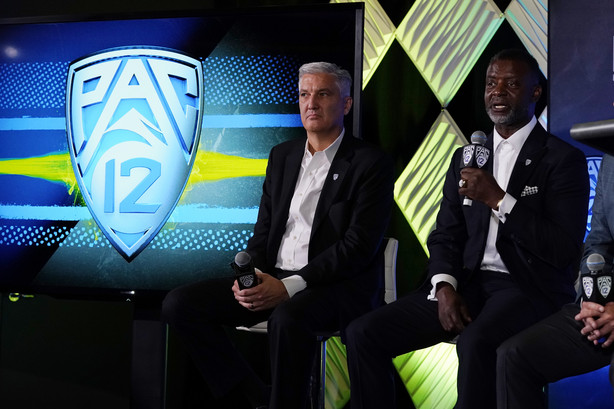 Playoff expansion opportunity
As Warren and ACC Commissioner Jim Phillips hesitated to give a definitive answer on whether they supported the 12-team expansion proposal of the College Football Playoff, Kliavkoff was certain that expansion was necessary for the sport. In fact, he said the Pac-12 is 100% in support of an expansion model.
When Kliavkoff took over as commissioner he said an expansion of the playoff was one of his top priorities, so it should come as no surprise that he'll push for appropriate legislation that gives his conference more opportunities to be included in a playoff setting.
Despite working on the 12-game playoff model, SEC Commissioner Greg Sankey is expected to ask for more time to consider options when the conferences vote on the playoff model in September. The reason? The SEC has added Texas and Oklahoma and will want all opportunities available to get as many SEC teams into the playoff as possible.
So how does the alliance factor in here? The three conferences, if they so choose, can serve as a voting bloc to attempt to push forward the 12-game model already proposed and not give the SEC any more power. The Big 12, if it still exists, and the Group of Five will almost certainly agree to advance it since it gives these conferences the best opportunity available to be included in the playoff. It then becomes the SEC vs. the world.
More access to the playoff only helps Utah. Should the Utes win the Pac-12 ever, it provides a near guarantee they'd be included — assuming it's one of the top six ranked conference champions. Any added access is better for the Utes and the conference as a whole.
Consistency
Let's be frank: Nothing about a verbal agreement between conference commissioner is a guarantee. In theory, this alliance provides an opportunity for Utah and its conference to have consistency in an ever-changing landscape of college athletics.
If the conferences work together like they say they will, the chance for seismic changes is less likely. Whether that's a good thing remains to be seen, but having three conferences work together in a landscape where agreement is rare — just look at how each conference navigated playing games during a pandemic as an example of inconsistency — only helps the chances for consistency.
×
Related Stories