PROVO — Whether to divest himself of issues from company calls with Provo-based Qualtrics where he still sits as executive chairman two years after selling to SAP, or from his role as majority owner of the Utah Jazz during a frenetic offseason, Ryan Smith has found one place of solace over the past year: the golf course.
Even his wife, Ashley, agrees.
"It's my yoga," Smith said before teeing off at the 94th Utah Open Friday. "It's actually where I go to think — I would say it's noise-canceling for me. You can't focus on a whole lot else than that little ball.
"My wife is often like, 'Ry, you need to go play golf.' She can tell a difference because, in today's world, there isn't a lot you can do to truly unplug."
Smith carded 2-over-par 74 Friday to finish tied for 89th after the opening round of the Siegfried and Jensen Utah Open at Riverside Country Club.
The BYU graduate and Jazz owner hasn't played golf as much as he likes lately — owning an NBA franchise will do that to plenty of people — but he still managed a few highlights, like an eagle on the par-5 13th hole and back-to-back birdies on Nos. 5 and 6 scattered amongst three bogeys and two double-bogeys.
6's aren't good in this sport. lots of action but no magic today #utahopenpic.twitter.com/LUDc7iTBqP

— Ryan Smith (@RyanQualtrics) August 20, 2021
Former PGA Tour pro Daniel Summerhays, who recently un-retired and left aside his position as a teacher and coach at Davis High School to give another crack at touring golf, shot 9-under Friday to finish tied for second with former Boise State golfer T.K. Kim.
Matt Marshall leads at 10-under and Nick Mason, Zahkai Brown and Phillip Reedy are two shots back tied for fourth, followed by Kavan Eubank, Tristan Rohrbaugh, Derek Fribbs and Dean Wilson in seventh.
Other notable local golfers include Bruce Summerhays, who fired 4-under 68 to finish tied for 18th; University of Utah standout and two-time state amateur runner-up Blake Tomlinson, who shot 1-under 71 tied at 53rd; and former Dallas Cowboys quarterback Tony Romo, who also fired 1-under 71.
Utah state women's amateur champion Kerstin Fotu, who plays for BYU, shot 1-under 35 through nine and finished tied for 40th at 2-under through 18.
Full results are available at utahpga.com.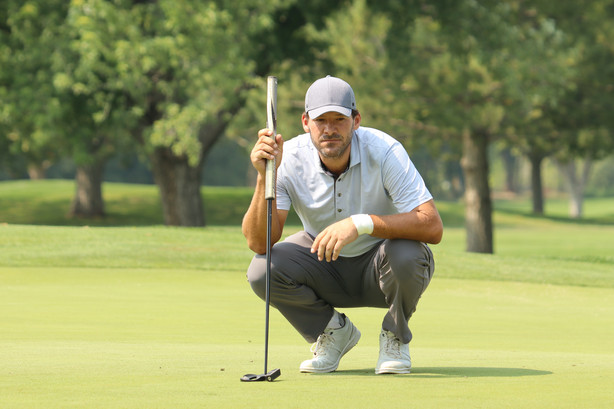 On the tee box while hovering over a little white ball with funny dimples, Smith was among those masses of other golfers — not the owner of the Jazz or a prominent booster of BYU basketball.
He was just a guy, an amateur golfer taking advantage of a chance to play a round with some of his friends and acquaintances.
"It's the ultimate equalizer," Smith said. "You get to spend time with people you would normally not spend time with. And it's not a little bit of time, it's four hours or so.
"There's no scenario in life where we can get four hours together (otherwise). But on the golf course, we were always together."
Smith isn't new to golf. He's a former club champion at Riverside, and he's played in the Utah Open regularly. He also gets to play in the pro-am at Pebble Beach every year, where he owns a home just off the 18th fairway.
In many ways, the game has provided him unique opportunities — in his personal life, professional career, and even in basketball. He negotiated Qualtrics' $8 billion acquisition by SAP from his home at Pebble Beach.
Being near golf has helped him in plenty of ways, and maybe it will at the Utah Open, too. He grew up in Provo, still calls Provo home, and owns a house next to the same country club that hosts this weekend's event.
"This is a home game for me," Smith said. "I've spent a lot of time here over the years; our first office at Qualtrics was across the street from here. We've been on a 20-year journey and I always say it would've taken 14 if I didn't live across the street from the golf course."
Golf is one of Smith's safe havens, a respite from the rest of his many other worlds.
But even on the course, he can't fully escape the NBA — such as when a reporter asked him about the Jazz offseason, including the re-signing of starting point guard Mike Conley and adding Rudy Gay, Hassan Whiteside and others.
"I think we went into a pretty interesting offseason," Smith said. "Things could've gone a bunch of different ways, with Mike coming back and wanting to be here and part of it.
"We got better, so I'm pretty excited — there were a lot of free agents that wanted to be in Utah and had other offers, but you guys covered that in the media pretty well."
Smith will tee off Saturday at 12:50 p.m. on the No. 10 tee alongside fellow amateurs Shane Brady and Braxton Watts. Romo is scheduled to go off the back with close friend B.J. Staten and Zach Johnson at 8:10 a.m.
Summerhays has an 8 a.m. tee time with Dean Wilson and Chris Moody.
×
Related Stories