Estimated read time: 5-6 minutes
This archived news story is available only for your personal, non-commercial use. Information in the story may be outdated or superseded by additional information. Reading or replaying the story in its archived form does not constitute a republication of the story.
FARMINGTON — Joshua Creel remembers with stark clarity the 2019 Utah Championship.
The native of Cheyenne, Wyoming, remembers shooting 67 on the final day to force a playoff with Kris Ventura. He also remembers the three playoff holes and the missed 8-foot putt on No. 10 that cost him his first title on the Korn Ferry Tour.
Two years later, he was ready to make up for it.
With mom by his side and a breakfast at the local Cracker Barrel each of the past two days, Creel shot a glistening 7-under-par 64 to finish with a four-day total of 24-under 260 Sunday to win his first championship on the Korn Ferry Tour with the 30th edition of the Utah Championship at Oakridge Country Club.
"It was pretty disappointing to lose in a playoff," said Creel, a 10th-year professional golfer. "To right that wrong and get it done today is pretty fun.
"That feeling walking back up from the 10th tee after losing is a feeling you don't really want, ever," he later added. "I was determined to not feel that way again."
Creel held off Las Vegas native Taylor Montgomery and Peter Uihlein, the 54-hole co-leaders who tied for second with Hayden Buckley at 22-under 262. Australian golfer Steven Alker, Matt Oshrine and Seth Reeves finished in a three-way tie for fifth at 20-under 264.
It wasn't without a little drama. Creel started the day in second, but when third round co-leaders Montgomery and Uihlein started hot, the duo appeared poised to pull away from the pack. Montgomery birdied three of the first five holes, got off track with three bogeys to open the back, then rallied by playing the final four holes at 4-under — including an eagle on the 15th hole — to finish second.
A win for either would've cemented a PGA Tour card next season, even a solo finish for second likely would have in Uihlein's case. But both got into some trouble around the turn with a bogey on No. 10, and Creel was able to hold on for the win.
But Creel had a secret weapon: that memory of 2019, the disappointment of the playoff, and even several friends who stood in the packed grandstand on No. 18 that welcomed him up the final fairway in each of the four days of the tournament.
"I think any time you come back to a place where you've had good experiences and played well — and I did in 2019 — it's fun to go back to those places," he said. "Pulling into the parking lot, I had some good memories. And it was a good week to go with them."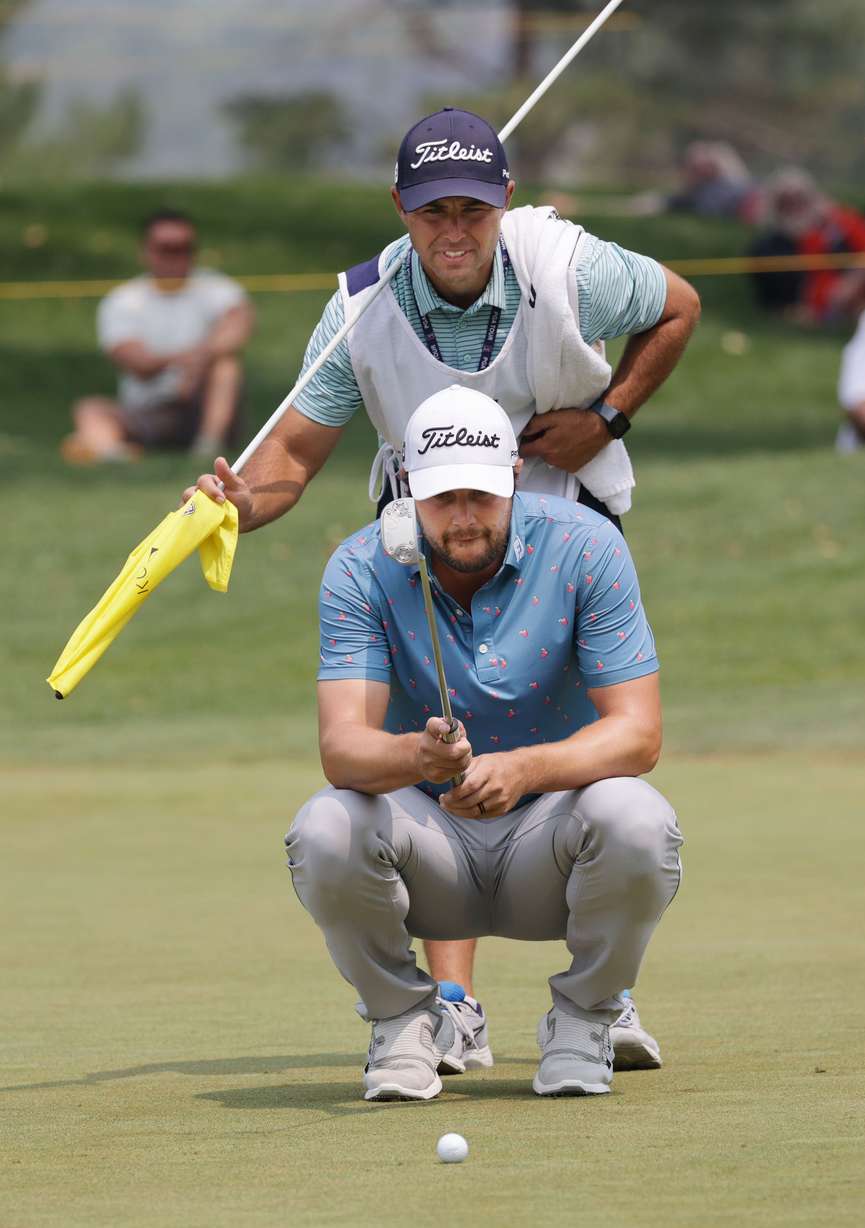 Former BYU golfer Patrick Fishburn shot a blistering 65 in the morning flight, temporarily moving into the top-10 with the low round of the early golfers. The Fremont High graduate played bogey-free golf with six birdies to cruise up the leaderboard before finishing in a tie for 65th by the end of the afternoon.
Even without the win in his hometown event, the move is likely to mean plenty for Fishburn's confidence and finish on the Korn Ferry Tour. He started the penultimate tournament of the tour's regular season ranked 82nd, and still has another week to move up into the top 75 and maintain his Korn Ferry Tour status for next year, with a solid outing in the regular-season finale in Omaha, Nebraska.
With Buckley in the clubhouse after punctuating a course-record 61 with a birdie on No. 18 and final round co-leader Uihlein nipping his heels one shot back and a hole behind him, the Cheyenne, Wyoming, native who played college golf at Colorado and Division II Central Oklahoma set out to finish off what he started in 2019 when he finished second at the Utah Championship.
Averaging one top-10 per season in his first four years on tour, the 6-foot Creel finally got his second in a year Sunday. The win — his first victory on the Korn Ferry Tour — shoots him up 32 spots in the tour rankings, to No. 32 and with a chance at a top-25 berth if he finishes well enough next week in the Korn Ferry Tour's regular-season finale at the Pinnacle Bank Championship in Omaha, Nebraska.
He knew exactly what he needed to do on those final hours, as he played the back nine with four birdies during a bogey-free round of golf.
"Some guys don't like to look, but I like to know where I'm at and know what I have to do," Creel said. "I was peeking at it.
"I saw a ball in the fairway maybe 30 short of the green on 17, and figured it was Peter about to make birdie. So I figured I needed it to go down."
After burying a 24-foot putt on the 18th hole Sunday, Creel will head to Omaha with a chance to jump into the top 25 — after a returning home to Oklahoma City, meeting his wife who is expecting the couple's first boy in January, and getting in his truck for the six-hour drive to the tour's regular-season finale.
He'll get to Nebraska in time to play nine holes via practice Tuesday, and he's already planning on participating in the pre-tournament pro-am Wednesday, as well. If it earns him a spot in the top 25, that would be great.
If not, he'll continue to grind — even if that continues into next year. It sure beats a missed 8-footer in a playoff.
"You always think you're good enough, but you never know until you know. Now I know."
×
Photos
Related stories
Most recent Golf stories