Estimated read time: 3-4 minutes
This archived news story is available only for your personal, non-commercial use. Information in the story may be outdated or superseded by additional information. Reading or replaying the story in its archived form does not constitute a republication of the story.
SALT LAKE CITY — A new St. George-based program will offer students in all colleges, universities and tech schools within the Utah System of Higher Education free virtual peer coaching starting next semester — giving students a chance to earn scholarships while helping others.
Trula Foundation began in southern Utah in 2019 after Dixie State University trustee and businessman Lindsey Atwood and university President Biff Williams learned a student had died by suicide, said Tasha McNamee, Trula program director.
"Both of them were struck by the loss," she said.
As it was not his first time being affected by such a loss, Atwood decided to focus his efforts on preventive care through peer coaching. He and his wife created a $1 million scholarship fund to get students involved in the program, and the Utah System of Higher Education and tech sector joined in with funding and other resources.
A pilot program launched in July 2020, and schools are gauging its success in an ongoing study.
According to the National Association of Mental Illnesses, 75% of adults with diagnosable mental illnesses experienced their first episodes by the time they were 24, McNamee noted.
Many colleges and universities have peer support programs in place, but they are usually geared toward freshmen, McNamee noted. Trula Foundation aims to centralize support and offer it to people during all stages of their education, as each stage comes with challenges.
Everyone is going through new experiences that can "be scary at times, or we can become apprehensive, so our purpose is to help students embrace the unknown, whatever may be coming up," McNamee explained.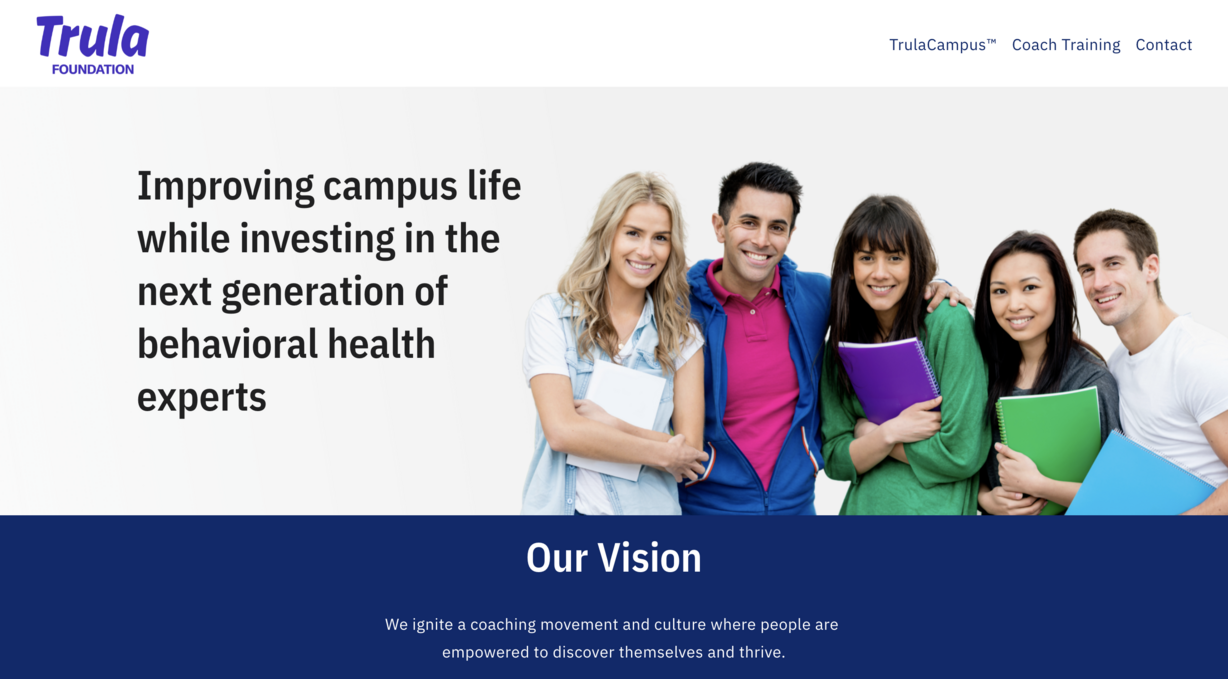 The program allows students with at least 30 college credits and, in most cases, at least a 3.5 GPA to apply to become a peer coach. They can receive a $1,000 scholarship per semester for five hours or $2,000 a semester for 10 hours. The scholarship, similar to a stipend, can go toward any expense — even if a student's college is already paid for through other scholarships.
Students do not need to major in mental health-related fields to become coaches, McNamee noted. The program seeks to represent diversity, including traditional and nontraditional students and those in an array of majors who can better connect to others in similar situations. Those selected as coaches undergo 12 hours of training, regular debriefings and meetings with their adviser.
Although the pandemic presented challenges as the program began last year, "It's gaining momentum and growing," McNamee said.
Each of the about 200,000 students within the System of Higher Education can sign up for the coaching service. For now, each person can have up to six coaching sessions over video conferencing, telephone or texting.
McNamee is quick to acknowledge the coaches need to work within a limited scope, as they are not mental health professionals. At the beginning of working together, coaches and students enter an agreement defining the scope of the service, McNamee said. The coaching includes help with goal-setting and open-ended questions that help students address challenges. If a coach encounters a more serious issue, they need to speak to an adviser who makes sure law enforcement has been notified if needed in cases of abuse or similar issues, and that the student is referred to counseling or other campus resources.
A licensed clinical social worker and certified coach with the National Board for Health and Wellness Coaching oversees the program, according to McNamee.
She said some USHE institutions don't have peer coaching or counseling services available. For others with existing services, McNamee said Trula Foundation wants to serve as another resource. The program also gives schools de-identified data on trending topics that arise in coaching sessions — providing a way for school leaders to gauge campus wellness.
The coaching isn't meant for one particular type of student, she said, but for "everyone." Those who are dealing with loneliness or stress, or those who are focused on personal development and goal setting could benefit from it, McNamee added.
Coaching sessions for the upcoming semester begin Aug. 23.
For more information, visit trulacampus.org.
Suicide Prevention Resources
If you or someone you know is struggling with thoughts of suicide, call the suicide prevention hotline at 1-800-273-TALK.
Crisis Hotlines
Salt Lake County/UNI Crisis Line: 801-587-3000
National Suicide Prevention Crisis Text Line: Text "HOME" to 741-741
Trevor Project Hotline for LGBTQ teens: 1-866-488-7386
University Of Utah Crisis Interventional Crisis Line: 801-587-300
Online Resources
×
Related stories
Most recent Utah stories