WEST VALLEY CITY — A Salt Lake man who prosecutors say "cannot refrain from assaultive behavior" was charged Thursday with murder.
Lolo Latu, now 26, was first sentenced to prison when he was just 16. He's now been charged in 3rd District Court with murder and discharge of a firearm causing serious injury, first-degree felonies; plus, purchase of a firearm by a restricted person and obstructing justice, both second-degree felonies.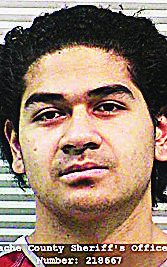 Ake Fulilangi, 31, was sitting with a woman in a Nissan Pathfinder in front of a residence near 3300 South and 4350 West on June 8 when another SUV pulled up. Someone inside the SUV was "mean mugging" Fulilangi, according to charging documents. "Mean mugging" is slang for glaring at someone with the intention of intimidating that person.
Latu got out of the vehicle and briefly spoke with Fulilangi. As Latu was walking away, "he turned around and fired two shots at the car, striking Ake," the charges state.
The woman drove Fulilangi to Jordan Valley West Medical Center, where he was treated for bullet wounds to his chest and leg, according to the charges. Hospital staff members called police and reported the Nissan the victim arrived in had a bullet hole in the driver's side door and the driver's side window was shot out.
Fulilangi later died of his injuries at the hospital.
Latu was identified as the alleged gunman and was detained by the Utah County authorities who arrested him on unrelated warrants. Ballistics tests later matched the gun that Latu was carrying when he was arrested to the gun used to kill Fulilangi, according to the charging documents.
Prosecutors have requested that Latu be held without bail, noting in court documents that he "poses a significant danger to the community."
Latu was first sent to the Utah State Prison when he was 16 on a conviction of aggravated robbery. He was convicted of firearms-related offenses in 2017 and 2019, according to court records.
"Latu's assaultive behavior and lengthy history of firearms offenses ultimately converged in this tragic set of circumstances and led to the murder of another person. His disregard for the well-being of others will undoubtedly lead to even more tragic outcomes should he be released back into the community," prosecutors wrote in the court documents.
×