SALT LAKE CITY — With a single tweet, new Jazz owner Ryan Smith may have signaled the end of significant moves made by his team this offseason.
A Jazz fan made a list of most of the top rotation players the Jazz have this season — Donovan Mitchell, Mike Conley, Rudy Gobert, Rudy Gay, Hassan Whiteside, Bojan Bogdanovic and Jordan Clarkson — and then questioned: "I know you want one more HUGE piece, right?"
Smith's response? "Ummm... (Joe Ingles) would be a good fit?"
So much for the trade rumors involving Ingles.
Even with a frenetic opening two days of free agency, Utah still does have some roster spots to fill and some decisions to be made, but the rotation is looking set after agreeing to deals with Gay and Whiteside on Tuesday.
Here's a quick recap of their moves this offseason:
Utah kept one of the league's best starting lineups together and added some versatility on top of it. Does that mean the Jazz will be better? Let's take a look at what the new signings could bring to the the team.
Utah's lack of options were exposed in the playoffs against the Los Angeles Clippers. Once Los Angeles figured out something that worked against the Jazz's base defense, Quin Snyder didn't have many ways to counter. Gay should be able to help with that.
The 6-foot-8 forward has reinvented himself as his career has entered its twilight years. The once explosive wing has morphed into a stretch big, even playing small-ball center for the San Antonio Spurs over the last couple seasons. He's a threat to score at all three levels, his ball-handling is above average for his size and his 3-point shot, while inconsistent, is good enough to keep defenses honest (he shot 38% last year from deep, but just 33% the year before).
Offensively, he should help Utah's bench, which was often over reliant on Clarkson for shot creation last season.
While he's not as good on defense as he was in his prime years, he's still considered a plus defender; and, maybe more importantly, he's a versatile one. He can guard big wings, can guard stretch fours, and can play as a small-ball center. That versatility might be the most intriguing thing about Gay signing with the Jazz. It gives Utah the ability to go into an entirely different look when teams go small against them.
Gay is the latest in a recent trend of skilled veteran forwards signing with the Jazz. Utah is obviously hoping Gay works out more like Joe Johnson did, and less like Jeff Green.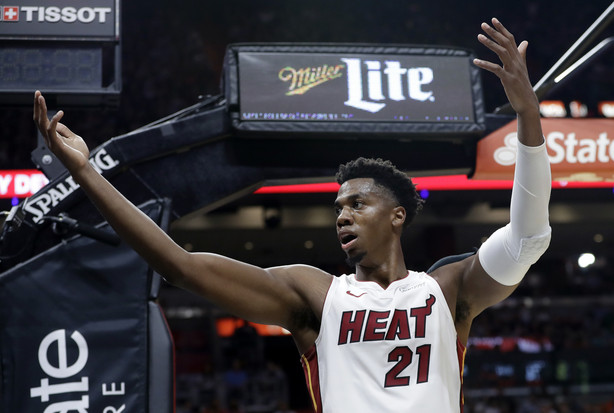 As for the Whiteside signing ...
On paper, it makes sense: A veteran backup center that's had multiple years of high productive play. He put up monster numbers in Miami, where he played alongside Jazz part-owner Dwyane Wade, and was good for Portland before falling off last year in Sacramento playing on a bad team.
Wade might have had a big influence to get him to Utah since Whiteside doesn't have the best reputation in the league. He didn't live up to the monster contract he signed in 2016 and became known as a stat-hunter, whose highlight-reel blocks cover up his weaknesses as a defender (especially in the pick and roll).
In 2018, he was open about his frustrations with how Miami coach Erik Spoelstra was using him, and that resulted in a fine for "comments detrimental to the team." He then suggested during the playoffs that season he wasn't being used enough, and he hasn't been shy about getting into Twitter beefs with other players.
So, even on a minimum deal, is he worth the potential headaches? The Jazz apparently think so, and there's some reasons to believe they're correct.
On the court, Whiteside should be fine — at least if he accepts the role he'll have in Utah. The Jazz defense is built to have the center around the rim, and that's exactly where Whiteside thrives. His team's defensive numbers are better than his reputation would have you believe, too, and he even proved to be a fine pick-and-roll partner while in Portland.
Whiteside should be able to fit right in with how the Jazz play and give the team an experienced starting center if Gobert — knock on wood — has to miss any time. One positive sign, too, is that Whiteside has always played more engaged when he's on good teams. The Jazz should be pretty good.
Stylistically, it's a match. We'll see if it is everywhere else, too.
×
Related Stories