Estimated read time: 7-8 minutes
If you've been to Moab recently, you know it is a popular destination. It seems like every other building on Main Street is a hotel and most are full.
Arches National Park is the primary attraction with more than 1.5 million visitors each year. The National Park Service reports you can expect long lines, limited parking and entry delays that can last three to five hours.
Throngs of people also come for the incredible mountain biking and off-road vehicle trails and during busy times it is a challenge to find a parking spot at the more popular trailheads.
Fortunately, there is lots of country in the Moab area, so even during times of heavy visitation, it's possible to find places where you don't have to worry about social distancing. Before you head out for your Moab adventure, make sure to stop by one of the two Maverik locations in town to fill up your tank and grab some food and drinks.
Here are some places to visit in the Moab area where you can still find some solitude and the spectacular scenery visitors go there to see. And please remember to practice good fire safety habits to prevent wildfires to keep the area beautiful for the millions who come to visit each year.
Head to the mountains
Moab sits near the base of the LaSal Mountains, but because people mainly come for the arches and red rock, the mountains get overlooked. There are several peaks that top out at more than 12,000 feet, meaning they are higher than anything on the Wasatch Front.
Best of all, when temperatures in the deserts surrounding Moab climb above 100, in the mountains it can be 25 degrees cooler.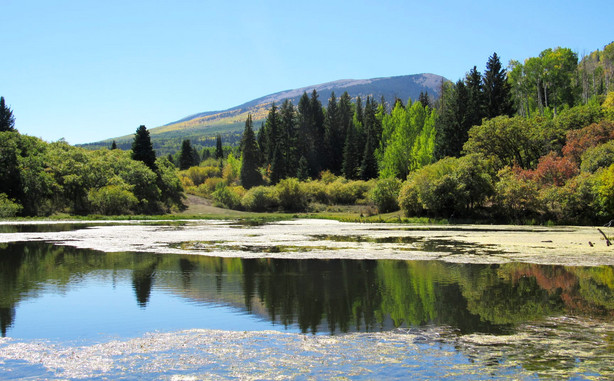 Scattered throughout the mountains are several beautiful lakes including Warner, Oowah, Hidden, Dark Canyon and Blue. At times, the fishing in these small water bodies can be incredible. Other days, you won't mind that the fish aren't biting because the setting is so spectacular.
The 60-plus mile LaSal Mountain Loop Road will take you from the red sandstone along the Colorado River to alpine meadows and fir trees and back down to the valley floor. The views as you descend are difficult to describe because there simply aren't any words that can capture the colors, textures and awesomeness.
Follow some dinosaurs
The land around Moab is rich in dinosaur fossils and tracks. Just north of town an area currently known as Dalton Wells was approved by the Utah Legislature as a new state park: Utahraptor State Park. Construction is set to begin in 2022. In the meantime, other nearby dinosaur sites are already in place.
The Mill Canyon Dinosaur Trail is a 1.8-mile out-and-back trail that takes you on a hike where you can see dinosaur bones still embedded in the rocks. The trail is easy to follow and there are signs that point out the locations of the bones.
Just before the trail is the Mill Canyon Dinosaur Track site. The Bureau of Land Management reports the site features more than 200 individual tracks from a variety of dinosaurs.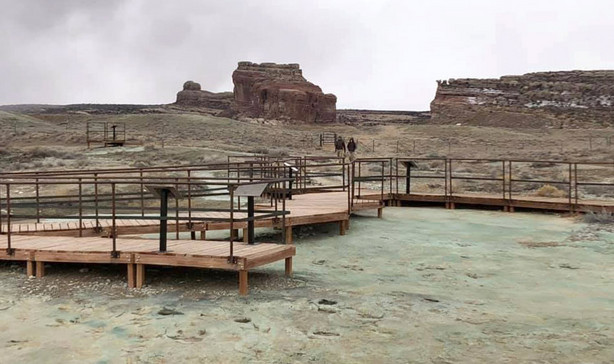 The track site can be reached by any passenger vehicle. Beyond it, the road becomes a dirt track with ruts and loose sand in spots. Sedans might not make it to the dinosaur trail parking area, but any SUV should be fine.
A quick internet search will turn up a number of other areas around Moab where you can see dinosaur tracks, including the Copper Ridge Dinosaur Trackways just south of Interstate 70 on the east side of U.S. 191.
Check out the petroglyphs
Humans have enjoyed the Moab region for thousands of years. Evidence of their existence includes ruins, artifacts and extensive rock art. One of the most famous petroglyphs depicts someone giving birth. Located on a large boulder easily visible from Kane Spring Road, the birthing scene glyph is surrounded by a host of other rock art, including what looks like some kind of warrior with a spear through his abdomen.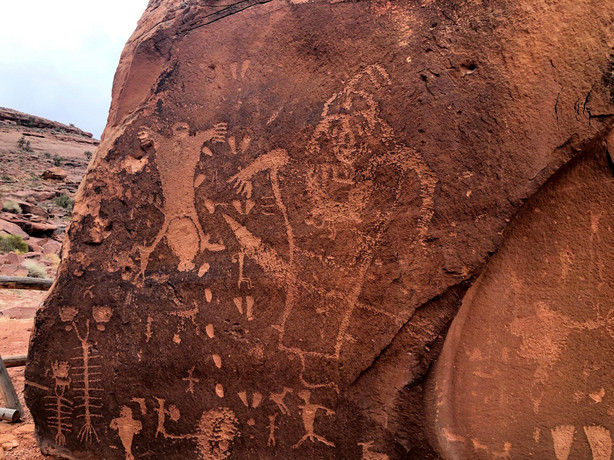 In the surrounding area are hundreds of other petroglyphs. Many can be seen from roadways or with just a very short hike. Many are marked, but there are others that you'll need to search for on your own. One other worth mentioning is a petroglyph of a mastodon. This one requires a hike to see.
Get to the point
Dead Horse Point State Park is an underappreciated treasure that many visitors to Moab never see because they are waiting in line at Arches. A high desert plateau, Dead Horse Point overlooks the Colorado River and offers spectacular vistas that stretch to the horizon. Think the Grand Canyon but on a smaller scale.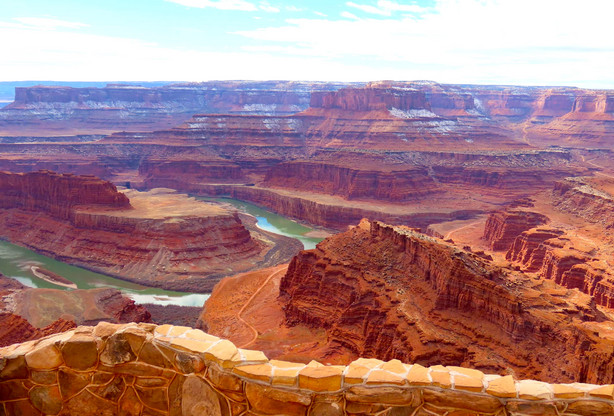 The park website says, "Sunrises and sunsets are especially memorable, with canyon walls bathed in golden light, creating a stunning scene reminiscent of vivid watercolor paintings."
Look for arches in the wild
Arches National Park is Moab's crown jewel--deservedly so, with more than 2,000 stone arches located within the park boundaries. Add in the other amazing rock formations like towers and fins and throw in the sand and desert vegetation and you realize it truly is one of the world's special places. It also can seemingly be one of the more crowded spots in Utah at times.
Lucky for you, there are several amazing natural stone arches located outside the national park.
Corona Arch is a breathtakingly beautiful natural arch twice as large as the more famous Delicate Arch and comparable in spectacularness (not really a word, but it should be for places like this). You reach the arch via a 1.5-mile trail through Utah's trademark red sandstone. You'll also bag a bonus arch for your efforts. You pass Bowtie Arch before you get to Corona (which has no connections to the virus).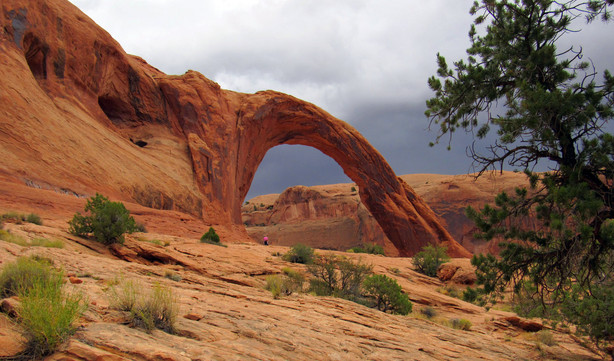 Just past the LaSal Junction south of Moab is Wilson Arch. Unlike the arches in the national park, you are free to climb on this one if you choose. "Wilson Arch is easily accessible, beautiful, and definitely worth the five-minute hike it takes to get there. To add to the appeal, it's free," reports visitutah.com. "Families, climbers, and anyone who appreciates the landscape of southern Utah should be sure to visit."
Technically, Morning Glory Arch is actually a natural bridge and not an arch, because it has a small stream flowing underneath. Utah.com notes, "The bridge has a span of 243 feet, making it the sixth-longest natural rock span in the United States. It is an impressive sight." It is reached via the Grandstaff Canyon Trail, which might be the best hike in the Moab region that is outside of a park.
No matter which places you choose to visit when you go to Moab, you'll want to start with a full tank of gas and some snacks, drinks and other adventure essentials. You can find everything you need at one of two Maverik locations in town.
×