AROUND THE SHIELD — In many ways, Taysom Hill reported to the first few days of Saints training camp in New Orleans in the same way he always has.
He took his spot in the quarterback room, one that has been crowded since he arrived in 2017 as a 27-year-old rookie — only this time, one chair was empty.
It was the one normally occupied by Drew Brees, the soon-to-be Hall of Fame quarterback who spent 20 years in the league, who threw for more than 80,000 yards with seven NFL records, including career passing yards and completions.
Now, Hill is locked in a race for starting quarterback, as the former BYU quarterback who spent much of his offseason in Utah and his native Pocatello, Idaho, competes with Jameis Winston to succeed one of the most legendary quarterbacks in New Orleans history.
So not everything is the same.
And neither is Hill.
"I leaned out, came in a little bit lighter than I would normally come into camp, and my weight room routine in the offseason was different as well," a noticeably slimmed down Hill told reporters after the third day of training camp. "Throughout my career here, I was always trying to find that balance to be strong enough to do what I would be asked to do, but still be able to throw the ball. There's definitely a transition there."
Hill's offseason workout routine has been noticeably different, except below the waist. Leg day remained the same, but his weight sessions focused more on his back and shoulders, rather than front-side throwing motions that show up in every photograph of him released in the news media.
He's also worked more on his footwork; and with 3½ years of experience in the Saints offense, he's been able to step into the playbook better through the first week of training camp.
"I think as a thrower, it's more important to have a stronger back-side than front-side shoulder, and it's more natural to work your frontside muscles than your backside," Hill said. "I can tell from experience, when I get sore, it's all the motions from taking so many reps and throwing so many balls."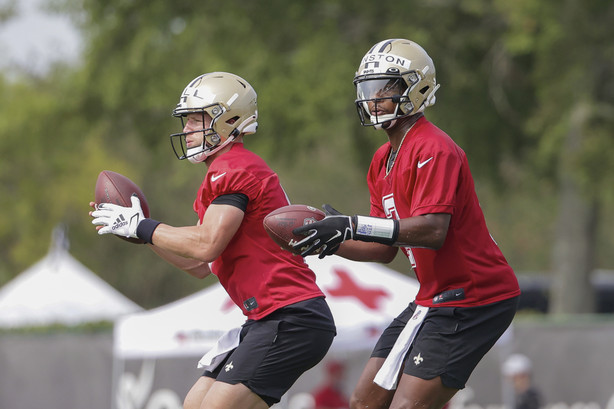 At 31 years old and a new father, Hill has gone through a lot in his first four seasons in the league, with all but his first camp spent in New Orleans. He's been the Saints' tactical Swiss Army knife, a backup quarterback with more starts at tight end and wide receiver known for throwing bombs, running off tackle, and gadget plays as much as catching touchdown passes and playing on special teams.
Now it's time for him to prove he can be a quarterback in the National Football League. If he doesn't, the Saints brought in Winston, a former Pro Bowl quarterback and 2015 NFL rookie of the year who flamed out in Tampa Bay to make room for Tom Brady, now a reigning league champion with his seventh Super Bowl ring.
And by all accounts, he's a great teammate.
"I love working with Jameis," Hill said. "He works really hard. I think he's really smart and he's got a lot of experience playing the position. I think the culture here has been no different."
If that doesn't sound like animosity, it's because it isn't. Saints coach Sean Payton believes Hill and Winston are both starting-caliber quarterbacks in the NFL — Winston proved it with the Buccaneers, and Hill stepped in as a starter when Brees went down with an injury — and believes that experience will embolden both of them as they seek to succeed one of the game's all-time greats.
"They've put a ton of time in, both of them," Payton said. "And they've been fantastic working together. So it will kind of take care of itself, I think."
Ironically, this isn't the first time Winston has been in a quarterback competition with a BYU signal-caller. As a senior in high school, the Hueytown, Alabama, native was named co-MVP of the Elite 11 quarterback camp with BYU-bound gunslinger Tanner Mangum.
Winston also has experience in the system — the Saints signed him last year as a co-backup with Hill. The experience provided as a starting quarterback in the NFL was nice for the Saints, though Winston only came off the bench four times in 2020.
So how much that starting experience helps him earn the starters' role in New Orleans is still up for debate.
"Continuity is always a great thing, for any experience," Winston said. "But obviously, reps are what's important; this year, I probably got more reps in three days than I did all of last year.
"I'm more of a visual learner. I like to apply what we're doing … so it's been fun. I think I'm getting a good grasp of it."
Hill started eight of his 16 games played in 2020, though his position has always been the subject of sports talk debate. Last year, he completed 73% of his passes for 928 yards and four touchdowns with two interceptions, while also running for 457 yards and eight scores — many of them as a running back or slotback option.
"My routine, the things that I'm consistently working on, that sort of stuff doesn't change from year to year," Hill said. "The way I've approached this year has been different, because my role is different. But from a competition standpoint, what I'm doing, how I'm working is all the same."
×
Photos
Related Stories