SALT LAKE CITY — A sheepish grin appeared on Rhyan White's face as she told a story from her triumphant U.S. Olympic swimming trials performance last month.
During the meet, White, a Herriman native who swam for Cottonwood High and Wasatch Fish Market swim club, was asked what was the first Olympics she remembered watching.
"I had no idea because I don't really remember watching it a lot," White said with a laugh. "I'm not really too much of a swim fan."
Don't take that to mean that she doesn't like her sport — far from it. You don't wake up before the sun just about every morning of your teenage life if you don't find some enjoyment in swimming mile after mile. It just meant she didn't look too much into the sport at large.
Considering where she came from, that's not really the biggest surprise. In the world of swimming, Utah is a pretty small pond.
There's been some success stories on the national and world stage before, but not routinely.
Former Brighton High swimmer Long Guiterrez, who moved to Utah from Mexico when he was a toddler, swam for his native country in the 2016 Olympic Games; former BYU and Mountain Crest High standout Jake Taylor finished seventh in the U.S. Olympic Trials in 2016; and Provo native David Lundberg finished third in the trials in 1988 — just missing the team.
For the most part, just making a trip to the trials has been the pinnacle for Utah swimmers. Last month, however, White changed that by becoming the first Utah swimmer to make a U.S. Olympic team. She broke through, but will more Utahns follow?
"I've got to think it's the beginning of a trend," said Olympus High and Olympus Aquatics Club head coach Tom Thorum. "I'm kind of reluctant to say that because I don't want to sabotage it."
After White's performance at trials, Thorum said he saw "the light turn on" in a lot of his younger swimmers. Many of those swimmers never competed against White but know her name, a bit of her story and where she came from. Suddenly, the Olympic dream felt much more attainable; it felt a little closer to home.
"I think Rhyan White will have that impact on this generation. I saw that immediately," Thorum said.
That thought is a little overwhelming to the new Olympian.
"It's incredible to think that someone's out there saying, 'I want to be like Rhyan.' I think that's so cool. I want to meet that person," White said. "It definitely means a lot to me. Moving forward it kind of makes me want to make sure that I'm always being my best self so that someday, someone that does look up to me, if they were to ever meet me, I would want them to know that I'm my most authentic self at all times."
When White jumps in for her first race in Tokyo next Saturday, there will be plenty of young Utahns living vicariously through her. But there will also be swimmers throughout the state believing they can be just like her.
At least, that's what Ron Lockwood, White's club and high school coach is hoping. He thinks White's success will allow swim clubs, coaches and swimmers to change their mindsets about what can actually be accomplished.
"It's resetting our minds and resetting our expectations and seeing what we can accomplish as a community now," Lockwood said. "That's my hope for Utah that we don't treat this as a one off. … That's my hope for the community. And I'm not just talking about my team. There's 30 teams here in Utah, and there's another Rhyan White out there."
Coaches have already seen what a little belief can do for swimmers.
"The first year that we went to sectionals we had two swimmers," Thorum said. "It was almost like Moore's Law, the next year we had four, the next year we had eight. Last year, we had 16 kids at spring sectionals. We got second — albeit, it was a COVID year. I do think that once somebody blazes a trail, the numbers increase."
There's optimism the same thing can happen at the world's biggest stage.
"An Olympian from Utah will inspire young swimmers and expand their expectation of what can be achieved," said former Orem High and Brigham Young standout Brady Wells, who swam at the trials in 2012. "I anticipate the strength of Utah swimming will accelerate."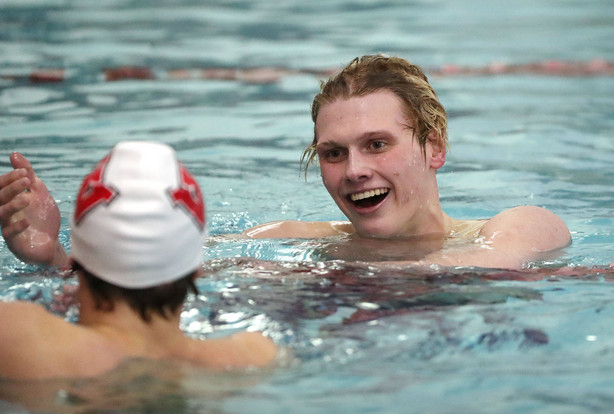 There are already several swimmers who could follow White's very fast wake.
Soon-to-be BYU swimmer Tanner Nelson, who just graduated from Bingham High, hit an Olympic Trials qualifying time in the 400-meter I.M. on Friday in a meet in Austin, Texas. There's 13-year-old Jade Garstrang, who has already broken a few of White's age-group records. In February, Olympus junior Alexander Turney smashed the 100-yard breaststroke record, leading a group of seven swimmers — including two more from Olympus — who all went faster than the previous state mark during the state championships.
Those are just a few of the names that could pop, but coaches throughout the state are worried that even though athletes in Utah are getting faster, the development will eventually be stunted because of a lack of resources or pool time. There are horror stories — some open, some whispered — about how difficult it can be to find time and space to train since many high schools and clubs are sharing spaces with local fitness clubs.
Some clubs and teams had to cap their numbers due to limited pool space. Others have lost coaches who grew too frustrated to deal with the amount of red tape they had to get through to get to bigger meets. Some even lost elite swimmers to other states las they looked for better opportunities.
"It's very difficult to run a competitive swim program in Utah because the public facilities are really geared towards leisure and recreational swimming, and it's really hard for a competitive swim program to get the time that they need," Thorum said.
That sentiment was echoed by longtime American Fork head coach Kathy King. She said there needs to be an investment made into pools for the number of kids that are signing up for the different clubs throughout the state — a number that is only expected to grow with White's success.
"We need to build more pools, and people need to invest in the future," King said. "Swimming is a lifetime sport. We should take the attitude that it serves people throughout their lives."
So King is hopeful that White's emergence onto the world stage won't just light a fire in younger swimmers but also in those that can make a difference for countless kids around the state.
"I think that people love her story and are very interested and supportive of her, and, therefore, I think that is a huge plus and encouragement for people to get involved," she said.
And to help develop the next Rhyan White.
×