PROVO — How can they live up to that one?
That's the question many outside of the BYU football program are asking after the Cougars' 2020 season: How can 2021 live up to the excitement of the year before?
The Cougars are coming off arguably their best season since 1984, according to ESPN's SP+, or at least their best season since 1996. But generational talent took advantage of the coronavirus-impacted year and bolted for the NFL, including No. 2 overall pick Zach Wilson, third-round offensive lineman Brady Christensen and late-round wide receiver Dax Milne.
BYU is projected to finish 7-5 by ESPN, with the 52nd-ranked SP+ in the nation and toss-up games against Virginia, Boise State, Baylor and Washington State. The same metric counts Utah, Arizona State and USC as losses, with Idaho State, Utah State, USF, Arizona and Georgia Southern among the wins.
Sportsbetting.ag has an over/under of 6.5 wins for BYU in 2021.
The Cougars showed off a unique upside in 2020, becoming the only program west of Texas to start the season on time and cobbling together a season that attracted national attention en route to a top-15 ranking in every major poll by year end. BYU only lost one game, and that was a hastily scheduled trip across the country to top-20 Coastal Carolina during the Cougars' previous bye week — a trip that ended down 1 point on the 1-yard line on Wilson's Hail Mary attempt.
The next challenge is to prove that 2020 wasn't an anomaly, and they'll need to do it with depth. Led by the departures of Wilson, Christensen, Milne, tight end Matt Bushman and a handful of first-string defenders like Isaiah Kaufusi and Khyiris Tonga, the Cougars return the least amount of production for the 2021 season, according to ESPN.
Leading rusher Tyler Allgeier is back to pick up the slack, along with well-rounded back Lopini Katoa and deep threat Gunner Romney. The Cougars also added a pair of Pac-12 transfers in brothers Puka and Samson Nacua that will give instant credibility to whomever wins the starting quarterback battle between Jaren Hall, Baylor Romney and Jacob Conover.
How will it look at season's end? Everything is a thought exercise at the moment — so let's think through the first six games of the Cougars' 2021 schedule.
Sept. 4 vs. Arizona (in Las Vegas)
Last season: 0-5
Opponent's previous game: N/A
A rematch of the first opponent head coach Kalani Sitake faced with BYU six years ago, the Wildcats are 12-11-1 all-time against BYU but haven't won since the 2008 Las Vegas Bowl.
Still, the first two games of this series have been as close as can be, with BYU pulling off a come-from-behind 18-16 win in Glendale, Arizona, on Jake Oldroyd's first collegiate field goal in 2016, followed by a 28-23 victory in Tucson to open the 2018 season.
The Cougars have won five of their last seven against the Wildcats, and look to improve that mark against their first of five games against Pac-12 opponents.
Arizona finished the COVID-19 truncated 2020 season with an 0-5 record that left the Wildcats befuddled by ridicule prior to Kevin Sumlin's departure. Things aren't expected to get much better this year, with likely starting quarterbacks in USF transfer Jordan McCloud or Washington State transfer Gunner Cruz in Jedd Fisch's first season.
Prediction: BYU wins (1-0)
Sept. 11 vs. Utah
Last season: 3-2
Opponent's previous game: vs. Weber State
Normalcy returns to the Beehive State, which didn't see the "Holy War" regular-season matchup between BYU and Utah for only the second time since 1946.
A historically entrenched rivalry where both teams can't even agree on how many times they've played, the Utes return 19 starters from last year's squad that fell short of expectations in the truncated Pac-12 season. Relying heavily on an army of Division I transfers, including former Baylor quarterback Charlie Brewer, Oklahoma running back TJ Pledger and LSU running back Chris Curry, tenured head coach Kyle Whittingham expects to have his team back on top of the Pac-12 South again.
On paper, the two programs had opposite 2020 seasons. On paper, BYU turned a corner in 2020 and should be more competitive against its rival to the north — and on its home turf, even.
But also on paper? The Utes have won nine in a row, including a 30-12 win in the programs' last meeting that featured three defensive touchdowns.
It's hard to give a team that benefit of the doubt with that kind of recent history.
Prediction: Utah wins (1-1)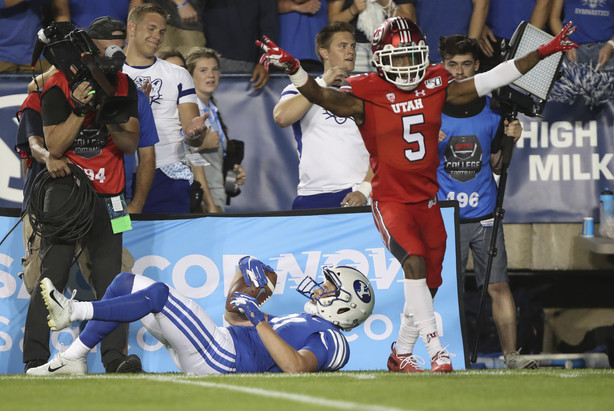 Sept. 18 vs. Arizona State
Last season: 2-2
Opponent's previous game: vs. UNLV
High-upside quarterback Jayden Daniels was hitting his stride last year when the truncated fall season was cut short, but the 6-foot-3 sophomore who was once a near-lock to commit to the University of Utah expects to grow on his 2,943 passing yards and 355 rushing yards with 17 touchdowns to just two interceptions in 2021.
The Sun Devils are 20-5 in their last 25 games against BYU but have lost three of the last four games played in Provo — the last one coming in 1996.
With the program in the middle of a potential scandal involving recruiting violations and COVID-19 protocol-breaking that has head coach Herm Edwards on the hot seat despite his turnaround of the program, this matchup could look plenty different even three weeks into the season.
The home team has won eight of the last nine games between the former WAC rivals. The home crowd adds another.
Prediction: BYU wins (2-1)
Sept. 25 vs. South Florida
Last season: 1-8
Opponent's previous game: vs. Florida A&M
BYU is 26-7 against current members of the American Athletic Conference, but USF represents one of two AAC opponents to hold a winning record against the Cougars.
Much of that trouble comes from playing in Florida, where BYU is abysmally winless — including the Bulls' come-from-behind 27-23 in 2019. USF is 15-5 in nonconference games over the last five years but lost most of its quarterback talent to transfer prior to Jeff Scott's second year in Tampa.
Plenty of BYU players will be gunning for revenge in this one.
Prediction: BYU wins (3-1)
Oct. 1 at Utah State
Last season: 1-5
Opponent's previous game: vs. Boise State
The Old Wagon Wheel has spent more time in Provo than Logan, with BYU leading an all-time series that has just three outright upsets ever at 49-37-3.
The Aggies are breaking in a new coach in former Arkansas State skipper Blake Anderson and will likely have a new quarterback in A-State transfer Logan Bonner, who threw for 3,166 yards and 30 touchdowns with nine interceptions in 15 starts with the Red Wolves.
There's plenty of reasons for the Aggies to entertain optimism, including the return of defensive standouts Nick Heninger and Shaq Bond, and the addition of linebacker Justin Rice, the one-time Fresno State linebacker who makes his return to the Mountain West after posting 76 tackles, 11.5 tackles for loss and seven sacks in his lone season at Arkansas State.
Utah State has made the series competitive lately, with three wins in the last six games. But BYU's 42-14 rout in Logan in the previous meeting in 2019 doesn't help their cause. The Aggies will also be coming off a game against Mountain West front-runner Boise State a week prior.
Prediction: BYU wins (4-1)
Oct. 9 vs. Boise State
Last season: 5-2
Opponent's previous game: vs. Nevada
The blue-based rivalry has arrived after BYU's stunning 51-17 upset on the Blue Turf a year ago, the Cougars' first-ever road win over the Broncos in a series that dates back 11 games to 2003.
Boise State owns a 7-4 record in the series, including two wins in Provo. Can first-year Broncos coach Andy Avalos lead his veteran squad led by quarterback Hank Bachmeier and running back George Holani to its first victory at LaVell Edwards Stadium since 2017?
Prediction: Boise State wins (4-2)
×
Related Stories