SALT LAKE CITY — Marco Anthony wants to win; in fact, losing isn't an option.
It's not that Anthony expects to win every game, it's that the desire to win constantly and at a high level fuels his game. No athlete likes to lose, but sometimes the thought of losing fuels people differently, and Anthony is one of those people.
"Losing isn't an option," Anthony told KSL.com following a recent summer practice with his new team. "Losing doesn't really have a liking for me, and I don't have a liking for losing, so just staying on the winning end and doing whatever it takes to win; that's what they (fans) could expect from me."
And for his part, Anthony is a man of his word: losing doesn't come much for the 6-foot-5, 225-pound guard who spent two years at Virginia before transferring to Utah State. He later transferred to Utah earlier this year when his head coach, Craig Smith, made a move from Aggie blue to Utes red.
While at Virginia, Anthony was part of six total losses in a two-year span — a span that included an ACC conference title and later an NCAA Championship in 2019. At Utah State, Anthony was part of a team that qualified for the NCAA Tournament the two years he was there (the 2019-20 season he was forced to sit out due to the transfer rules at the time) and had only nine losses during his junior year.
And now, Anthony is hoping to be a part of another team that makes winning a priority. But his final collegiate act may be arguably his toughest. Utah has failed to complete a winning season since 2018-19; and even then, Utah was only 17-14 that year.
Utah fired its decade-long head coach in Larry Krystkowiak earlier this year and brought on Smith to be the spark to an otherwise disenfranchised program — players didn't want to play for each other and fans had lost all interest in a program that had a history of winning. But the winning had simply dried up under Krystkowiak despite a run that peaked with back-to-back seasons in the NCAA Tournament.
Could Smith and the cadre of players he assembled have a different impact — even in his first year in an arguably tougher conference?
Anthony believes that Smith, who rebuilt a Utah State program and got the Aggies to the NCAA Tournament in his first season as head coach in Logan, is the right guy for the job. It's the reason he decided to follow his coach down I-15 to Salt Lake City — the "first major city that I've been a part of" — and "trust" that Smith could continue his winning ways.
"It's just the trust that I already have with coach Smith," Anthony said. "Ever since Day 1, ever since I even — even before I got to Logan, just talking to coach Smith, everything that he's told me, he hasn't told one lie; it's just been straight honesty, so just that trust that we've built. I couldn't just leave it. It was just too much of an opportunity to pass up."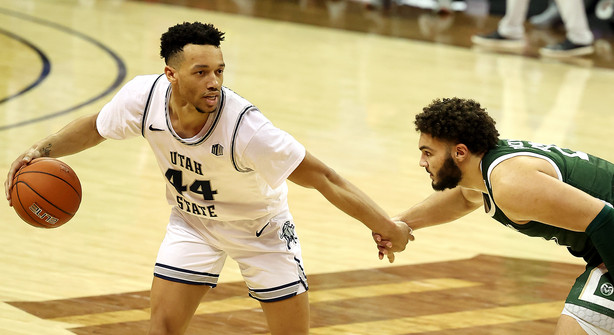 That opportunity has led to a "brotherhood" at Utah where the team has already clicked as part of the summer conditioning ahead of the 2021-22 season. Fellow opponent-turned-teammate David Jenkins Jr., said the tight-knit bond among teammates was almost immediate despite the roster being made up of several transfers from around the country and some that decided to stay at Utah.
"I haven't been a part of a team where we've meshed this early, and I think it's a really good sign," said Jenkins, who previously played at UNLV before transferring to Utah. "But I think overall just because these coaches establish a positive culture here from the jump. As soon as I stepped on campus, I felt how positive it was."
"A lot of teams, they don't really like each other, so it's hard to win with a bunch of people you don't like," Anthony added. "But we have a group of guys that really have a liking for each other and really have one common goal; that makes it so much easier."
For Anthony, nothing about the winning culture — it could be argued it's really an expectation to win — established by Smith at Utah State hasn't changed now that he wears red instead of blue. Smith hasn't changed and neither has Anthony's strong desire to win.
"Same exact person," Anthony said of his head coach. "Same exact person, same exact energy, same exact mindset — nothing's changed."
The only difference now is the names on the back of the jerseys, which have become family now, and the conference in which Anthony now plays. But it's an opportunity where he can help Smith connect with his new players and be the "vocal leader" on the court.
"Whenever I see guys that are like making mistakes and stuff, I could pull up to the side and be like, 'Hey, this is what we're expecting, this is what coach wants,'" Anthony said. "It just makes the whole learning process much smoother and much easier for everybody."
And though few in the league will likely expect much from Utah in Smith's first season with the program, Anthony said he's seen this blueprint play itself out before in Logan just last year. With star Sam Merrill no longer on the team after he turned pro and is now one win away from claiming an NBA title with the Milwaukee Bucks, Utah State wasn't expected to return to the Big Dance.
Anthony said the doubt then at Utah State will be similar to the doubt Utah will face this season, but the end result will largely be determined by the coaches and players that makeup the team.
"We could go as far as we want. I mean, we've had the same ... it was the same stuff at Utah State last year," Anthony said. "When Sam left, all of the projections were we were going to be like a middle-of-the-pack team — we were just going to have a huge downfall, and we ended up making the tournament. So these projections and stuff, they don't really know what's going on in the inside and what we're really doing here, so we don't really pay much attention to all that."
For Anthony, who is known for his defense — he was named to the All-Mountain West Defensive Team last season — this upcoming season will be about "building off" his last season where he was starting to play "some of my best basketball" at the end of the year.
"Really, just building off of that while just doing what it takes to win and not really taking a selfish approach from it," he said. "And then, you know, things will just look up from there."
He's also hoping the team's ability to win games and be competitive in the Pac-12 will "look up" while he's on the roster.
×
Related Stories