SALT LAKE CITY — The Salt Lake Chamber met Tuesday to launch the newly formed Wasatch Innovation Network, which includes Utah technology companies, state universities, venture capital, local governments and chambers working together to collaborate on innovation efforts in Utah.
The network has been in the works since late last year and aims to bring together the best minds across Utah's leading sectors, working to bring strength and insight to Utah's innovation tech industry.
Because innovation can be a word without a clear definition, Paul Ahlstrom, CEO and co-founder of TechBuzz News, defined it as, "the intersection of invention and market insight to do something good."
"Innovation is the core of our economy. It's kind of innovate or die," he said.
The network will push for policies that enhance innovation, provide national and international marketing for Utah as a leader in innovation and tech, support startups with capital and mentoring, meet regularly to address member needs and interests and collaborate with committees among each of the main genres of innovation in Utah.
The network will be centered on four values: membership, growth, innovation and acceleration.
Innovation tech is driving commerce both in Utah and globally. In 2019, the tech industry accounted for $18.5 billion of Utah's total economy, which is over 10%. There is global competition at a rate and scale that is unprecedented, especially from China, said Brandon Fugal, chairman of Colliers International., a leading professional services and investment management company.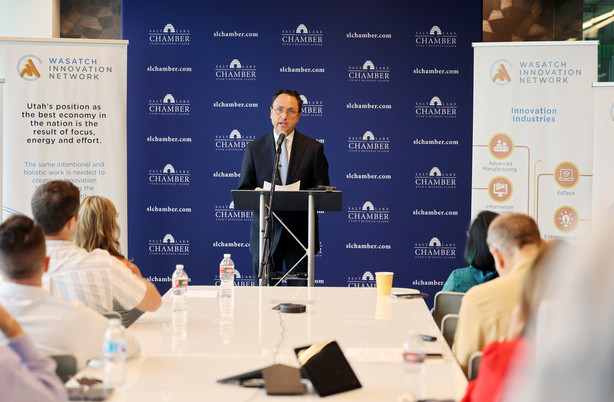 "There are many moving parts in any innovation ecosystem, and the time is right to connect the whole across the Wasatch Front," said Derek Miller, president and CEO of the Salt Lake Chamber and Downtown Alliance.
Utah is known for having a diverse economy, public-private partnerships and a dynamic pioneering spirit, with a large number of successful startups and entrepreneurs.
"Utah plays a key role in being a leader and a standard-bearer for innovation," Fugal said. "Our potential in this state is unlimited."
Utah's life sciences industry is one of the fastest-growing in the nation, and the biotech companies in the state export medical products and services globally. Utah was the first state to develop an artificial kidney, heart and arm.
Last year, BioUtah, Utah's independent life sciences trade association, launched BioHive, an industry branding initiative to unify Utah life sciences companies and highlight the innovations and contributions of the industry around the globe.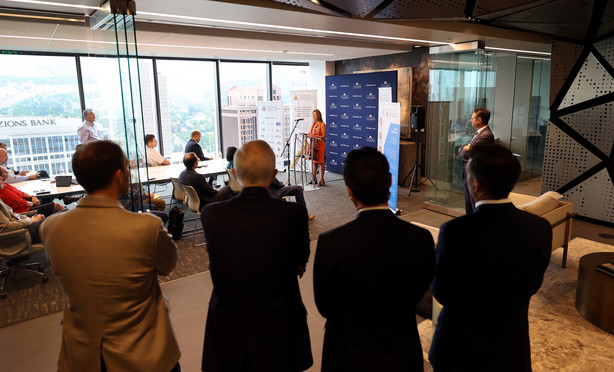 "Let me emphasize that the Utah life science industries and university health care are excited to participate," said Kelly McAleer, account executive of The Kenney Group and former president and CEO of BioUtah.
Utah has had a vast number of successful startups. One of those, Owlet, was started in a garage in Provo. Now it is the top-selling baby monitoring system, helping to connect 1.5 million parents to their children.
Although most startups fail, a supportive community can help this new generation of entrepreneurs get it right just by giving them the network of people who believe in them, explained Owlet CEO and co-founder Kurt Workman.
"It takes a village to raise a baby and it definitely takes a village to raise a company," he said.
Utah's Wasatch Innovation Network will offer this kind of support by building an inclusive, mentor-powered network to help entrepreneurs have a starting foundation. And through that foundation, its members hope to bring a diverse group of people together to create and innovate.
"Innovation is only going to come if we figure out how to drive a diverse workforce," said Greg Manuel, vice president and general manager of the Strategic Deterrent Systems Division at Northrop Grumman.
"Defending freedom and advancing human discovery is what we do," he said. "We are free, we are safe as a nation because of the things we produce."
But a diverse workforce doesn't exist without some work, added Astrid Tuminez, president at Utah Valley University. People of color and people who are first-generation college students that go on to bring that diversity to the workforce are developed and grown and given opportunities in universities.
And now that the network is formed to bring these bright minds together, what's next for the innovation tech industry in Utah and the Wasatch Innovation Network, in particular?
"The next step for all of these stakeholders is to come together and turn that habitat into an ecosystem," Miller said. "Today represents the beginning of a process."
As the meeting came to a close, the attending members of the network stepped forward to sign its brand new charter.
×