SALT LAKE CITY — Common fireworks and all other pyrotechnic devices will not be allowed to be discharged in Utah's capital city for the upcoming July 4 and Pioneer Day holidays.
Citing the ongoing Utah drought and growing fire danger, Salt Lake City Mayor Erin Mendenhall announced that all Class C fireworks, including smoke bombs and sparklers, will not be allowed to be discharged within city limits even when the window for fireworks to be used opens on July 2.
"We've seen communities in neighboring western states be absolutely leveled by urban wildfires in recent years and we can't take unnecessary risks that might put us, Salt Lake City, in that same position," she said. "I know this might feel like a loss of a beloved tradition for all of those Salt Lakers who love their driveway fireworks and I understand it's disappointing but given our current climate, it's simply not worth the risk."
The city's public Independence Day fireworks display at Jordan Park on July 4 and Pioneer Day display at Liberty Park on July 24 will still be held this year with firefighters present.
Salt Lake City normally has restrictions for where fireworks can be launched in July. In years past, the city banned fireworks north of South Temple, west of Redwood Road and east of 900 East. The decision made Tuesday actually came down from Salt Lake City Fire Marshal Anthony Allred. His order also banned all open burning, which Mendenhall described as any recreational fires made for the purpose of cooking or warming. Both bans remain in place until further notice.
Mendenhall explained that Allred and other fire officials determined that "essentially the city is combustible" in that there were plenty of spots across the city where a single spark could lead to a large fire. They believe there are significant risks within city limits away from the traditional areas like foothills and open spaces. Those include dry lawns and park strips, which can help flames reach homes and businesses.
"This is a risk in our own backyards," said Salt Lake City Fire Chief Karl Lieb. "The dry brush that we have on our own properties is probably adjacent to a wooden shed, which is probably adjacent to a wooden fence, which often directs back into the house. This is a hazard that we have some control over."
Violations of the firework and open burning ban are punishable through a Class B misdemeanor, which can result in a fine of up to $1,000 and even fire suppression costs added to that.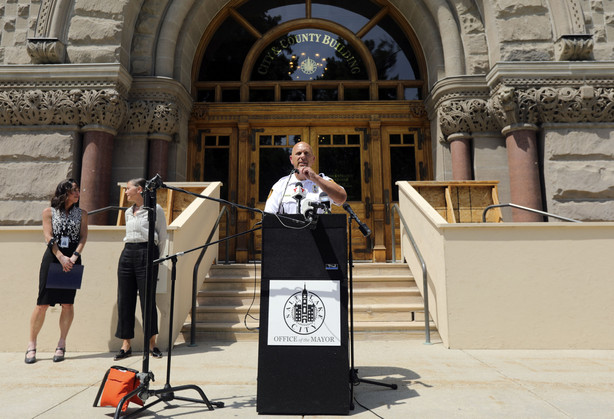 Lieb added that he expects it will be a "challenge" to catch people who disobey the law, which also happened in restricted areas in previous years. He said fire department law enforcement and some Salt Lake City police will be out during the holidays to try to crack down on offenders. People can also call Salt Lake City dispatch at 801-799-3000 to report violations.
Still, he hopes that most people will just abide by the law, considering the extreme fire risk that's emerged heading into July. That includes over a dozen working fire incidents over the past week in Salt Lake City alone.
"The National Weather Service has issued critical fire weather warnings last week, this week and probably will again shortly, possibly this weekend; so, for our fire crews, quite frankly, it's no longer if there's going to be a fire, it's when there's going to be the next fire," he said.
Per Utah law, Utahns will be allowed to purchase fireworks beginning Thursday but they aren't legal to be launched until 11 a.m. July 2. Utah's legal fireworks launching period is from July 2 to July 5 and from July 22 to July 25 for the two summer holidays.
Fireworks were already banned on all state and federally managed lands, as well as unincorporated land in Utah. Salt Lake City's announcement came as Gov. Spencer Cox said he didn't have the power to issue a statewide fireworks ban but local entities did.
Fireworks decisions elsewhere in Utah
Mendenhall pointed out Tuesday that Salt Lake City is not the first Utah municipality to ban fireworks this year. She also doesn't think Salt Lake City will be the last one.
Park City officials last week enacted a similar fireworks and open fires ban. Fireworks are also banned throughout Wasatch County through a countywide fire restriction order. The Cottonwood Heights city council voted on Tuesday to ban fireworks anywhere east of 1300 East, which means fireworks are banned from being launched within a vast majority of the city.
Carbon County Sheriff Jeff Wood posted on social media that the county's annual fireworks display in Scofield was canceled not just because of the threat of fires from the fireworks but because vehicles parking on dry grass could ignite a blaze.
All of this is just the tip of the iceberg. Many communities have either posted their revised fireworks restriction maps or plan to make adjustments between now and July 2.
The debates over fireworks come with Utah's ongoing drought and worsening fire danger conditions. The Utah Wildfire Dashboard, which is operated by the Bureau of Land Management and Utah Division of Fire, Forestry and State Lands, lists 12 current fires across Utah as of Tuesday evening. It lists 424 total fires, which have burned a combined 57,248 acres since Jan. 1.
At least 80% of the fires were caused by human activity.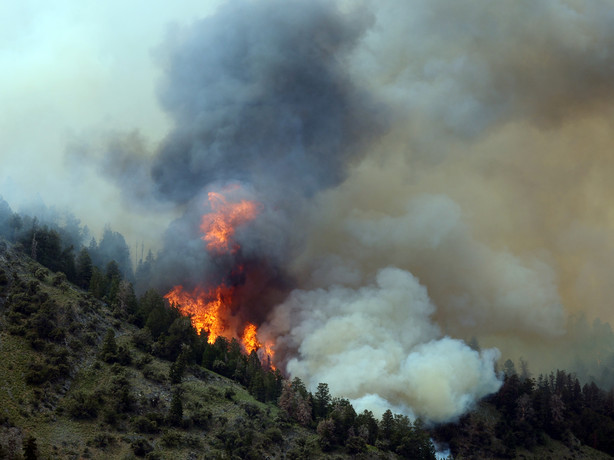 Meanwhile, firefighters in Provo knocked out a small brush fire they say was caused by illegal fireworks. The fire, which occurred at 4410 Mile High Drive shortly after 10 p.m. Monday, burned about a half-acre.
Provo Fire officials said a teenager, whose name was not released, is now facing a pair of Class B misdemeanor charges tied to the incident plus the cost of dousing the blaze. In all, the individual is facing up to $4,420 in fines and costs, the agency said.
Though small, Provo Fire Marshal Lynn Schofield said the fire is an example of what can happen when fireworks are launched in areas they shouldn't be.
"This incident highlights the conditions that fire officials, community leaders and a lot of community members fear as we approach the Fourth of July holiday," he said in a statement.
---
At this point, we've done all we can. It's up to the people who are actually lighting the fuse, buying fireworks to use them responsibly. We know that they can. There's just no room for error this year.
–Provo Fire Marshal Lynn Schofield
---
The real kicker of the story is that the fire happened just before the city planned to roll out a new fireworks safety campaign. The campaign, which is to be announced Wednesday, aims to have residents launch personal fireworks at city parks instead of other places in Provo. Their hope is that it will reduce the risk of fires caused by fireworks.
Unlike Salt Lake City, Provo Fire officials aren't anticipating an outright ban on discharging fireworks. Schofield said the city will allow legal Class C fireworks to be launched at 14 different city parks this year, which is an increase from five last year.
"We have done everything we can to try and provide our citizens with a safe mechanism to discharge their fireworks," he said. "At this point, we've done all we can. It's up to the people who are actually lighting the fuse, buying fireworks to use them responsibly. We know that they can.
"There's just no room for error this year."
×
Photos
Related Stories