Estimated read time: 7-8 minutes
This archived news story is available only for your personal, non-commercial use. Information in the story may be outdated or superseded by additional information. Reading or replaying the story in its archived form does not constitute a republication of the story.
HERRIMAN — All year long, Herriman rugby coach Elvis Hansen had told his players, 'When you get to the last game of the year, I don't want to see tears.'
He didn't know when that last game would come — the state championship, the national tournament, or some moment well before then. In confidence, the second-year head coach and his staff admit 2021 didn't initially seem like the same standard the Mustangs have always had — that breaking a decade-long national title drought despite a half-dozen state titles in program history probably wasn't in the cards.
But when that last game finally came, against No. 2-ranked St. Ignatius from Cleveland, Ohio, Hansen broke his own promise.
Hansen was the first to tears — after the Mustangs held off Ignatius 21-14 in the championship game of the national high school tournament in Kansas City. Utah County-based Genesis rallied from a 31-22 loss in the opening game of their club, multi-school division tournament at the same site to place fifth in the other bracket.
"They said, 'coach, you said no tears.' But these were different kinds of tears," Hansen said with a cheeky grin. "They were tears of happiness. It was very surreal."
Top-ranked Herriman, which won its seventh state title to cap off a spring season marking a return to competition from the COVID-19 pandemic, overturned a 17-14 deficit in the second half to pull away from St. Ignatius in what some are calling the best title game in rugby nationals history.
Afa Kula, Dom Mitchell and Zach Worthington pushed a front line steadily upfield to retake the lead 19-17 and senior team captain Mason Barker helped the Mustangs hold on for the biggest win in program history.
Herriman was down, but never out. And the Mustangs were rewarded, just as they have been all year, because they relied on each other and a brotherhood of those who came before.
"Every game we got better," Hansen said. "That was probably the toughest game we've ever played in. But what I forgot going into this game was that there will always be adversity in a championship — and there was a ton of it in that game. But the love, the brotherhood, the culture we developed is what pulled us through.
"I told them all year long, we have the x's and o's. We just had to have the belief."
'We didn't look like a national championship team'
Every year, Jeff Wilson puts his club team at Herriman together, and every year the Mustangs have a standard.
But being frank, the longtime director of rugby and Herriman Rugby Football Club founder didn't think this year's team had it.
"At the beginning of the season, we did not look like a national championship team," Wilson said. "We hadn't played for a year. A lot of guys hadn't played a ton."
A lot of it was to be expected. The Mustangs hadn't played in two years — a byproduct of the COVID-19 pandemic shutting down competition. And for a club that relies on tradition as much as Herriman — several players, like Barker, have had brothers cycle through the program to the extent where the family has always had at least one son on the team for 10 years — the level of play just wasn't where they were used to being.
"We went to preseason in St. George — and I know there were a lot of doubters, because our team was terrible," Hansen said. "But the pieces were there, and credit to the assistant coaches for allowing me to come in and develop this culture. The coach before was a good coach. We just needed that mindset."
It was about standards — a lofty one that Herriman had erected. And six months ago, the Mustangs didn't appear to have it.
But a lot can happen in six months.
"We have a standard, but we had a longer way to go than usual," Wilson said. "I have never seen a group improve as much from beginning to end as this group did. We lost a season, and it was like we improved two seasons' worth in development. It's a credit to these kids; they've been going for six months, and the work they put in is incredible."
That mindset came through Hansen, a native of New Zealand who has been involved with Herriman's program for five years and took over as head coach shortly before the canceled season of 2020.
Hansen didn't bring a new style, new formation or new skillset to the club. After a thorough analysis, he determined the talent was there for the Mustangs to keep at the highest level.
They just needed a mental tuneup.
"I was stupid enough to think we could win a national championship, but because I've been around sports all my life and I knew you first have to paint the vision," Hansen said. "If you don't have the vision, you can't expect the boys to follow you. It's not about where we've been but always where we're going — how we're going to get there. The two big things were love and mindset."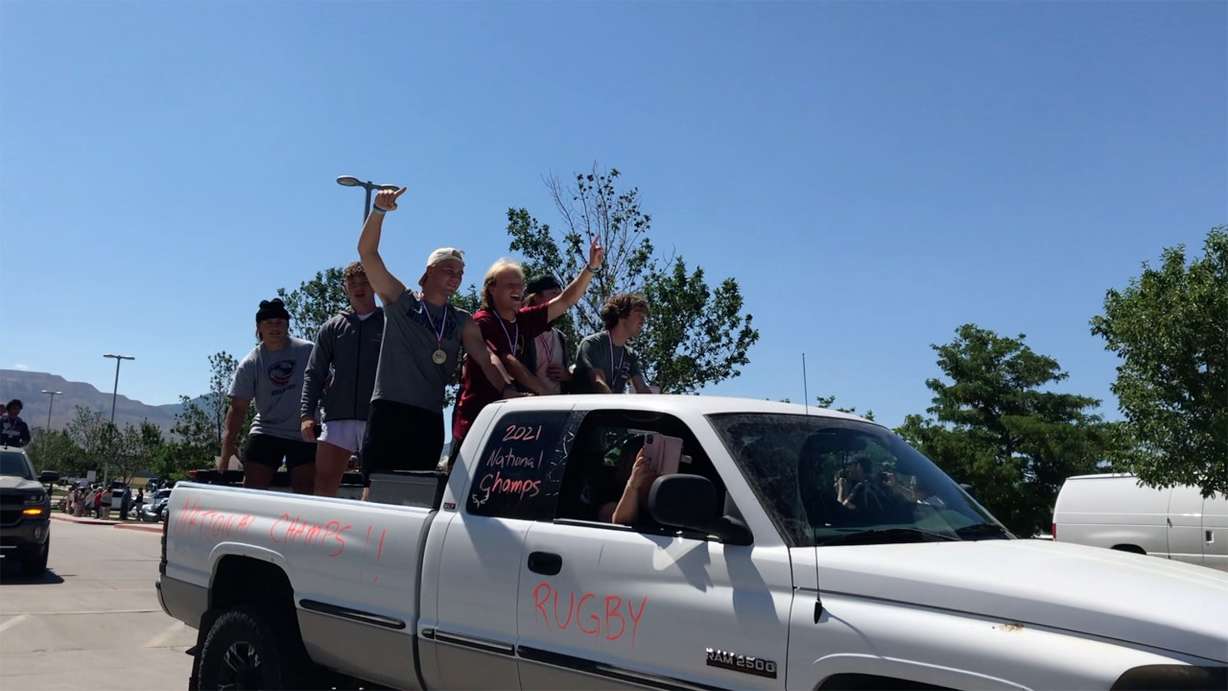 Down, but not out
When the Mustangs got down, it wasn't the coaches or director of rugby that pulled them back up. Herriman opened the tournament with a 45-11 win over Xavier and a 48-14 victory over Staples in the national semifinals.
But when it came to St. Ignatius, the competition was even more fierce.
"It wasn't just us. We've been working at this for 20 years," an emotional Baker told Goff Rugby Report after the match. "When we were down, I was remembering my brothers Zach and Jake who had been here and lost. Two years ago, we lost by this much. We had to work 10 times harder to win by this much."
It was each other — and the history of those who had gone before.
Rugby likes to pride itself on the connection to the past; each number and uniform is said to be beholden to each person who wore the number before the current player on a given team.
A player doesn't choose a number, which usually corresponds to a position. Instead, it is believed that the number chooses its player.
But Herriman had an even closer connection to the past en route to this year's title: the most recent one, filled with a large group of seniors who never got to play last year.
"I felt bad for the boys last year," Hansen said. "For sure, we would've won a national championship."
The 2021 Mustangs started only five seniors — the same number as freshmen — with the rest of the roster filled out with sophomores and juniors. So the players weren't just playing for themselves, but for those who had gone before — even a year earlier.
"This wasn't just about the guys on this team," Wilson said. "It was about the guys last year who we felt could've won it, as well, that didn't get a season to play. It was about all these guys that have built this program and made it what it is so we could be in this position."
It takes a village
A growing sport in Utah with its own professional team in the Utah Warriors (who play in Herriman), rugby has taken root on the west side of the Salt Lake Valley and in other pockets throughout the state, such as St. George and Utah County.
The sport isn't sanctioned by the Utah High School Activities Association, but one would never know by looking at Herriman High School. The club team has always been embraced by the community — right down to this year, when the team's trailer full of their equipment was stolen and eventually recovered after a lengthy investigation.
There, the students all wear their jerseys to class on game day. Many students rush to be the first in line to watch their matches. And when the team wins, the schools celebrates in much the same way they do a football championship or any other sanctioned sport.
Before the Mustangs won the national championship, principal Todd Quarnberg told Wilson that he'd find a way to get championship rings for the players. He even agreed to erect a trophy — one that the national association that hosts the invitational doesn't provide (they award medals, instead) — to honor the 2021 team.
The plan was still on Sunday, when a crowd of just over 50 parents and family members greeted the team back to campus — led by a Herriman police cruiser with flashing lights and a Unified fire vehicle that paved the way from 12300 South to the school's campus around 119th.
"It takes a village to run a rugby team, and to win a championship," Wilson said. "It takes a million people contributing."
×
Photos
Most recent High School stories