SALT LAKE CITY — Perhaps no play illustrated exactly how the Los Angeles Clippers tied up their best-of-seven second-round series with the Utah Jazz more than the viral moment that took little time to spread on social media.
It came, fittingly, from Kawhi Leonard on a dunk so powerful it caused Philadelphia forward Joel Embiid to bristle on the other side of the country.
With 90 seconds left in the first half, Leonard made a move, lunging through contact at the top of the key and soaring for a posterizing dunk over Jazz forward Derrick Favors that sent screams from the broadcast booth and fire emojis across the Twitterverse.
"Did you see that?" Embiid asked a Sixers staffer during postgame interviews after Philadelphia's 103-100 loss to Atlanta. "Did you see that Kawhi dunk? Wow."
Embiid stopped. Donovan Mitchell's jaw dropped. Royce O'Neale stepped back, and Bojan Bogdanovic looked shook.
Favors was the last man left upright — the last man in the way of a runaway freight train, one equally capable of delivering a worldwide dunk as a devastating swat (which he did later in the game against Bogdanovic).
After the game, one of Leonard's teammates showed him a video of Embiid's reaction. That was the first — and possibly last — he knew about the viral moment he had induced on the floor of the Staples Center.
"During the game, in the heat of the moment, I know it's a big play. But you've got to have that next play mentality," said Leonard, who famously eschews social media. "Right after that, Joe Ingles hit a 3 pretty wide open in the corner. We've still got room for improvement."
"OHH, A MAJOR KAWHI-LIGHT!" 😳

All-angles of Kawhi Leonard's MONSTER JAM on TNT! #ThatsGame#NBAPlayoffspic.twitter.com/VyRzGMZgLK

— NBA (@NBA) June 15, 2021
Leonard had 31 points, seven rebounds and three assists; and Paul George added 31 points, nine rebounds and four assists — just the sixth time in two years the teammates have gone off for concurrent 30-point games — as the Clippers pulled away from the Jazz for a 118-104 win that sent the best-of-seven series back to Salt Lake City tied up.
In both home games, Leonard — whose first two games were no doubt affected by the Clippers' previous seven-game series with Dallas, including delivering a 45-pointer in Game 7 — looked like a different player than he did on the road.
Even his teammates agreed.
"He just surprises you with the stuff that he does and that he can do," George said. "You see him being more aggressive, and you know what time it is. It's written all over him; it's go-time. It's playoff basketball. Ultimately, it's winning time."
Aggression was the key for the Clippers in knotting up the series. Aggression is what caused the Clips to outrebound the three-time defensive player of the year Rudy Gobert and the rest of the Jazz 44-39. Aggression helped LA score 14 more points on only three more made shots, including an 18-1 edge in second-chance points and 12-0 in transition.
It's the same aggression — mindset, mentality, or whatever word you prefer — that has been with the Clippers throughout the playoffs, Leonard said.
"I think we've been doing it the whole series," Leonard said. "You probably get to see it working now because guys are making shots. But we've been pretty much doing it the whole series."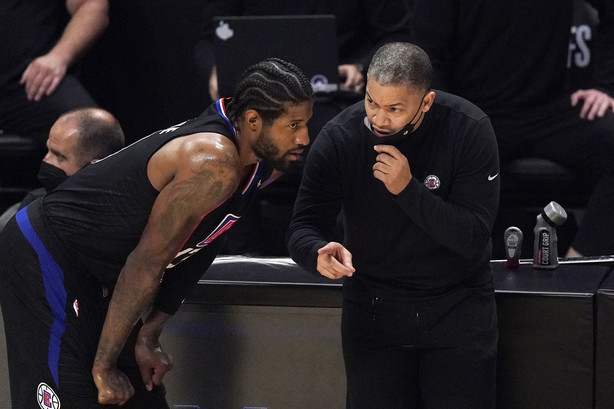 Aggression was the key to Leonard's game; it was also the key to the Clippers.
"Just attacking the basket," LA coach Tyronn Lue said of his long-armed stopper. "He got kind of mad, and then the next play, he came out and dunked the ball like that.
"Just have an attack mentality, that's what we've got to do. We can't let this team off the hook. We know what we have to do."
Mitchell was limited early and eventually could barely be stopped, going off for a game-high 37 points. But the Jazz superstar scored on 9-of-26 field goals, including six 3-pointers, to go along with five rebounds and five assists for a Utah team where seven of its eight key rotation players finished with a negative plus-minus (Mitchell was minus-15, while Joe Ingles had 19 points, three rebounds and three assists for a plus-4).
Monday's win was important — in many ways, even critical — for the Clippers in the return to Los Angeles. They needed to show that Saturday night's home rout wasn't an aberration, that it was more of the norm than the flailing they did in the first two games of the series.
In many ways, their playoff lives depended on it.
"We've got to protect home court," George said. "This has to be a feared place; when people step into this arena, they should be fearing us. It starts with our atmosphere, and it starts with our play."
With the win, the Clippers didn't just stave off a sweep after back-to-back road losses in Salt Lake City. They also guaranteed at least one more trip to Vivint Arena, where the full-capacity arena has been ruthless in taunting each player with chants like "Overrated!" and "Push off P!" directed at George.
"No, he won't be coming to Utah. I don't know anybody that wanna go to Utah. He's gonna stick it out here in LA and we'll see him when we come back."

Marcus Morris on Markieff coming to Game 6. #Clipperspic.twitter.com/nLUelLSofT

— Tomer Azarly (@TomerAzarly) June 15, 2021
Marcus Morris Sr. hopes there's only one more such trip. The Clippers have plans to end the series in six games, he implied — meaning a win Wednesday and then a series-clincher in Los Angeles in a now-guaranteed Game 6 on Friday.
Asked if his brother, Lakers forward Markieff Morris, was going to join him in Utah, Marcus Morris took the bait for a one-liner.
"He won't be coming to Utah," said a laughing Morris, who had his best game of the series with 24 points and six rebounds. "I don't know anybody that wants to go to Utah."
The Clippers will — at least for one more game — and so will the Jazz, who will no doubt be happy to return to a friendlier arena that may or may not feature the return of point guard Mike Conley Jr., who missed his fourth game of the series Monday night with what the team is calling a mild hamstring strain.
"We've got to drown out the noise, and go there with one mission," George said. "That mission is to not come back there. We've got to go and try to get Game 5."
Added Leonard: "It's a competition. Somebody's gotta win the game, and we've got to go out with a mindset that we've got to win. It's that simple."
×
Related Stories