SALT LAKE CITY — Los Angeles Clippers coach Tyrone Lue had an easy answer when asked if he thought about calling a timeout in the final minute of a one-possession game, down three and with a chance to tie on the road in the opening game of the Western Conference semifinals.
"No," Lue told LA Times columnist Bill Plaschke in a media video call Tuesday night, adding he didn't want to give Jazz coach Quin Snyder a chance to set his defense or even pull his star center from the game for another perimeter defender.
There's no telling what would've happened if Lue had called timeout, if he had drawn up a better play than Marcus Morris' off-balance 3-pointer attempt from the left wing — if Rudy Gobert hadn't drawn out from the paint and stuffed said attempt at the buzzer to preserve the Jazz's 112-109 win in Game 1 of the Western Conference semifinals.
You know the rest of the story by now. Instead, the Clippers trail 1-0 before Thursday night's Game 2 of one of the more-heavily anticipated series of the 2021 NBA playoffs (8 p.m. MT, ESPN).
That play didn't define LA's series opener. Sure, it didn't help, but the Clippers were just playing catch-up to that point.
Kind of like how the Jazz were playing catch-up for most of the first half until Donovan Mitchell showed up, and the brute force of a Utah team led by Gobert — the NBA's two-time defensive player of the year who is likely to win a third.
"I thought their physicality in the second half picked up," Lue said. "We didn't match that physicality on the offensive end, taking the ball out of bounds or on the sideline or baseline. We had a couple of turnovers that led to easy baskets.
"We've got to own our space … and be more physical on the offensive end."
Lue promised his team would learn from the experience, from the increased physicality of the game, and Paul George echoed his coach.
"It's playoff basketball," George said, before adding cryptically: "The physicality just has to be allowed on both ends. And I'm going to leave it at that.
"We just had a bad third quarter. That's as simple as it is."
The fourth-year pro scored 32 of his 45 points after the break for the Jazz, leading a furious comeback that bent the Clippers' well after a lead that swelled as high as 13 points at halftime.
"They played a Game 7 two days ago," Mitchell said after the game. "It's all how we start this (third) quarter. They'll call it quits and get ready for Game 2 if we make them."
Mitchell wasn't just good Tuesday night; he went supernova for a time, combining with Jordan Clarkson to knock down 7 of 13 3-pointers in the third quarter to reset an ugly first half.
Even Lue had to tip his cap to the University of Louisville product.
"Donovan Mitchell had it going tonight, especially later in the game," Lue said. "He had a fire, and he had it going. Hat's off to him for having a big game. But we'll look at the film and make some adjustments."
Asked to compare Mitchell to Luka Doncic, the recently vanquished Dallas star who helped the Mavericks take three road wins off Los Angeles in the first round, Kawhi Leonard responded that the two are "two different players, two different teams."
But there's at least one way Mitchell reminds Leonard of Doncic.
"They're both All-Star caliber players," he said. "Skill in the same ways: one on one, pick and roll. Just very aggressive. You know he's going to keep shooting the ball and get his teammates the ball. We just have to take charge."
Perhaps the biggest surprise was that the Clippers took a lead in the way they did, or even that they led by as much as 13 at halftime. Just 48 hours after surviving a seven-game series with Dallas, Los Angeles looked the aggressor — for at least the first half.
But that lead didn't come through the stars, through Leonard — who battled through early foul troubles and made just two of his first six shots from the field — or George, who had a pedestrian 7 points at halftime.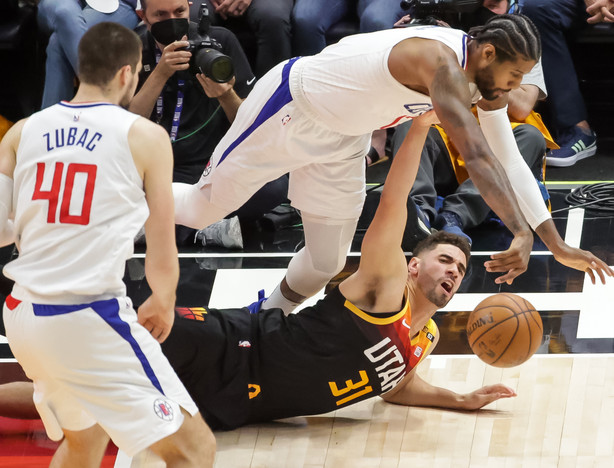 The duo eventually had their way, with Leonard finishing with 23 points and seven rebounds and George adding 20 points and 11 boards by the final whistle.
"I think we had a pretty good rhythm in the first half," Leonard said. "We came into that third quarter pretty flat, but they are a pretty good defensive team. They played hard tonight … and they got the win.
"We had a 10-plus point lead at halftime," he added. "We just have to keep being aggressive. I feel like we came out flat. We've just got to all watch film and see what we can do, overall."
The Clippers were getting it done early through role players: three 3-pointers from Reggie Jackson, LA's third-leading scorer, and Luke Kennard off the bench. Two more from Nicolas Batum, one of a limited number of European centers still capable of knocking down the outside shot.
Whatever it was, LA had found it — and it wasn't the "Kawhi, PG and everyone else" that antagonists had dubbed the oft-maligned second team in Los Angeles.
"I think we started off the game well, and it's just a thing where we've got to carry it for all 48 minutes," Kennard said. "I thought we did a good job of communicating throughout the entire first half, then had a slower start to the third and then some breakdowns. It's stuff that we can fix. We've just got to go back, look at the film, and we've got to get better.
"It's what this team is good at. We always want to get better. Credit to them; they played a good game. But we've got to be ready to fight for a full 48 minutes."
It wasn't the start that hurt the Clippers, nor was it the ending — no matter how tough, how decisive or how exclamatory Gobert's final block might have been.
"We gave ourselves a chance, regardless if we gave this one up with a flat third," George said. "We still gave ourselves a chance to win this."
×
Photos
Related Stories