CEDAR CITY — When Melissa Johnson first came to Southern Utah University in 2016, she was able to find a place to live through on-campus housing. After a brief hiatus, she found off-campus housing to be a cheaper alternative when she returned to school in 2019.
However, as she works to finish a degree in elementary education, it's becoming clear to her that affording a place to live in Cedar City while also completing her education is increasingly difficult.
"It's hard to find a job that pays well enough to even pay tuition and rent every month," she said. "There were some months where it was like, 'I can only pay tuition or I could pay rent, but not both.'"
She isn't alone in her experience. With Southern Utah University leaders expecting another large wave of enrollment this fall, school administrators are scrambling to find enough beds for students arriving in Cedar City.
The university's on-campus housing is already filled up and there's a long waitlist to get in. A sudden and unexpected drop in off-campus housing options tied to the COVID-19 pandemic and to the state's growing housing shortage has made finding housing incredibly stressful for many students.
As of this week, school administrators estimated they had a shortage of at least 500 to 1,000 beds to accommodate students with about three months before the fall semester begins. That's despite finding creative solutions, such as a plan to rent out rooms from a hotel near the university's campus.
"This is creating a pretty significant challenge for us," SUU President Scott Wyatt told KSL.com.
The situation has gotten severe enough that administrators believe it means the school will likely lose some of its enrollment this fall just because they won't be able to accommodate housing. As they continue to race to find more beds, they're eying multiple avenues to ease the problem, including asking incoming students to not attend class in person this fall.
What makes the housing shortage more complex is that it didn't exactly develop overnight; rather, it was a culmination of the school's ongoing growth in enrollment and the city's drastic housing shortage that went unnoticed by university officials until recently.
"I don't know how we could have imagined this, but we probably should have," Wyatt added, later noting that the issue is likely a secondary result of the pandemic and "a once-in-a-lifetime incidence."
Still, considering around this time last year the school dealt with an expected budget crunch related to COVID-19 bad enough that Wyatt volunteered to work for free just to save as many university jobs as possible, he considers the growing housing issue "a good problem" to deal with.
A 'one-year catch': The perfect storm that led to SUU's looming housing shortage
SUU listed its headcount at 7,745 students in October 2013 — a few months before Wyatt took over as the school's president. The school reported a 6.7% decline in enrollment from the previous year at the time, which was partially related to The Church of Jesus Christ of Latter-day Saints lowering its missionary age requirements. Enrollment has grown, percentage increase-wise, faster than any other university in the state since then.
The Utah System of Higher Education listed SUU's enrollment at the third week of the 2020 fall semester as 12,582, which was a 12% increase from the same time the previous year. The next-highest percentage increase among four-year universities in the state from 2019 to 2020 was Dixie State University, which experienced a 7.6% increase at the same time.
Administrators said enrollment officially reached just a tick under 13,000 during the last school year, and growth hasn't stopped. The university anticipates an enrollment somewhere in the range of 14,000 students as it reaches closer to doubling the entire student enrollment within the past decade.
The university had made a push for more online education over the past few years, so not all of those estimated students are expected to want to attend classes on campus — but most would prefer that.
At the same time the university started growing, housing shortages reported across Utah evidently reached Cedar City, too. As the university's on-campus housing filled up, university officials reached out to off-campus renters and found the situation there was worse than they anticipated.
---
You could see it coming around the corner and then, all of a sudden, it was like 'boom.' We weren't really prepared for it. The whole town, I don't feel like, was prepared for it. I feel like all of Utah isn't prepared for whatever is going on in the housing market here.
–Kaysea Banks, Cliffstone Development
---
In years past, there were many homes students could rent a room out of. Those options quickly shrank as owners sold them to families seeking out more affordable housing in the state, Wyatt explained. Kaysea Banks, the property manager for Cliffstone Development, said 2020 was a nightmare for many landlords.
Cliffstone, which operates complexes like Aspen Meadows Apartments, located just across I-15 from SUU, had about one-fifth of its beds unfilled last summer when the Utah Shakespeare Festival was canceled and it wasn't clear if SUU would have on-campus learning due to the lingering threats of COVID-19. That's why she suspects many who had rented homes probably "got out of the game" altogether and sold them.
University administrators also found out some landlords who struggled to fill beds last year converted double-bed rooms to single-bed rooms. That literally cut those types of available options in half.
So as enrollment spiked and the available housing options shrank, landing an apartment became more difficult.
How difficult? Banks said she's received 316 applications for just 92 spaces that the company owns. While it's not uncommon for all its fall spots to be filled up already a couple of months ahead of the fall semester, she said all of the spaces were actually filled up in March this year, which was well before the previous school year even ended.
"I have over 200 people who are on my waitlist, which is more than double than what we could ever hold," she said. "And people who call are desperate. ... From what I'm hearing, there's literally no housing."
It's a complete reversal from 2020. Banks said she wouldn't describe the difference as "night and day" because students were still booking off-campus housing last summer; however, the roles have flipped in a way. Last year, students who called wanted to know if they could get refunded in case they didn't need housing and now students are calling just to find anything.
JT Ontiveros, a senior at SUU majoring in exercise science, estimates he called about a dozen apartment complexes for housing before finding a place. It was something he hadn't experienced at all from the time he first enrolled in 2018.
"By the time you would learn about a listing, there were already, say, 10 (to) 15 people already signed up to look at it before you," he said. "So you had to get kind of a little lucky and see the listings before everyone else just to get something that's: one, a fairly decent place; and two, relatively affordable."
Even when he landed an apartment with vacancies, the complex had just one spot available. The property manager told him they received a handful of calls inquiring about that opening within the few minutes after he contacted them. Ontiveros also paid a little bit more than he had hoped, but he believes it was worth it.
The chaotic housing scene hasn't completely bewildered people like Banks. Given SUU's growing enrollment that had seemed to increase by large percentages annually since she started working in Cedar City property management eight years ago, she believed a housing shortage would eventually emerge. The bigger surprise, she said, is how quickly it slammed the university and the city.
"You could see it coming around the corner and then, all of a sudden, it was like 'boom!'" she said. "We weren't really prepared for it. The whole town, I don't feel like, was prepared for it. I feel like all of Utah isn't prepared for whatever is going on in the housing market here."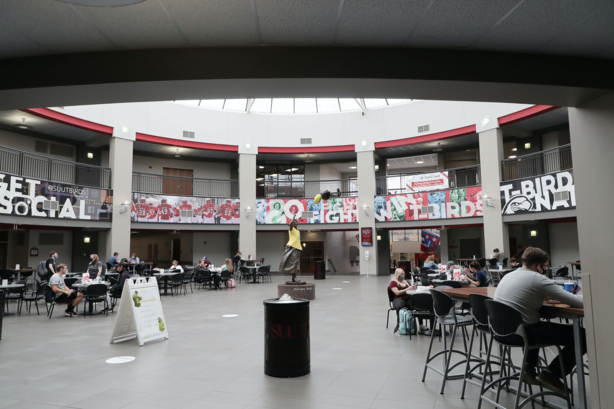 There are a few new housing projects slated to arrive in Cedar City to accommodate the growth; however, those aren't expected to be available for the upcoming school year. That, Wyatt added, is somewhat impacted by material shortages in the construction industry. Ultimately, the university's growing enrollment mixed with all of the housing factors means demand for housing is something that university officials expect will be a challenge at least for the next year or possibly two.
"You add up all these things that we were unaware were happening or weren't paying attention somehow or another and the result is something between 500 and 1,000 fewer beds," he said. "Most of the housing we rely on the private sector to take care of. We know of a lot of great projects coming, but none of them will be available this fall. This is kind of a one-year catch for us that's causing us to scramble a little bit."
Searching for solutions
The school did have a similar housing problem in 2015. The university reached out to the community then to see if residents had spare beds they were willing to rent to students before the housing stock met up with the demand at the time. The biggest difference then, Wyatt contends, is that there wasn't a housing stock shrinkage leading into that year.
SUU's administrators are hopeful that it is just a one-year problem again, but they are looking at some of the same creative solutions to address it.
Wyatt said the university is working to finalize a deal to rent out space from a local hotel, which may end up becoming a multiple-year agreement depending on the housing need. They've reached out to landlords who previously rented out space and made a call out to residents who may have an extra room available. Banks said she's received calls from the university asking if there were any rooms that could be converted into double-bed rooms.
Wyatt said students and residents will notice a "significant amount" of new construction over the course of the next two years due to the new housing projects in the works.
Others have also looked into ways to help out. For example, Banks said the primary owner of Cliffstone has at least looked into purchasing homes in Cedar City to increase rental housing stock for students. The housing market for students, she explained, is completely different from normal economic practices. Typically the high demand mixed with a housing shortage leads to increased prices. While the cost has gone up for housing in recent years, landlords try to keep it at least within reason.
"We could raise our prices, but the students can only pay so much," she said. "You can't make a market correction so much with raising prices as much as you can with a regular house. ... You can't do that to students because they can't afford that. It isn't reasonable. So, really you need more housing."
Of course, there are some other solutions that don't involve new development.
Going another route
University officials said they want students still experiencing questions over the housing to reach out to them. In some cases, they may refer students to other schools they have partnerships with just for the next year or two. The top solution they've touted, though, is having more students attend classes online. It's something the university started to build the infrastructure more in earnest in the few years before the pandemic struck.
With the cost of attending universities in person going up over the year, Wyatt believes online education will play a big role in higher education. Students who complete their education online at SUU are even expected to represent a good chunk of its enrollment by the end of the decade.
"We've become obsessive about affordability and access, making sure everybody, regardless of their circumstances, can go through those golden doors to get a college degree that opens up such a better life for them," he said. "I suspect it's probable that within the next five to 10 years, 50% of our students will be online students. ... It looks like what we'll probably see is no growth or very, very minimal growth in our face-to-face Cedar City campus experience but we'll see quite a bit of growth online. So the university will grow, but it won't be the Cedar City experience."
Yet since the online structure has — to this point — been mostly geared toward older adults that are in the middle of their careers or looking to jump back into the workforce, school officials know it may not be the ideal solution for recent high school graduates and younger adults.
Ontiveros, for instance, struggled with remote learning. He said trying to focus during Zoom lectures became a strenuous task.
"I wasn't taking my classes seriously. I would turn on a Zoom meeting and then go back to sleep," he said. "I wasn't learning, so I quickly learned online learning was just not an option of me."
In the end, it's why he was willing to pay a little bit more for housing that kept him in Cedar City.
But university leaders believe online learning may work for some of the traditional students working to finish their education. Johnson is one of the students comfortable with making that leap after going through the stress of searching for affordable housing. She decided that she will move back in with her family in Salt Lake City and continue her education online from there.
That's an option she realized she had after completing the most recent school year. If anything, she learned that she was able to still keep up with her courses remotely even at times she wasn't able to attend class. It changed her perception of online education and helped her warm to the idea.
"It was nice to kind of practice having online classes," she said. "It still sucks, but it wasn't as bad as I thought it was going to be."
It's not the conventional route to a college diploma for someone considered a traditional student, but it allows Johnson to afford school and have a place to live, which solves the biggest issue she found herself facing.
She said she's completely fine with abandoning the campus experience, too. She's more focused on the fact that online learning means she doesn't have to pause her education, transfer to another university, or go through the burden of looking for housing she likely couldn't afford.
"So far, I've really enjoyed all of the professors that I've had at SUU, and so it's nice to be able to stay with professors that I already know and that I like. It's nice not having to find somewhere else," she said. "Switching from on-campus to online was super easy. ... It's just really nice that I don't have to worry about finding somewhere else to go."
×