SALT LAKE CITY — Of the thousands of women's soccer programs scattered across junior colleges in America, only four remain ahead of Monday's semifinals at the National Junior College Athletic Association Tournament in Evans, Georgia.
Two of them call home inside the Beehive State.
Salt Lake Community College and Snow College are two of the final four teams remaining in the tournament's national semifinals, which kick off Monday at 3 p.m. MT. That's when the No. 4 Badgers will face top-ranked Tyler in the first semifinal, followed by the No. 2 Bruins playing the home side against No. 3 Eastern Florida State at 5:30 p.m. MT.*
All games will be streamed live at njcaa.org/network.
And that the two are among the last group standing nationally isn't a surprise to either side. Of the four combined losses between the Bruins and Badgers, three of them are to each other.
It's enough to make SLCC head coach Mark Davis forget just how tired he was after booking a redeye flight between the NJCAA men's soccer tournament in Wichita, Kansas, and the women's tournament in south Georgia.
"Getting to come back to Georgia was such a relief," Davis told KSL.com moments after flying from Kansas to Atlanta late Sunday night before a two-hour drive to his hotel just outside of Augusta National Golf Club. "It was something that we wanted so badly, and I'm rejuvenated. I flew in late at night, and I'm not even that tired.
"The men's team was so supportive of me being here, too, and I was very surprised — and very happy — about it. The girls fought so hard to get to the semifinals, and they knew I had to be there."
Grown to become a power in the western United States in a few short years, the Bruins (14-1) are led by four double-digit goal scorers in Anna Pinegar (14), Ashlyn Hall (14), Cassidy Adams (14) and Kallyn Chynoweth (11), as well as the nation's leading set-up player in Quincy Richards (18 assists).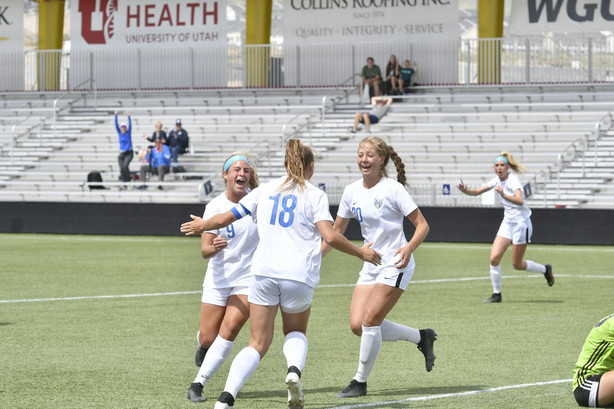 As head coach of the SLCC men's and women's soccer programs, Davis was pulling double duty in distinct time zones, coaching the Bruin men's team in a 1-0 upset loss to Coastal Bend before flying back to Georgia to coach the Bruin women's squad in the semifinals (which will be played Monday afternoon shortly after the men's team faces Barton College at noon with a spot in the NJCAA semifinals at stake).
With some luck — and, mostly, a win over the third-seeded Titans from Melbourne, Florida — Davis might have to make the late travel arrangements again, maybe even to face a familiar foe in the national championship. The Badgers will be considered underdogs to top-ranked Tyler, but Snow is also the only team to take a win off Salt Lake, a 1-0 victory in Ephraim that opened Scenic West play on April 8.
A relative newcomer to the scene, Snow coach Charles Long isn't surprised by the success — of his own squad, or the Badgers' Scenic West rivals in Salt Lake.
A JUCO coaching veteran most recently of Cloud County in Concordia, Kansas, Long saw the soccer talent that Utah produces up close when he visited a local camp during the fall. Even while he was still trying to re-recruit or rebuild a roster — one that only returned two players from a year ago — he knew the Beehive State would be a vital building block.
"I saw the types of girls that came to our camp, and I realized why they recruit so many quality players from Utah," Long said. "There is no shortage of quality players. It's the same with Salt Lake, and that's cool.
"But I knew it would be interesting. So our goal was just to make the playoffs, and then, who knows? The girls have definitely put the work in, and it's kind of exciting."
The Badgers did plenty of that, with a young roster that includes players from as close as Ephraim and Manti to Salt Lake City and St. George, with a couple of Division I transfers and international players mixed in.
WE ARE 𝙏𝙄𝙀𝘿

Salt Lake ties it back up at 3 with just a few minutes left to play in regulation! pic.twitter.com/qTm8YXxiyR

— NJCAA Network (@NJCAANetwork) June 5, 2021
Turns out, Utah soccer players are pretty good — good enough to send two squads to junior college's final four.
"It's amazing," said Davis, whose men's team boasts 11 Division I signees on the current roster. "A lot of the same girls that are on our team and even at Snow are fantastic players. You've got to take respect, up and down the Wasatch, from Logan to St. George. Soccer is a hotbed in Utah — especially on the women's side.
"It's also great for the Scenic West to have two teams in the semifinals. I was getting random Division I coaches talking to me about having two teams in the semifinals. It's insane."
New to the collegiate soccer landscape, the fifth-year program at Snow College is hardly new to the national tournament. The Badgers went 13-3 in 2019 with region and district championships to earn an automatic berth to the NJCAA Tournament, where they went 0-2 in pool play that included a 1-0 loss to Tyler.
Even with a mostly new roster, Snow continued to build on that success. Paced by leading scorer Sydney Cragun, a Morgan High product with seven goals on the year, the Badgers built up a 10-3-1 record that includes an 8-7 penalty shootout against powerhouse Iowa Western in the second match of group play Saturday.
Now it's on to the semifinals, where Snow draws the reigning champs and No. 1 overall seed in Tyler. The unbeaten Apaches (16-0) have scored at least four goals in their past eight games, including wins of 6-0 and 7-1 in tournament play.
But the Badgers are playing without pressure — just a group of Utah players who made history, looking to take a little bit more from a business trip to the Peach State.
"Be happy we can come out and play," Long told his players before boarding a plane from Kansas, where the Snow College men's team fell 2-1 to No. 4 Harcum. "What a great opportunity to get out and compete; don't ever lose sight of that. It's not just the wins or losses, but the ability to come out and play."
*Editor's note: Due to significant weather delays, the NJCAA pushed back both semifinals to 7 p.m. MT. The matches will still be streamed live on the NJCAA Network.
×
Photos
Related Stories