This archived news story is available only for your personal, non-commercial use. Information in the story may be outdated or superseded by additional information. Reading or replaying the story in its archived form does not constitute a republication of the story.
TAYLORSVILLE — McKenna Eaves knows she probably won't see much ink or recognition, fame or awards.
None of that matters to her.
All that matters as the goalkeeper of the No. 8-ranked Salt Lake Community College women's soccer team is keeping the ball out of the back of the net.
The honors? They'll come if she does her job — and she's done her job in a historic way.
In just its third season of program history, the Bruins (14-1-1) have ascended to the pinnacle of their level of the sport. The third-year program rose from No. 10 to No. 8 in the NJCAA national poll over the weekend, a weekend that saw its stock soar thanks to a 2-1 double-overtime victory over in-state rival Snow College to clinch the squad's first-ever Region 18 tournament title.
With the championship, the Bruins advanced to their first-ever district finals, where they are a one-off win over No. 14 Paradise Valley from the school's first-ever NJCAA national tournament, which will be held Nov. 12 in Foley, Alabama.
Kickoff of the district championship is scheduled for 1 p.m. MST Saturday at Paradise Valley in Phoenix.
But about Eaves' role on the team?
Well, that's probably been the biggest.
The Bruins don't have a ton of high-scoring attacking talent. A balanced midfield and a string of solid scorers, Salt Lake relies on its defense — and why not? The Bruins have strung together 11 shutouts on the year, led by Eaves and a back line that gives away goals at just a 0.35 goals-against average.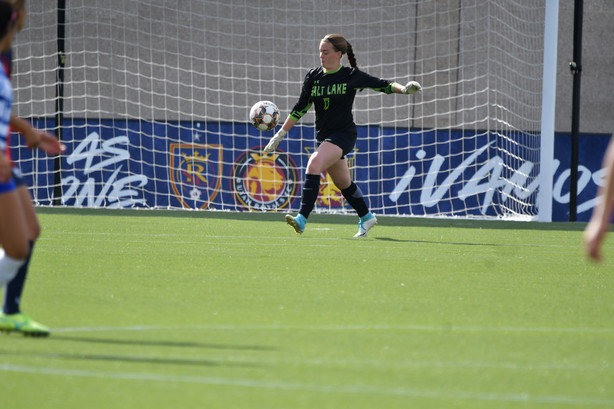 And those honors? That's where the Pleasant Grove High alum starts dishing them out. Not to her own saves, but to the back line of Dominique Estrada, Nikki Oliver, Callie Fisher and Sena Warren, a sophomore left back from Springville who can "run forever."
"I feel like we got a little bit of everything," Eaves said of her defense. "We've got great center backs who can take on one-vs.-one defending, we've got a left back who can run forever … starting from first practice, we just clicked really well.
"We can almost play together with our eyes closed."
The Bruins' offense isn't the most electric in the world. SLCC gets it done, scoring a respectable-if-not-dominant 46 goals while conceding just six.
But the team takes pride in defense.
"We talk about being blue-collar and showing up every day with your hard hat on," SLCC coach Mark Davis said. "It's a big part of who we are, not allowing teams to get in behind us. That's exactly what we want to be."
It's more than just the players with a "DEF" next to their name on the lineup card, too.
"It comes from everywhere," said Warren, who prepped at Springville High. "We rely on the midfield to get back on defense, and even our wings and forwards. It starts from top to back. It doesn't get a lot of light, like forwards do. But I think our defense has its own special part in the game."
That was the case last Saturday at Zions Bank Stadium in Herriman, when the Bruins were tied with Snow 1-1 and headed into the second extra-time period.
But SLCC had never lost on its home pitch that also doubles as the home of Real Salt Lake's second-division affiliate Real Monarchs. And they were content not to let it happen in the biggest game of the season.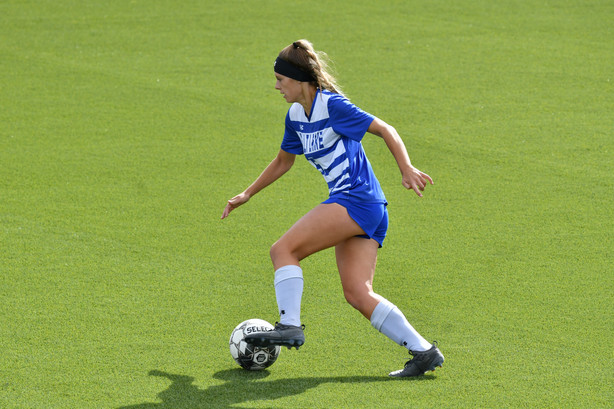 Eaves kept the Bruins in the game with six saves. Then Sydney Hathaway scored her first goal of the year, punching in a shot just a few moments into the second extra time to send the 14-2 Badgers home early and the Bruins into the nascent program's first district final.
"It didn't feel like it was over," Warren said of the tournament final. "That was our home, and we haven't lost at home this season, and there is no way we were going to. We went down, grabbed the ball, put it in the middle and kept grinding."
But the grind and challenge continues.
Paradise Valley is coming into Saturday's district final with an 18-4-1 overall record and a No. 14 national ranking. Unlike the third-year Bruins, the Pumas have established themselves as a power in JUCO soccer with three national championships — the most recent of them in 2016 — and 13 All-American nods.
Paradise Valley wasn't favored to win its own conference tournament. But the Pumas went in and stunned previously top-ranked Arizona Western 4-0 in the tournament final, handing the Matadors their first loss of the year.
The Bruins face long odds to make it to Foley. But they've faced long odds before, even in just three years.
"No one in our conference has ever been to the national tournament. JUCO soccer is so new in soccer, that we want to be the first team to get there," Davis said.
"We feel like the school is behind our back, and the whole state of Utah in soccer. It's a group that wants us to go do this."
×
Photos
Related Stories