OREM — Jarod Ingersoll has sent a lot of players toward home over the past decade-plus as head coach of American Fork's baseball team.
Every one of them has been one of his boys — family, sons, on a team full of brothers.
But when it was his actual son Fisher rounding the bases after his second home run in the second game of Saturday's Class 6A state championship, the veteran coach who wears his heart on his sleeve got choked up.
"I know my wife thinks that I don't tell him the great things he does enough. And I try to deflect the praise off of him some," coach Ingersoll said. "But he was awesome for us today, and I'm proud of him.
"Every game that we've had this year has been different guys stepping up at different moments. Our lineup was deep and talented. We ended up 30-1, and that's pretty remarkable, considering some of the teams that we played."
Fisher Ingersoll went 2-for-2 with two home runs, three RBI and a pair of walks as American Fork captured its first baseball title since 2016 with a shutout victory over crosstown rival Pleasant Grove, 8-0 at UCCU Ballpark at Utah Valley University.
"We wanted to come in and show that we were the team, after winning the Last Chance Tournament, with people trying to say that we didn't win the real thing," the younger Ingersoll said. "But we wanted to come out this year and leave no doubt. That's exactly what we did."
Kaden Carpenter fanned seven in a complete-game effort for the Cavemen, who capped a 30-1 season with a fifth win over the most recent official state champion, Pleasant Grove in 2019.
"The way these kids approached the game every day, it feels good — and I'm glad it's over — but I'm just proud of the way every one of those kids approached the game," the elder Ingersoll said. "They came in every single day and gave us everything.
"Last year was a rough year for everybody. What we did in that Last Chance thing was great, but this was special to have a full season and to be able to participate in this tournament and do what we did."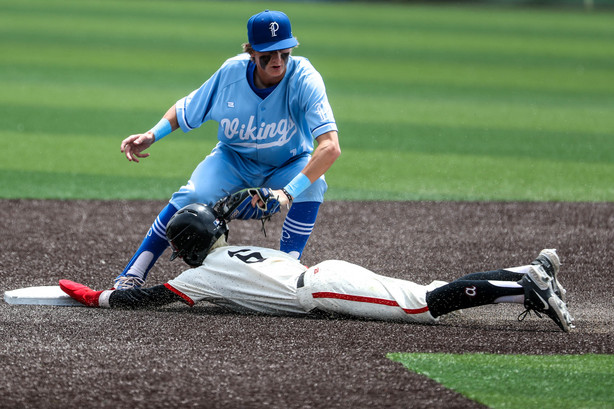 The Cavemen were defending state champions, or at least they considered themselves as such after last year's 8-7 win over Riverton to win the UPG Last Chance Tournament. The tournament consisted of the best teams in Utah — but many still didn't believe American Fork deserved a true state title, in part because the Utah High School Activities Association canceled the spring season due to the COVID-19 pandemic, as well as for other reasons.
Officially — as far as the state record book goes — American Fork's title is the first state championship in four seasons.
"We finally got a real one," Carpenter said. "A lot of people were doubting us from last year, and we just proved them wrong with that record."
Getting the win over Pleasant Grove — the only team to tarnish the Cavemen's otherwise unblemished record when the Vikings took a 5-4 win on the back end of a three-game regular-season series — made it even better.
"Coach Henry does a great job with those guys and props to them for also having a great season," Carpenter said. "But it's always great to be able to take one last win against a rival."
Kyler Lester went 2-for-3 with a walk for Pleasant Grove (26-6), and Ty Johnsen smacked a double for the Vikings, whose six losses included four to American Fork.
But the Cavemen came out swinging, with depth and firepower up and down the lineup — from leadoff hitter Ryder Robinson to Dax Newman in the nine hole.
Robinson went 2-for-3 with a walk, two RBI and a run scored for American Fork, and Josh Rojas went 2-for-2 with a walk and a run scored. Spencer Clegg was 2-for-4 with a double, an RBI and a run scored for the Cavemen, who pounded out nine hits and scored five runs in the bottom of the second to jump out to an early lead.
That's when Ingersoll hit his second home run of the day, a blistering fastball that he struck well over the right-field wall and nearly cleared the second-level hillside 30 feet behind UCCU Ballpark.
Coaches aren't supposed to have favorite players, just like parents aren't supposed to have favorite children. But that second homer was Ingersoll's favorite of the day, he admitted.
"That one went farther, so definitely the second one," Ingersoll said, laughing.
The younger Ingersoll also helped himself defensively, turning two double plays including a 6-4-3 in the top of the fifth to keep the Vikings scoreless.
Ingersoll has a soft commit to play baseball for Mike Littlewood at BYU, but recently started receiving offers for football, as well. A three-sport athlete at American Fork, the junior entered Saturday's second game of a best-of-three championship series hitting .564 with 44 hits, and he'll finish the season with better than .800 OPS.
That'll leave the rising senior with a busy summer, filled with college visits and decisions about his future. It's quite the contrast from a year ago, when Ingersoll's title with the Cavemen ended with a complete shutdown of all recruiting nationally by the NCAA.
"I've got a lot of traveling," Ingersoll said. "It's going to open up and get out to some colleges."
×
Photos
Related Stories